Keep an eye on your Mac — and its environment — with Periscope Pro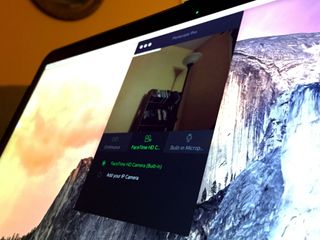 Sometimes you want, or more appropriately, need to keep an eye on things. To that end, a Mac equipped with a built-in FaceTime camera or another webcam can help, but only if you have the right software installed. ZipZapMac's Periscope Pro can help you surveil your Mac's surroundings.
Periscope Pro works with your Mac's built-in webcam, third-party webcam attached via USB, or IP camera — which means you can use it on pretty much any camera you can connect to with OS X. It has a simple interface that will only take you a couple of minutes to master.
Periscope Pro can provide continuous monitoring or recording that's triggered by motion or sound. You can control the sensitivity threshold for recording using sliders in the app's preferences to help cut down incidents of Periscope Pro recording when nothing's actually happening.
You also have control over the resolution and frame per second speed of the video. High-res cameras can produce big files fast, so it's good to have this feature as a matter of basic drive conservation.
Options in Periscope Pro include duplication of files to your Dropbox folder, password protection to keep the app from being deactivated, and a "Candid" mode that hides the app from the desktop and the Dock (the light on your camera remains on, however, so there are no surprises from anyone walking into the camera's field of view).
A clip library lets you easily manage what's been recorded, and an indicator in the main screen shows you how many clips have been recorded.
The latest release (as of this posting) improved support for OS X Yosemite and improved support for MJPEG-compatible cameras.
The good
Simple to set up and use
Lets you control video quality to optimize file size
Supports Dropbox
The bad
The bottom line
Periscope is simple to set up and use and provides a truly seamless experience for anyone who wants to use their Mac to record video when they're away (or even if they're around). At $19.99, it's better value than it has been in the past, too. If you're not comfortable buying software you haven't tried, by the way, you can download a demo version from the web site.
This looks cool, Peter. I'm going to check it out. I been using and also an authorized reseller of SecuritySpy which is a pretty high end Video Surveillance software for the Mac. Sent from the iMore App

Not going to use it, but I'm dropping in the comments to say this if the developer reads it. Freaking thank you for providing a demo. For some reason this isn't a thing any more, and most people don't have money to drop on a hope. Thank you again. Posted from the amazing whatever device I can afford because I'm a broke college kid.

just the latest installment of Stalkerware.

Hardly. There's no mechanism for turning off the activity light on the webcam, so anyone looking at the computer should be aware that they're being recorded.

You could put a tiny piece of electrical tape over it? Sent from the iMore App
Thank you for signing up to iMore. You will receive a verification email shortly.
There was a problem. Please refresh the page and try again.