LG UltraFine 5K display: What you need to know before buying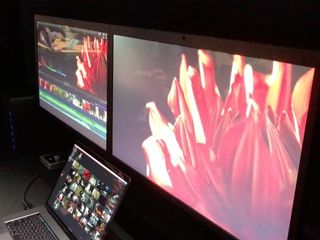 (Image credit: iMore)
Though many were hoping Apple would announce a new Thunderbolt display at its October event, the company went a different route: the LG Ultrafine 5K display, which went on sale earlier this week. If you're wondering how LG's 27-inch works with your Mac, Apple recently published (opens in new tab) a support document.
That's right. Not only can you use the LG 5K display with your Mac, it'll charge your new MacBook Pro at the same time thanks to the Thunderbolt 3 (USB-C) ports.
What is the LG UltraFine compatible with?
Your Mac, even if the hardware is compatible, must be running macOS Sierra 10.12.1 or later. It works with the following models:
MacBook Pro (15-inch, 2016)
MacBook Pro (13-inch, 2016, Four Thunderbolt 3 Ports)
MacBook Pro (13-inch, 2016, Two Thunderbolt 3 Ports)
If you don't own the latest and greatest MacBook Pro, you'll need a USB-C to ThunderBolt 2 adapter (opens in new tab) and a Thunderbolt cable (opens in new tab) to connect an older Mac to use the LG UltraFine as a 4K (or lower) resolution display. It is compatible with the following models:
Mac Pro (Late 2013)
MacBook Pro (Retina, 15-inch, Mid 2014) and later
MacBook Pro (Retina, 13-inch, Early 2014) and later
iMac (Retina, 27-inch, Late 2014) and later
iMac (Retina, 21.5-inch, Late 2015)
iMac (21.5-inch, Late 2015)
MacBook Air (13-inch, Early 2015)
MacBook Air (11-inch, Early 2015)
Mac mini (Late 2014)
What doesn't work with the LG UltraFine?
If you're using an older model Mac, basically anything older than the MacBook Pro 2016, you won't get the additional charging benefit. The adapter and Thunderbolt cable don't support charging via the LG UltraFine, so you'll have to connect your laptop to a power source.
If you're using the LG UltraFine with a Mac mini or Mac Pro, Apple recommends you still use a main monitor. The display may not turn on until you boot into macOS. Pre-boot features like Boot Picker or macOS Recovery may not be available on the display.
What if I can't get the LG UltraFine 5K display to work?
First, make sure you are using the correct cable, either the one that came with the UltraFine, or a Thunderbolt 3 cable capable of delivering 5A of power.
If you still can't get it to work, Apple says, contact LG (opens in new tab).
What do you think?
Are you getting an LG UltraFine 5K display? I want to know what you think of it. Post your thoughts in the comments.
Lory is a renaissance woman, writing news, reviews, and how-to guides for iMore. She also fancies herself a bit of a rock star in her town and spends too much time reading comic books. If she's not typing away at her keyboard, you can probably find her at Disneyland or watching Star Wars (or both).
I am considering buying it, but I am curious to know if I will be able to use it with my Playstation 4 (HDMI connection) too. I would probably need an adapter from HDMI to Thunderbolt 3, but would the screen be able to adapt to the 1080p resolution of the Playstation 4?

It'll be fine, monitors can cope with displaying any resolution so long as it doesn't exceed the native resolution in either width or height. It might just look a little blurrier because it'll have to upscale the image, but essentially the image quality isn't reduced any

Woa! Don't be so fast here. There's no guarantee this will work with a PS4. That's an expensive piece of advice to give without checking first. I've not yet seen an HDMI to Thunderbolt adapter. There are Thunderbolt to HDMI adapters, but you can't reverse them.

Apple's support document says, "With the Apple Thunderbolt 3 (USB-C) to Thunderbolt 2 Adapter and a Thunderbolt cable, you can use the LG UltraFine 5K Display at 4K and lower resolutions..." I can't confirm that this is the same as connecting a PS4, but I believe it will adapt to the lower resolution. It would be smart to check with LG directly to be sure.

Yes that is what I am assuming too. However, I will need to find a adapter that works from HDMI to Thunderbolt 3. Not an easy find...

The answer to your question is emphatically - No. There is no way to convert HDMI-out from the PS4 (or any HDMI device) to the DisplayPort spec built into USB-C/Thunderbolt 3. While there are adapters that allow you to go from DisplayPort-out to HDMI-in, you cannot go the other way around. This has been the case since the beginning of DisplayPort. If you want a display that can double as a TV for HDMI devices like a PS4, your best bet is something like the LG 27UD88 4K display which has a USB-C input in additional to HDMI inputs.

Ok it makes sense. I guess I will have to wait and see if someone comes up with a display with more flexibility. Thanks !

It's not that it's not an easy find. There is no way to go from HDMI to Thunderbolt presently. None. Zero. Perhaps in the future, if the HDMI association allows it, a cable with electronics on it will be designed that will convert backwards. But there is no such cable now. And there is no known solution being publicly discussed.

Questions:
1. When I connect this display to a 13" MacBook Pro (Early 2015) with the USB-C to ThunderBolt 2 adapter + Thunderbolt cable… can I use those three USB-C ports on the back side of the display? Can I use them with USB-C to USB adapters to connect a wired Apple External Keyboard and an external USB 3.0 drive? 2. Same setup: will the speakers, microphone and camera still wort when connected to one of those older supported Macs?

Yes. You can use the three USB-C ports with USB-C to USB adapters to connect external peripherals.

I would buy this if Apple ever came out with a xxgdzcbenkyv!!! Mac Pro!

I don't understand why someone at Apple doesn't realize that with all the pent up demand for a Retina Thunderbolt Display, all they'd have to do is wrap these specs in an aluminum enclosure, slap an Apple logo on the back, price it at whatever they want, and watch the profit roll in. Instead, you have people puzzled as to why Apple would punt this to LG, and questioning whether the aesthetics of this display - which are marginal at best - are worthy of sharing a desk with their shiny new MacBook Pro.

"... and questioning whether the aesthetics of this display - which are marginal at best - are worthy of sharing a desk with their shiny new MacBook Pro." Ditto. I have no dog in this as my Mac iron is a little rusty. Having an Apple LED display all these years makes it hard to look at the LG, even as ultra-Fine as it may be. I'm all for great performance, but I do like a bit of elegant, subtle flash. So many displays, regardless of image quality, look dated the second you stop looking at the screen. Maybe Apple is going to make a 30" iPad and then Sherlock Duet.

Actually i would have thought the other way round... "Having a Macbook pro connected to a better monitor which is *not* an Apple display seems 'out of place' For whatever reasons.

Mine is on order. Can't wait :-)

Guys, practical question on using this display with MacBook Pro. As display comes with no physical controls and all is done from the MacBook Pro, does it mean the only way to start using the display with separate keyboard and mouse is to open the lid of MacBook Pro , press power/fingerprint button, then close lid and put MacBook Pro aside? Would have been nice to be able to power on the 'docked' MacBook Pro from the display. Thanks
Get the best of iMore in in your inbox, every day!
Thank you for signing up to iMore. You will receive a verification email shortly.
There was a problem. Please refresh the page and try again.