New 15-inch MacBook Pro and $1999 iMac 5K: What you need to know!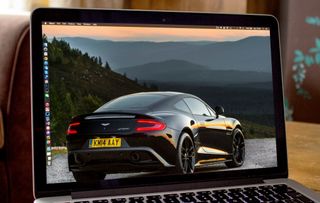 The timing of this week's 15-inch Retina MacBook Pro and the 5K iMac updates was curious, given that WWDC is only a few weeks away. My bet is that Apple has other things planned for the keynote and doesn't want these updates overshadowed.
The 15-inch Retina MacBook's headline feature was the addition of the same Force Touch trackpad we've seen Apple use on the new MacBook and the 13-inch MacBook Pro. After using the trackpad on the new MacBook for a while I understand why Apple is anxious to see it used so widely: It feels the same as its mechanical predecessor but occupies less space in the case and reduces mechanical complexity. That paves the way for Apple to use that space for other things, like more battery, or to make the MacBook Pro even thinner. And where Apple is concerned, no device can be too thin.
The 15-inch Retina MacBook Pro got a couple of other under-the-hood features worth noting. AMD's Radeon R9 M370X graphics processor — a GPU we know precious little about at this point — replaces the Nvidia GeForce GT 750M processor found in last year's model. It's possible that the new processor may help the 15-inch model achieve moderately better battery life than its predecessor (about 9 hours per charge, compared to 8 for the 2014 version).
A faster solid state disk (SSD) implementation yields up to twice the performance as before. That's because Apple's support the NVM Express (NVMe) interface specification on the refreshed MacBook Pro — a technology we first saw on the MacBook, released this past April.
You may recall that Apple switched from SATA (Serial ATA) to PCIe (PCI Express) a while back as the interface it used to connect Macs to SSDs. That yielded a big performance boost. NVMe is not yet another new interface: Instead, it's a communications protocol that works with PCIe. NVMe capitalizes on some of the inherent performance benefits of SSDs compared to hard disks, since SSDs fundamentally function like fast computer memory as opposed to a mechanical hard disk drive.
Otherwise, the 15-inch Retina MacBook Pro goes largely unchanged. Processor clock speed, memory and storage configurations remain unchanged from the previous version. You should still expect to pay at least $2000 to get one.
The 5K iMac got a price realignment - the same model as before is now available for $200 less, starting at $2,299. What's more, Apple now offers a second 5K model for $1,999. The new iMac comes with a slightly slower processor (3.3 GHz, compared to 3.5 GHz). It also eschews the SSD/hard drive hybrid "Fusion" drive for a plain old hard disk, as well.
Left to my own devices, I'd probably pay the extra $300 for the faster iMac. Not only is the clock speed faster, but the Fusion drive is much better than a plain old hard disk drive. Apple mates together a 128 GB SSD with a 1 TB hard disk drive; frequently accessed files are kept on the SSD, with the hard drive used to store stuff that's accessed less often. The net result is that you see the benefits of fast SSD access without the limitations of tiny SSD storage. Sure, you bump up the slower Mac with a 1 TB Fusion Drive for another $200, but what's the point? Spend another $100 and get a better system.
Both the refreshed MacBook Pro and the new iMac sports Intel's fourth generation Core i5 "Haswell" microprocessors. The 13-inch MacBook Pro, MacBook and MacBook Air have all migrated to "Broadwell," Intel's more efficient fifth generation processor.
Unfortunately, Intel stumbled a bit with the rollout of Broadwell — switching to the smaller 14 nanometer die size the Broadwell processor needs was more of an effort than Intel anticipated, and it's behind schedule. So the higher-power Broadwell chips Apple needs for the 15-inch MacBook Pro and the iMac are still in short supply. Apple's sticking with Haswell for now.
So what does this say about WWDC? I don't think that WWDC will emphasize Mac hardware, that's for sure.
Current rumors suggest that Apple is going to use the event as a platform to debut its new Apple TV, and that device is desperately in need of a refresh. Inside, the $69 Apple TV is pretty similar to an iPad 2, which is long past its prime. Apple's betting long on the Apple TV: It gets Mac and iOS device content to the home entertainment center, gives iTunes users an easy way to stream their content there, and also acts as important hub for HomeKit connectivity, which I expect we'll be hearing a lot more about in the weeks to come.
One way or the other, if you'd been holding off getting a 15-inch Retina MacBook Pro or a 5K iMac, now's the right time. In fact, I think it's the right time to buy any Mac, because I don't see a lot of other changes coming down the pipeline until late this year at the very earliest.
Master your iPhone in minutes
iMore offers spot-on advice and guidance from our team of experts, with decades of Apple device experience to lean on. Learn more with iMore!