Apple TV 4K: Everything you need to know!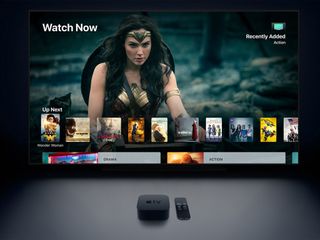 (Image credit: Apple)
How can I get my hands on it?
The Apple TV 4K is available now from Apple's online store, as well as its retail locations around the world.
See at Apple (opens in new tab)
You can also find it at third-party retailers like Amazon.
See at Amazon (opens in new tab)
What does it cost?
Apple TV 4K comes in two sizes, 32GB and 64GB, you can get them for $179 and $199 respectively. You'll be able to buy the current 32GB Apple TV for $149.
32GB Apple TV 4K: $179
64GB Apple TV 4K: $199
32GB Apple TV: $149
Has the design changed? Is there a new Siri remote?
The design has changed ever so slightly. Apple TV 4K doesn't have a USB-C port on the back of the device, meaning you'll have to take advantage of Apple's new Wi-Fi connections for recording video and screenshots from the Apple TV. The device also packs in a gigabit Ethernet port, replacing the slower 10/100 Ethernet port.
As for the remote, not exactly — the Siri remote is getting a "subtle redesign" featuring a new raised white circle around the menu button, but that's about it.
Let's talk specs! What's this thing running?
Well, it's got to pack in some new technology to support 4K HDR content! Apple TV 4K touts the same A10X chip that's in the iPad Pro. That means you're going to get two times the CPU power and four times the GPU power of the current Apple TV.
OK, can you tell me more about 4K and HDR?
Yep! Apple TV 4K can push four times the pixels of an HD screen so you're getting way more pixels if you've got a display that supports it.
HDR stands for High Dynamic Range. Not only does the Apple TV support way more pixels, it also displays those pixels even better. Apple TV supports the industry standard HDR10 and Dolby Vision. You get a high-resolution, high-detail image with 4K HDR.
OK, what about tvOS? Is that going to be ready for 4K?
Yep! Apple has completely redesigned both the tvOS 11 user interface and its popular aerial screensavers to make use of the 4K HDR capabilities of the TV.
Nice … but what about content? I don't see a reason to buy it if I can't watch 4K content on it.
You can! Apple has worked with major studios, such as Universal and Lionsgate, to bring 4K content to iTunes. 4K movies and shows are priced the same as HD content and get this: Any HD content you've got in your iTunes library will be automatically upgraded to 4K! Netflix and Amazon Prime video will also be releasing 4K content soon.
Will HomePod work with my Apple TV?
Apple has recently announced that it's HomePod speaker will be coming on February 9, and you'll be able to send audio from your Apple TV to the speaker over AirPlay.
Any other questions?
Sound off in the comments and we'll do our best to get your questions answered!
Update January 25, 2018: Added a note about the pending release of the HomePod, which you'll be able to connect to Apple TV to use as an AirPlay speaker.
○ Apple TV 4K Review
○ Apple TV buyers guide
○ Apple TV users guide
○ Apple TV news
○ Apple TV discussion
○ Buy at Apple (opens in new tab)
○ Buy at Amazon (opens in new tab)

Get the best of iMore in in your inbox, every day!
Mikah Sargent is Senior Editor at Mobile Nations. When he's not bothering his chihuahuas, Mikah spends entirely too much time and money on HomeKit products. You can follow him on Twitter at @mikahsargent if you're so inclined.
Great news. After trying out various devices (Roku being the most popular) and regularly using PS4 to replace my XBO, I have been waiting for something a little more friendly. AppleTV UI certainly seems to fit the bill, but worthless without Amazon, VUDU and 4K support. Now that this is coming, I think I have found my solution.

I do not have a 4K TV. Will the new APPLE TV work with what I have?

Is the Non-4k Apple TV also getting the new CPU?

Question, it will support 4k and HDR through Netflix... will Netflix allow Dolby Atmos with this device? Currently only supported through LG OLED and Xbox one S/X

Yep. I wonder if there is atmos support at all. Please say yes.

So, how does Apple expect to increase their market share w/set top boxes when it has not reduced the price of the old model? Still have a $150 entry-level price point? Ridiculous! You can get other 1080p set top boxes for much less than that. A8 chip has been around since 2014, ATV4 is 2 years old, why no reduction in price?!? This makes no sense. Also, where is Dolby Atmos support? Others support it. Immersive audio is part of the UHD experience.

If you're in the UK it's got iPlayer and Now TV, but hasn't got All4, my5 or Itv Hub. Amazon Prime is still awol but allegedly will get there by year end. Unless you've bought or intend to buy a load of movies off of iTunes I wouldnt bother. At least with purchases from Amazon or Google Play you can watch them on pretty much every set top box, smart TV or games console.

Not sure if U noticed- but when it was being discussed about the tv app coming to other countries ( inc the uk after australia and canada), there was a screen detailing some international partners that were going to be available locally; it seemed that itv player and five logos were displayed. Dont remember seeing 'all four', however. This would be good news, and at least make the atv more competitive in the uk.

Didn't see that. Well spotted.

I remember hearing rumors a couple months ago the new tvOS would support Air Pods. That seems like a no-brainer. Nothing about that was mentioned today.. Has anyone heard anything about Air Pod support recently?

Thats all I was waiting on to get rid of my TIVO boxes.

Will we be able to rent 4K content through iTunes? I'm assuming the answer is yes but just wanted some confirmation! Thanks

Connectivity is going to be troublesome. You'll be able to connect directly to your TV, but then will get poor sound quality. If you want to connect to an older receiver, you won't be able to pass the 4K signal. 4K Blu-ray players work around this by having a 2nd HDMI output that only carries audio with support for TrueHD, DTS-HD Master Audio, and LPCM. Others do this by having optical output which can pass the same audio programming to older receivers. To get surround sound from the Apple TV 4K, you'll need to have a newer receiver that can pass through 4K Dolby Vision, but for some reason, Apple didn't include support for Atmos. So you spend all the money for a new high end receiver with support for Dolby Vision, but then will need to listen to a lower quality Dolby Digital signal. Sadly too, many digital versions of movies seem to only carry Dolby Digital Stereo (sub-DVD quality), others Dolby Digital (DVD quality sound), and it stops with Dolby Digital Plus (sub-Blu-ray quality). Digital content is a mess right now, and Apple's 4K TV helps in a couple of areas, but really messes things up in some others. If you get this thing, be ready to deal with crappy sound through your TV, or to upgrade to high-end sound but with low quality signal.

This is what I was afraid of. I recently bought an LG OLED Tv and Netflix and YouTube allow streaming dolby vision and atmos through the arc hdmi to my denon receiver and 5.2.4 atmos speaker system. It's incredible! Beside streaming dolby vision, it is almost impossible to get right now unless you have a brand new (as in this year) high end receiver and an Oppo blu ray player. I have a 2016 receiver that is "suppose" to get a firmware upgrade next month (fingers crossed) At the end of the day, if you have a 4k/HDR tv then you will have all the smart apps you need. What is the purpose of Apple tv (except airplay) anymore? I will just keep the one I have for that purpose.

Will we be able to download 4K movies to iOS or Mac devices? While not 4K, the resolution is better than 1080p. Also, when will the 4K movies be available? Will it be on day one, or is this like the Amazon Prime video in that it will come soon?

iMac 5k's we have but where is the 4k content for us?

I have an older Sony Bravia 4K TV (probably about 5 years old). Will this AppleTV 4K work with it or does it need any special encoding/decoding technology. Thanks.

Hi wil the Apple TV 4K work on any tv with 1080 because Apple say hd and uhd to me that mean it wii but it won't show the 4 k

OK, so if my current library is upgraded to 4k, will I also be able to download the 4k content locally? My current BB Speed won't allow streaming of 4k.
Thank you for signing up to iMore. You will receive a verification email shortly.
There was a problem. Please refresh the page and try again.