Mac portable USB drive roundup: The best little drives for your Mac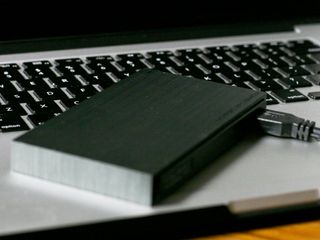 When it comes time to buy an external hard drive for your Mac, you can really buy anything — just about any external hard drive equipped with USB 2.0 or 3.0 will work. But sometimes you're more comfortable dealing with a vendor that actually has a special focus on the Mac, so I've rounded up five of the best I've found.
All the drives I've recommended are reasonably portable, and could be put in a backpack or briefcase easily alongside a laptop Mac like a MacBook Air or a MacBook Pro. All of them should come formatted for OS X, and most of them include special driver or application software that may give you special functionality like file security, additional backup options and more. All of them will also do great as Time Machine backups.
For the sake of narrowing the comparison a bit, I'm focusing on USB 3.0 drives this time around — to the exclusion of more expensive systems that support other interfaces like FireWire and Thunderbolt (I'll get to those in the future).
G-Tech G-Drive mobile USB
G-Technology makes really great RAID and Thunderbolt drives. They've extended their expertise to craft a very nice portable USB drive for use with Macs and PCs called the G-Drive mobile. It's small — 5.08 x 3.23 x 0.51 inches — and is available in 500 GB and 1 TB versions.
LaCie Porsche Design Mobile Drive
Slim, lightweight and clad in aluminum, this USB drive is available in capacities from 500 - 2 TB. I've had one of these myself for about a year and I quite like it - it's quiet, fast and efficient. I've used it for everything from Time Machine backups to clones to external bootable volumes, and it's always worked well. They're available in 500 - 2 TB capacities; LaCie make a similarly designed Slim variant with 120 GB and 250 GB SSDs, also.
LaCie Rugged Mini
If you plan to travel with your hard drive and want to take no chances with protecting the delicate mechanism inside, LaCie's Rugged Mini is a good choice. That bright orange bumper it's surrounded by gives it more than the look of a life raft: It's a tough little drive, able to withstand shock, resistant to drops, rain resistant and pressure-resistant too: LaCie claims you can run it over with a car. Supports USB 3.0 and includes custom drivers to hasten data transfer and protect your files (doesn't need to be used, if you don't want it).
The drive comes in a variety of capacities from 500 GB to 1.5 TB; we've linked to the popular 1 TB model.
Seagate Backup Plus Slim for Mac
Seagate's tiny Backup Plus Slim is available in 500 GB, 1 TB and 2 TB capacities, and measures a scant 4.4 x 3 x 03.8 inches, making it a pocket-sized drive for most of us. Seagate's Mobile Backup App is installed, and the software helps you back up data from your Mac, social media accounts like Facebook and Flickr, and helps you share content on YouTube as well.
Western Digital My Passport Air
As the name implies, Western Digital designed the My Passport Air to suit the design of the MacBook Air. It measures about 11 mm thick, so it's very easy to stow away when you're not using it. It's powered using a single USB cable, and it's clad in alumin(i)um, just like your Mac. Western Digital kindly includes utilities and security software, though they're not necessary to use.
Available in 500 GB and 1 TB capacities.
Your picks?
As I said at the outset, you can really use any USB 2.0 or 3.0 drive and expect it to work on the Mac, so don't think you're limited to just these, or that whatever drive you buy has to say "Mac" on the box in order for it work. But these vendors all offer products especially tailored for Mac users, which may give some Mac owners a bit more security and peace of mind.
Anyway, these are my picks — I'm curious about yours. What are your favorite external portable USB drives for the Mac? Sound off in the comments.
Master your iPhone in minutes
iMore offers spot-on advice and guidance from our team of experts, with decades of Apple device experience to lean on. Learn more with iMore!