Apple announces new Mac Mini, shipping today for $499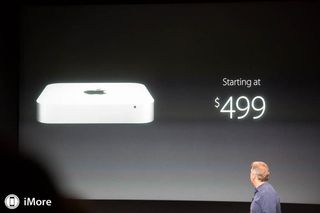 Yet another fantastic announcement from today's iPad and Mac event is the new Mac Mini. It's going for $499, and shipping today. It's getting improved with Wi-Fi ac, a 4th-generation Intel Core processor, PCIe flash storage, two Thunderbolt 2 ports, and claims to be the world's most power-efficient desktop computer.
A lot of long-time Mac fans are excited to hear about the new Mac Mini, and we are too. Are any of you guys going to snag one of these? Let us know in the comments, and be sure to catch up on all of the other great announcements today.
Apple Updates Mac mini Now Starts at $499
CUPERTINO, California—October 16, 2014—Apple® today updated Mac® mini with the latest technologies and a new lower starting price, making Apple's most affordable Mac an even better value. Mac mini now features fourth generation Intel Core processors, integrated graphics that are up to 90 percent faster,* 802.11ac Wi-Fi and Thunderbolt 2 and is still the world's most energy efficient desktop.**
"People love Mac mini. It's a great first Mac or addition to your home network, and the new Mac mini is a nice upgrade packed into an incredibly compact design," said Philip Schiller, Apple's senior vice president of Worldwide Marketing. "With the latest CPU and graphics, faster Wi-Fi, two Thunderbolt 2 ports, OS X Yosemite, and starting at just $499, the new Mac mini is the best value ever."
The new Mac mini delivers new levels of graphics performance, expandability and connectivity. New integrated Intel HD Graphics 5000 and Intel Iris Graphics deliver up to 90 percent faster graphics performance than the previous generation.* Mac mini now includes two Thunderbolt 2 ports, each delivering up to 20Gbps of bandwidth to each port, as well as next-generation 802.11ac Wi-Fi that is up to three times faster when connected to an 802.11ac base station. Mac mini is still the world's most energy efficient desktop, exceeding Energy Star 6.1 requirements by seven times the standard and consuming as few as 6 watts of power at idle.**
Every new Mac comes with Mac OS® X Yosemite, a powerful new version of OS X®, redesigned and refined with a fresh, modern look, powerful new apps and amazing new Continuity features that make working across your Mac and iOS devices more fluid than ever.
iMovie®, GarageBand® and the suite of iWork® apps come free with every new Mac. iMovie lets you easily create beautiful movies, and you can use GarageBand to make new music or learn to play piano or guitar. iWork productivity apps, Pages®, Numbers® and Keynote®, make it easy to create, edit and share stunning documents, spreadsheets and presentations. iWork has been redesigned with a new look, support for iCloud Drive℠ and a host of new features, including a new comments view in Pages. iWork for iCloud® beta lets you create your document on iPad®, edit it on your Mac and collaborate with friends, even if they're on a PC.
Pricing & Availability Mac mini begins shipping today. Mac mini comes in three standard models: a 1.4 GHz dual-core Intel Core i5 with Turbo Boost speeds up to 2.7 GHz, 4GB of memory, Intel HD Graphics 5000 and a 500GB hard drive starting at a suggested retail price of $499 (US); a 2.6 GHz dual-core Intel Core i5 processor with Turbo Boost speeds up to 3.1 GHz, 8GB of memory, Intel Iris Graphics and a 1TB hard drive starting at suggested retail price of $699 (US); and a 2.8 GHz dual-core Intel Core i5 processor with Turbo Boost speeds up to 3.3 GHz, 8GB of memory, Intel Iris Graphics and a 1TB Fusion Drive starting at a suggested retail price of $999 (US). Customers can order Mac mini through the Apple Online Store (www.apple.com).
Customers can choose to configure their Mac mini with up to a 3.0 GHz dual-core Intel Core i7 processor, up to 16GB of memory, and up to a 1TB PCIe-based flash drive. Additional technical specifications, configure-to-order options and accessories are available online at www.apple.com/mac-mini.
*Testing conducted by Apple in October 2014 using preproduction Mac mini configurations. For more information visit www.apple.com/macmini/features.html. **Claim based on energy efficiency categories and products listed within the EPA ENERGY STAR 6.1 energy database. EPEAT is an independent organization that helps customers compare the environmental performance of notebooks and desktops. For more information visit www.epeat.net.
Apple designs Macs, the best personal computers in the world, along with OS X, iLife, iWork and professional software. Apple leads the digital music revolution with its iPods and iTunes online store. Apple has reinvented the mobile phone with its revolutionary iPhone and App Store, and is defining the future of mobile media and computing devices with iPad.
Get the best of iMore in in your inbox, every day!
Editor-at-very-large at Mobile Nations, gamer, giant.
Hallelujah!!! Haha Sent from the iMore App

I'm pretty disappointed in this actually. The base model has same specs as the cheapest MBA, but with a 500Gb HDD. So, for $400 more you get a 128Gb SSD, an 11" display, a backlit keyboard & awesome trackpad & 9 hours of battery, and it's portable. Same CPU, GPU, RAM. Something's off here.
-
I was really looking forward to a "headless" iMac. As awesome as those monitors are, I don't need one. I have three 27" monitors with the same exact panel as the non-retina iMac. I hoping to get a better machine for around $1,000. The $999 mini is sad for the price, honestly. A quad core i5, 16Gb RAM, with 256SSD. I guess I was way off.

I've been waiting for a viable (and affordable) desktop Mac. I already have an Apple Cinema Display that I occasionally use with my MacBook Pro in clamshell mode but it's showing it's age being the last Core 2 Duo model made. It works hard pushing all those pixels in a game session despite all the upgrades I've put into it.

i had decided to not buy a mini and set it up as a media server but dropping the price by $100 makes that harder. i already use WHS2011 to serve my media but would like a server that i can put in the same room as my TV and use it to surf the web and stream media on that my WHS can't do (too big for the living room)

probably the best news from the keynote...

Been waiting for this for quite a while. Sadly flash storage is still only standard on the most expensive model and as an option it's quite overpriced on the other models. There's also not even an option for a quad-core now. I'd been hoping for an upgraded Mini so I could move to OS X (the Mini really is the only option, I already have two good screens so don't want an iMac and the Pro is just too expensive) and leave make my Windows PC a dedicated gaming machine but I'm not sure a dual-core is enough. Definitely looking forward to some in-depth reviews

I, like everyone else was excited to see the new Macs and when I went to check the price and specs on the mini, I was really disappointed and somewhat surprised to see only 4gig of ram in the 499 version. That's just not enough in my view for all the things you do and wouldn't buy to do my photo work on.
On the flip side of that argument, it's great if your going to watch movies on it connected to a television, or music.
I was just astonished to see such low specs. I'd rather it be 599 with some hardware on it.

$499.00 sounded good until I saw it had a 1.4GHz cpu inside. Very disappointed at that move. Memory and HD I could change myself but the processor is permanent. And like riokeyb2010 said "No quad core option :("

Can you modify/expand these minis? I thought the ability to add RAM and swap the HD out was removed with the last model line. Perhaps I am confusing this with their laptops.

The RAM is very easy to upgrade but the HD is quite a bit harder.

Traditionally expanding the RAM involved little work. The last model you unscrewed the base and popped in the new sticks.

This year's mini has LPDDR3 integrated memory. Flas storage is PCIe. The only possible upgrade the HDD. Mac mini 2012 is better than new.

RAM can be configured on all models. No mention of PCIe flash storage just Fusion. HDD is on standard SATA bus and should be upgradable

RAM is configurable, but not upgradable, as far as I can tell. There isn't even a picture of the removable bottom this time. SSDs are PCI-E.

No quad core option??? Seriously Apple? Always leaving something out. Sent from the iMore App

I have not had time to use my Mac mini much, but I can already tell how much faster it is than the 2012 model . The local Apple Store where I picked mine up at said that the memory is only factory upgradable . That is a bummer but I may not need to upgrade it anyway.. The Mac mini replaced my MacBook that had a much weaker processor that I didn't take anywhere so mobility wasn't a bonus. Anyway, I highly recommend the new Mac Mini !
Thank you for signing up to iMore. You will receive a verification email shortly.
There was a problem. Please refresh the page and try again.