Small, sturdy, and powerful, the CalDigit TS4 Thunderbolt 4 dock gives you more ports in more sizes and shapes than you can shake a stick at, offering power and data transfer in a compact package. It's expensive but worth every penny.
Pros
+

Loads of ports

+

Compact size

+

Charge multiple devices through multiple ports
Cons
-

Expensive

-

No HDMI

-

Sometimes temperamental with Thunderbolt displays
You can always trust iMore. Our team of Apple experts have years of experience testing all kinds of tech and gadgets, so you can be sure our recommendations and criticisms are accurate and helpful. Find out more about how we test.
You can never have enough ports, and you can never have enough places to charge your devices from. The many devices lying around your house have different charging needs and physical connection requirements. Finding a device that can play nicely with all of them – especially when it comes to computing connectivity – isn't always easy.
Apple's laptops and desktop machines have, thankfully, in recent years improved the amount of I/O offered on-device after a long spell of minimalist approaches to USB and SD card support. But it's often still not enough to hook up every device you'll need in your desktop working life.
Enter the CalDigit TS4 Thunderbolt dock, a true beast of burden when it comes to shouldering the menagerie of ports and charging requirements the modern workspace requires. With a total of 18 (EIGHTEEN!) ports, ranging from Thunderbolt 4 to reliable old USB-A, audio connection, memory cards, and more, not to mention 98W charging, it's the support station your desktop needs and easily the best Thunderbolt docking station we've used thus far – providing, of course, you can meet its high price tag.
CalDigit TS4 Thunderbolt dock: Price and availability
The CalDigit TS4 Thunderbolt dock is available now, priced at $399.99 / £399.99 when bought directly from CalDigit, and around that price when picked up from other retailers too.
There's no denying that's a lot of money – you could get a whole budget laptop for that cost, and many other Thunderbolt 4 docks come in at far less expensive. But in reality, there's not another dock out there that can offer this much speed, connectivity, and power. Of course, you get what you pay for then: if you have a demanding workload, it'll pay for itself. But if you simply need to add a couple of USB ports to your setup, you might be better off with a little less expensive one.
CalDigit TS4 Thunderbolt dock: What I love
Ports! All the ports! Ports everywhere! If you've got a device that can be plugged into your Mac or PC, and it's been made in the last ten years, chances are you'll be able to plug it right into the CalDigit TS4 with no problems whatsoever.
Swipe to scroll horizontally
Category
Spec
Connection
Thunderbolt 4 Detachable 0.8m cable (2.62 feet)
Ports
Three Thunderbolt 4 (One host)
Three USB-C (10Gbps)
Five USB-A (10Gbps)
DisplayPort 1.4
2.5 Gigabit Ethernet
3.5mm combo in/out
3.5mm out
3.5mm in
SD card reader (UHS-II)
microSD card reader (UHS-II)
Power
Up to 98W to host
Front USB-C 20W
Other USB-C 7.5W
USB-A 7.5W
Max display res.
8K @ 60Hz
Dual 4K @ 60Hz
Security
Kensington lock slot
Dimensions
5.55 (H) x 1.65 (W) x 4.46 (L) inches
(141mm x 42mm x 113mm)
Weight
1.41 pounds (0.64kg)
Warranty
2 years
A quick rundown of what's on offer then: its 18 ports consist of three Thunderbolt 4 ports (all on the rear), three 10Gb/s USB-C ports (one rear, two front), five 10Gb/s USB-A ports (four rear, one front), a DisplayPort 1.4 port, a 2.5Gbps Ethernet port, two UHS-II card slots (in both full size and microSD sizes, both on the front), 3.5mm audio in and audio out, plus a 3.5mm combo audio in and out on the front. You've also got a Kensington lock for keeping the dock safe from thieves.
Display support goes up to two 6K / 60Hz screens over Thunderbolt 4 or refresh rates up to 240Hz at a 1440p resolution. You've got the ubiquitous DisplayPort, too, if Thunderbolt displays aren't your thing.
All these then connect to your Mac, MacBook, laptop, or PC over one of those Thunderbolt 4 connections. Load the dock up with drives, speakers, mics, dongles, and displays, pop in that one cable to your computer, and you'll instantly get all those connections added. Likewise, yank it out, and you'll quickly be on the go again, with the dock ready to be hooked up to another device. It's incredibly convenient.
You'll get some functionality if your host device is Thunderbolt 3 or USB-C too (it'll work with an iPad Pro, for instance), but expect the performance and compatibility to degrade in line with the connection you're hooking up with, whether that's in the number of displays it can support or bandwidth it can deliver.
Those ports can charge your devices too. For instance, you'll get 98W from the rear Thunderbolt 4 connection to your host laptop, while the remaining two Thunderbolt ports offer 15W. One of the front USB-C ports delivers 20W – suitable for a MagSafe charger – and the remaining USB-C and USB-A ports have 15W. So many of the ports will still provide power to your devices even if the host computer isn't present, making the CalDigit TS4 double as a handy charging station.
It's not a bad-looking thing, either. It is made with aluminum paneling and works in either a flat landscape or upright vertical orientation; it measures 141mm x 42mm x 113mm (H x W x L). It has a reasonable desktop footprint then, but compact given what's on offer – don't expect to easily take it on the go when the large accompanying power brick is taken into account.
Aside from some minor monitor issues, which I'll go into, everything I worked with on the CalDigit TS4 worked without a hitch – I got the highest speeds I've seen from my router, solid transfer speeds when transferring between multiple sticks and cards (though an external HP Thunderbolt 3 SSD remained fastest when hooked up to my MacBook) and fast charging. In addition, there was never a delay in items being recognized by the dock, the right ports are easily accessible from the front, and the whole unit never got too hot, even when all ports were in use – at least when stood in a vertical orientation, as I tended to keep the CalDigit TS4.
CalDigit TS4 Thunderbolt dock: What I don't love
The CalDigit TS4 gets almost everything right, and any complaints I have will be merely down to the quirks of my computing configuration.
One complaint likely to be a universal one is the lack of an HDMI port. While Thunderbolt and DisplayPort connectivity will do the trick for most users, HDMI is still handy in a pinch. That's particularly true for those using smaller OLED TVs as monitors, with the likes of the 42-inch LG C2 surprisingly popular on desks.
The accompanying power brick is also a bit of a chunker. It's bigger than my Windows PC's and monitor's power supplies combined and finding it a spot among the mess of cables under my desk was a bit of a challenge. However, given the 230W power it's drawing, its size is understandable.
Finally, I've had some intermittent issues with my monitor connected to the CalDigit TS4, which would intermittently lose signal in a way that didn't occur when connected directly to the display itself. Multiple links in the chain could be causing this, from the cables I'm using, to the ports on my devices, to the monitor itself. So it's difficult to say if the dock is at fault here or some other part of the party.
CalDigit TS4 Thunderbolt dock: Competition
There's lots of competition in the Thunderbolt dock space – but surprisingly, few options go to the extreme connectivity lengths that the CalDigit TS4 does.
Your next best bet for Thunderbolt 4 connectivity is the Belkin Pro Thunderbolt 4 dock, which offers 12 ports of connectivity, of which HDMI makes up two ports. But it too is expensive, its USB ports are just 2.0 speed, and its power options are weaker. So you'd be better off coughing up the extra cash for the CalDigit.
The real competition sits in the smaller, more affordable dock options. CalDigit's own Thunderbolt 4 Element Hub will probably be enough for most people, delivering 60W charging and featuring four Thunderbolt 4 ports and four USB-A. The budget-friendly OWC Thunderbolt 4 Hub is worth a look, too, at around half the price of the CalDigit TS4 (for about half as much connectivity, granted).
If you're using an older Thunderbolt 3 device as your primary driver for the dock, it's worth looking back at the CalDigit TS3 Plus. It has slightly fewer ports at 15; as its name suggests, it only hits Thunderbolt 3 bandwidth. But it's also around $100 cheaper.
CalDigit TS4 Thunderbolt dock: Should you buy it?
You should buy this if…
You have a Thunderbolt 4 device – and not enough ports to take advantage of it
You want to keep multiple desktop devices topped up with power at once
You have an intense workload that requires the use of lots of devices simultaneously
You shouldn't buy this if…
Your port needs are modest
You never work at a desk – a portable dock may suit you better
You need HDMI connectivity for your display
CalDigit TS4 Thunderbolt dock: Verdict
If your desk and workload demands many connection options, there's no better docking device on the market than the CalDigit TS4. Its port selection is near perfect, its port placement is convenient, and its performance is top-notch, whether in data transfer speeds or power supplies. Of course, it's expensive, but its convenience makes it the finishing touch to any self-respecting workstation and a great companion to the best MacBooks.
---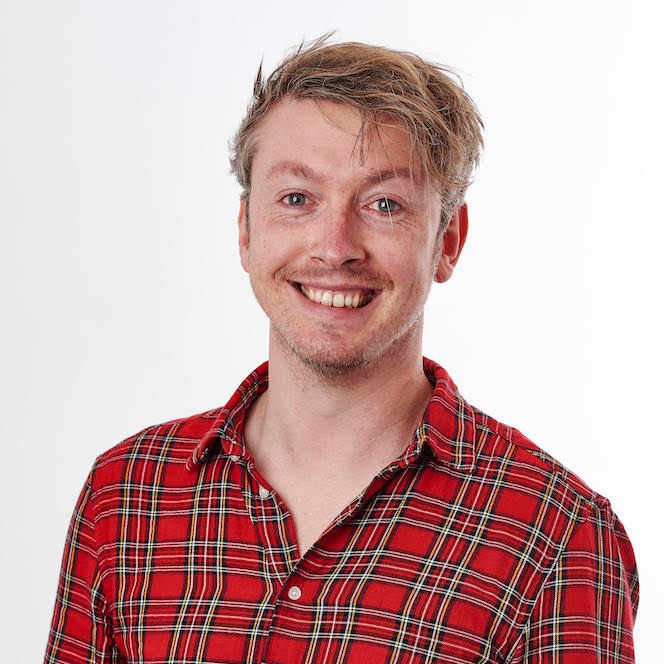 Gerald Lynch is the Editor-in-Chief of iMore, keeping careful watch over the site's editorial output and commercial campaigns, ensuring iMore delivers the in-depth, accurate and timely Apple content its readership deservedly expects. You'll never see him without his iPad Pro, and he loves gaming sessions with his buddies via Apple Arcade on his iPhone 14 Pro, but don't expect him to play with you at home unless your Apple TV is hooked up to a 4K HDR screen and a 7.1 surround system.
Living in London in the UK, Gerald was previously Editor of Gizmodo UK, and Executive Editor of TechRadar, and has covered international trade shows including Apple's WWDC, MWC, CES and IFA. If it has an acronym and an app, he's probably been there, on the front lines reporting on the latest tech innovations. Gerald is also a contributing tech pundit for BBC Radio and has written for various other publications, including T3 magazine, GamesRadar, Space.com, Real Homes, MacFormat, music bible DIY, Tech Digest, TopTenReviews, Mirror.co.uk, Brandish, Kotaku, Shiny Shiny and Lifehacker. Gerald is also the author of 'Get Technology: Upgrade Your Future', published by Aurum Press, and also holds a Guinness world record on Tetris. For real.