Apple faces alarming MacBook sales decline, and there's no 2023 models coming to save the day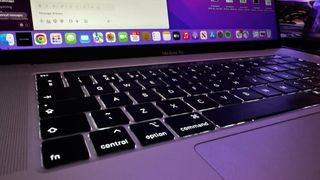 (Image credit: Future / James Bentley)
A recent reports suggest that demand for the 15-inch MacBook Air plummeted after the back-to-school period, and rumors of no new MacBooks in 2023 mean sales will only go further down with time. One powerful spec advancement, however, is expected to raise interest again next year.
According to Ming-Chi Kuo, a top Apple analyst, demand for the 15-inch MacBook Air went down by 20% over the last year after the back-to-school period, and total MacBook shipments are expected to decline by 30% to 17 million units in 2023.
No new MacBooks are due to launch by the end of 2023, which is normally a great way to increase interest in a product. Without this push, MacBook sales are expected to decline further until the next major launch. Black Friday does go live soon, so a small bump in sales is expected, but we'll have to wait for 2024 to see sales figures return to normal.
M3 to the rescue
In the same report, Ming-Chi Kuo says "Apple expects the M3 processor to boost MacBook shipments in 2024, but it remains to be seen whether this strategy will be effective." Apple isn't putting out a new MacBook this year to allow space to refresh the line in 2024. This means Apple will clear out stock for a new product launch and marketing strategy.
The M3 is the next generation of Apple's own silicon chip. Expected to run on 3-nanometer technology, this allows Apple to fit even more on a smaller chip. Like the iPhone 15 Pro swapping to 3nm technology, this should result in a more efficient battery and more powerful chip. The sales decline at the latter half of 2023 could be a result of users waiting for the next major upgrade before purchasing a MacBook. Luckily, the M2 range is still incredibly powerful and will be for some time.
More from iMore
Master your iPhone in minutes
iMore offers spot-on advice and guidance from our team of experts, with decades of Apple device experience to lean on. Learn more with iMore!
James is a staff writer and general Jack of all trades at iMore. With news, features, reviews, and guides under his belt, he has always liked Apple for its unique branding and distinctive style. Originally buying a Macbook for music and video production, he has since gone on to join the Apple ecosystem with as many devices as he can fit on his person.
With a degree in Law and Media and being a little too young to move onto the next step of his law career, James started writing from his bedroom about games, movies, tech, and anything else he could think of. Within months, this turned into a fully-fledged career as a freelance journalist. Before joining iMore, he was a staff writer at Gfinity and saw himself published at sites like TechRadar, NME, and Eurogamer.
As his extensive portfolio implies, James was predominantly a games journalist before joining iMore and brings with him a unique perspective on Apple itself. When not working, he is trying to catch up with the movies and albums of the year, as well as finally finishing the Yakuza series. If you like Midwest emo music or pretentious indie games that will make you cry, he'll talk your ear off.