Now even Linux is more popular than macOS for gamers — and it's all down to one device
Mac is now lagging behind the rather great Steam Deck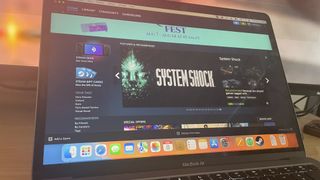 (Image credit: Future / James Bentley)
A recent Steam hardware survey shows that macOS is now third place for the most popular Steam operating systems, a sign that Apple's new macOS Sonoma is a needed update and that one particular device is already incredibly popular.
The launch of the Steam Deck way back in February 2022 was an important one for the handheld industry and a petty big risk for Valve. A proof of concept for higher-end handheld devices — that risk has paid off, with millions of units out in the wild. Linux, traditionally an OS for those who really want to get into the weeds of their device, has also become even more popular.
Running out of Steam
As spotted by gamingonlinux, Linux is now outpacing macOS for gaming on Steam. According to Steam's July hardware survey, Windows takes up 96.21% of the market, with Linux behind that at 1.96% and macOS at 1.84%. Windows took a drop of -0.56% in July with Linux benefitting from a +0.52% increase and macOS with a small +0.05% uptick.
Given that the SteamOS is built on Linux architecture, this increase is due to the continued sales of the Steam Deck - a PC on-the-go that is currently selling tremendously well. This is the most popular Linux OS on the entire Linux list and a sign of how popular the device is.
Improvements are being made to gaming on Mac with macOS Sonoma and its new dedicated gaming mode. This new mode gives games priority when it comes to its CPU and GPU, in turn lowering CPU and GPU usage in background tasks. This allows for an increase in gaming performance out of Mac hardware and M-series chips, so that you can play games on your MacBook or Mac desktop. One of the games shown off in the site preview is Stray, a game that is by no means an easy game to run (talk about the performance here)
It also attempts to lower latency for wireless controllers and AirPods, fixing a problem I've had while using video and music production apps. These are all small changes that should make gaming on Mac much easier.
This all being said, Apple doesn't make traditional gaming devices for a reason. Though you can play less intensive games on them, most gamers with an interest in great frame rates or particularly impressive textures will go for a deliberately designed device, such as a Gamin PC or, indeed, a Steam Deck. macOS is unlikely to ever overtake Windows for gaming - even if Apple Arcade is a pretty nice service for Mac users.
Master your iPhone in minutes
iMore offers spot-on advice and guidance from our team of experts, with decades of Apple device experience to lean on. Learn more with iMore!
James is a staff writer and general Jack of all trades at iMore. With news, features, reviews, and guides under his belt, he has always liked Apple for its unique branding and distinctive style. Originally buying a Macbook for music and video production, he has since gone on to join the Apple ecosystem with as many devices as he can fit on his person.
With a degree in Law and Media and being a little too young to move onto the next step of his law career, James started writing from his bedroom about games, movies, tech, and anything else he could think of. Within months, this turned into a fully-fledged career as a freelance journalist. Before joining iMore, he was a staff writer at Gfinity and saw himself published at sites like TechRadar, NME, and Eurogamer.
As his extensive portfolio implies, James was predominantly a games journalist before joining iMore and brings with him a unique perspective on Apple itself. When not working, he is trying to catch up with the movies and albums of the year, as well as finally finishing the Yakuza series. If you like Midwest emo music or pretentious indie games that will make you cry, he'll talk your ear off.
Yes, that's the difference: if you want to tweak your computer (to participate in the threadmill-RPM race), then you don't go Apple. If you want to have your devices work as a team (to accomplish some real-world goal), then you go Apple (or Linux after all). - One isn't "better" than the other, though. :-)

Reply