MacBook Pro: Key death and the butterfly keyboard effect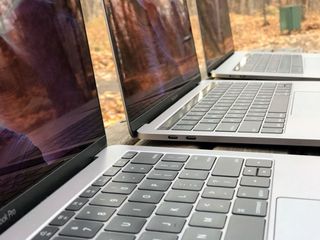 (Image credit: Rene Ritchie/iMore)
July 19, 2018: Apple Authorized Service Provider documents describe new keyboard protection membrane
While publically Apple has only commented on the noise reduction aspects of the 3rd-generation butterfly keyboard, internal documentation provided to Authorized Service Providers paints a clearer picture of how the new design improves reliability as well:
From MacRumors:
Good news for anyone worried about keyboard failure in the new models. It should be noted, however, that according to Apple Insider, the same language is not included in all versions of the service docs:
There wil no doubt be speculation that legal issues are keeping Apple quiet on the subject, but we won't know for sure unless and until an official statement is provided.
July 13, 2018: MacBook Pro with Touch Bar and Touch ID 2018 features a crumb catcher!
Infamous tear-down-and-repair site iFixIt performed surgery on the new 2018 model MacBook Pro with Touch Bar and discovered something Apple doesn't seem to want to admit to. There is a new addition to the underside of each key in the form of a thin silicone membrane designed to protect the butterfly mechanism from getting dust and crumbs caught in it.
iFixit pointedly admits that though this members is clearly intended to address the issue of dust particles affecting the MacBook Pro keyboard, it can't confirm that this fixes reliability issues. After all Apple is highlighting this as a way to make the keyboard quieter, not admitting it's a fix for any keyboard issues.
I look forward to seeing the data in a year about whether reports of issues with this third-generation dome and butterfly keyboard drop significantly.
June 22, 2018: Apple announces keyboard service program for MacBook and MacBook Pro
Apple has just announced a service program for MacBook and MacBook Pro customers who have experienced issues with their keyboards and are no longer covered under AppleCare. An Apple spokesperson provided me with the following statement:
Apple Keyboard Service Program for MacBook and MacBook Pro (opens in new tab)
May 22, 2018: My MacBook Pro has finally succumbed to key death
After testing three MacBooks and five MacBooks Pro with the new butterfly-mechanism keys, using a couple of them full time for months at a time, I've finally experienced it… key death. Dust-maggedon. The end of type.
the compressed air and some creative cleaning helped a little but it's still not fully functional. So, I'll be taking it into the Apple Store and, just like everyone else following this story, waiting to see what happens next.
May 8, 2018: The lawsuits have started, of course
Apple gets sued all the time, so this comes as no surprise:
There's also a petition. The numbers (below) show that there was a spike in repairs in 2016 but that they looked to have normalized in 2017. I'm not sure if this changes anything from Apple's perspective. Last I heard, which was a month or so ago, they were keeping an eye on it, given the attention, but the numbers just hadn't passed their threshold for a replacement program, much less a recall.
But, as I've been saying for a long time now, the negative sentiment could force action numbers alone could not, and the issue has become toxic. Also, a vocal portion of Apple's customer base still hates the new butterfly-switch keyboards. For a single-vendor product, that's a problem.
Mike Wuerthele as done the hard work of adding some data to the previously annecdotal MacBook Pro butterfly-switch keyboard issue.
From Apple Insider:
Apple Insider looks at the percentage of keyboard incidents but I think it's useful to look at the whole numbers.
Swipe to scroll horizontally
| MacBook Pro | Total Incidents | Keyboard Incidents |
| --- | --- | --- |
| 2014 | 2120 | 118 |
| 2015 | 1904 | 114 |
| 2016 | 1402 | 165 |
| 2017* | 1161 | 94 |
2017 models haven't been on the market for a full year yet, but just shy of June, look to be in-line with 2014 and 2015 numbers.
2016 models, according to Apple, sold better than usual, which can be attributed to pent-up demand following the longer than normal gap between updates.
So, all told, it looks like Apple improved the overall reliability of the MacBook Pro in 2016 in every way except for the keyboard, which goes up in 2016 but seems to go back to normal in 2017.
Again, there's no way to extrapolate these numbers beyond what they are, but if they're in any way accurate, they don't seem to reach the levels of a product replacement program, much less a recall. Depending on how much higher the sales were in 2016, the difference might not even be significant.
Either way, it's clear that regardless of the numbers, Apple has a perception problem on its hands with this keyboard design. Whether or not that results in substantive change, we'll have to wait and see.
Like Matthew Panzarino of TechCrunch, I haven't had any problems with butterfly-switch keyboards on the half-dozen or so MacBooks and MacBooks Pro I've tested or used over the last couple of years, including the two I use daily for writing and video editing.
zero issues and I've had 6 of them between demo models and personals and workzero issues and I've had 6 of them between demo models and personals and work— Matthew Panzarino (@panzer) April 25, 2018April 25, 2018
But neither Panzer nor my opinions or experiences negate the opinions or experiences of people like Casey Johnston, writing for The Outline:
Or those of Casey Neistat or others who have had problems.
I've said repeatedly that I love the new MacBook and MacBook Pro keyboard and, though I still have an older MacBook Pro, I now dislike typing on it. It feels loosey-goosey. The current MacBook Pro is the best MacBook I've ever used, keyboard included. But, I've also said repeatedly, the new butterfly-switch keyboards remain so divisive that, for a single-vendor product, that in-and-of-itself is a problem that needs to be addressed.
Opinions and preferences are one thing, though. Failure rates are another.
Jason Snell, writing for Six Colors:
John Gruber, writing for Daring Fireball:
Apple is acutely aware of the complaints surrounding the butterfly-switch MacBooks and MacBook Pros. When prominent members of the community amplify the issue, it doesn't go unnoticed. Not at any level. But Apple is also the only one with any real, hard data — exactly how many units have been sold and exactly how many of those have reported keyboard failures.
Almost:
For what it's worth, Apple reports cost of warranty claims (and accruals for future claims). Nothing too out of the ordinary with those line items. Probably enough sales volume with MacBook Pro for any widespread problem to be noticeable in the two line items.For what it's worth, Apple reports cost of warranty claims (and accruals for future claims). Nothing too out of the ordinary with those line items. Probably enough sales volume with MacBook Pro for any widespread problem to be noticeable in the two line items.— Neil Cybart (@neilcybart) April 25, 2018April 25, 2018
It's possible keyboard replacements aren't being covered under warranty but, given how recent most of the product line is, especially the MacBook Pro, it stands to reason there would be at least some visibility there.
Apple has already announced a battery replacement program for MacBooks Pro (non-Touch Bar) (opens in new tab) manufactured between October 2016 and October 2017, and the company has announced replacement programs and warranty/repair extensions in the past for a range of components, including graphics, displays, and storage. So, clearly, the company is not averse to addressing issues when it believes they're significant.
It's in Apple's own best interests to do this. Not only is Apple itself a huge user of its products, from the executive team to engineers to supporting staff, but it knows it's more economical to keep customers happy than to try and convert new customers. A bad product hurts. (It's why Apple reversed course on the buttonless iPod shuffle and, finally, the 2013 Mac Pro.) A bad reaction to a bad product kills. (It's why Steve Jobs ultimately told us we could have our free iPhone 4 bumper cases.)
What's frustrating to many is that it often takes a painfully long time for Apple to say anything about anything — the company has a measure-10-times-cut-once philosophy — even then, if the company has nothing to say, the company says nothing. So, unless and until the company says anything, it's impossible to know which of those states we're in.
Except, of course, the negative sentiment around the butterfly-switch keyboards may eventually force Apple into action either way.
For now, my buying advice is as follows:
If you can wait on getting a new MacBook or MacBook Pro, always wait as long as you can because you'll always get new and/or updated models over time. (That's been my standard buying advice for a decade.)
If you can't wait and you're at all worried about butterfly keys, get one of the previous models with scissor keys. Both the MacBook Air

(opens in new tab)

and 2015 MacBook Pro

(opens in new tab)

remain available.
If you want one of the new 12-inch MacBooks

(opens in new tab)

or MacBooks Pro

(opens in new tab)

, get it. If you ever have a problem with the keyboard or any other component, take it to Apple. (If you're even moderately concerned, get AppleCare so your warranty lasts as long as possible.)
Again, I haven't had this issue with the current MacBook or MacBook Pro, so factor that in when you weigh my opinion alongside those who have. But, two years ago, the 'e' key on my 2014 MacBook Pro stopped working. Apple replaced the top case assembly to fix it. It took 48 hours. It cost me nothing.
That's one of the reasons I remain a MacBook Pro customer to this day.
○ MacBook Pro with M1 Review
○ Macbook Pro with M1 FAQ
○ Touch Bar: The ultimate guide
○ MacBook forums
○ Buy at Apple (opens in new tab)

Get the best of iMore in your inbox, every day!
Rene Ritchie is one of the most respected Apple analysts in the business, reaching a combined audience of over 40 million readers a month. His YouTube channel, Vector, has over 90 thousand subscribers and 14 million views and his podcasts, including Debug, have been downloaded over 20 million times. He also regularly co-hosts MacBreak Weekly for the TWiT network and co-hosted CES Live! and Talk Mobile. Based in Montreal, Rene is a former director of product marketing, web developer, and graphic designer. He's authored several books and appeared on numerous television and radio segments to discuss Apple and the technology industry. When not working, he likes to cook, grapple, and spend time with his friends and family.
I originally bought a 2016 15 inch MacBook Pro with Touchbar and had nearly all of the typical issues people are having with this model (repeating keys, very loud clacking under load, dead keys). I had my top board replaced 3 times so finally on the fourth they upgraded me to the MBP released in 2017 and I have not had any issue. There has been a rumor (seemingly confirmed by an engineer who worked on the MBP on Reddit) that they made a slight modification to the 2017 keyboard to avoid the issues with the 2016 units. Doesn't mean the issues may not appear but maybe they will be less common.

that's very interesting! can you point us to this reddit thread?

https://www.reddit.com/r/apple/comments/6mtaou/my_macbook_pro_2016_story...

I have a MBP Touch Late 2016. I'm onto keyboard number 3. The original. This was starting to have some keyboard troubles, but then the touch bar OLED partially died, so the entire top case including keyboard was replaced. That second keyboard lasted a number of months until the keys started to misbehave. Apple swapped key caps on the key, but this actually went from occasionally not registering the key to frequently double registering the key. After a number of visits back to the Apple Store, they eventually they agreed to replace the keyboard. Third keyboard is so far working OK. It's not good enough. What happens when the keyboard dies out of warranty and they then want to charge A$650 + tax to replace (because it is all integrated into a single piece) with yet another dodgy design flawed keyboard?

Well, as many people have noted, Apple fixes things out of warranty, especially when there's a series of problems with the same device. Make sure you keep copies of your service visits with Apple for the previous repairs. You're the poster child for those out-of-warranty stories.

Pretty sure there are just as many cases where they don't fix things out of warranty.
Sometimes it even takes a lawsuit.

2016 MBP and no issues. And I bang on the keyboard all day.

2017 MBP, no issues (so far) since purchased in Nov 2017.

I wonder how much testing Apple performs in real-world environments. And by 'real-world', I don't mean Apple employees working on their MBP's from the relatively clean, filtered-air office environment of Infinity Loop or the new Apple Park. I mean 'real-world' as in someone working out of a home office that has kids and pets and no matter how clean you try to be, dust and dirt happens.

They do real-world testing, hence why we had the whole iPhone 4 found in bar incident. Apple gave the device for real-world testing, using it as an every day device

The Q was, "I wonder how much......."
I'm guessing not a huge amount.

Well we won't know that without an answer from Apple, but with a company the size of Apple, I'm sure that they do plenty.

I disagree. For things like those ridiculously obscure messages that crash the iPhone I'd say that even real world testing would miss that.
But for this keyboard issue, antenna gate and plenty of others one of two things is at play.
1. They don't test enough.
2. They tested, found an issue and decided it was too small to retool for.

2016 15" MBP TB here. After about 6 months the B-key started acting up after a PB software update. Turned out to be a hardware issue and the top case was replaced under warranty. Haven't seen any problems since. As the battery was replaced also (one with the top case) I considered that a bonus :-). Now I hope no keyboard issues will crop up, but if they do, I hope it happens soon. Still, this should not be something I'd have to worry about.

Apple sells millions and millions of these laptops and a few people have problems with them and complain. I love the new keyboard, and I love my new MacBook Pro. I guess we are all aware of this "issue" because we read these websites. I reckon that the majority of the people that buy the products do not.

I work for an organization that deployed the new models out this past fall. Approximately 200 units. Within the last month to two months I've personally dealt with around 10 units with keys that randomly stop working. I would imagine there is something larger at play here.

10 out of 200 is 5%, and in reality with even more models it's probably less than that. It'd be interesting to know what the failure rate is, compared to previous MacBook Pros

I also work at a company with quite a few MacBook Pros. Out of 61 I've had 7 or 8 users complain and 3 that needed replaced. In percentage terms that also isn't a huge number but considering we've never had to replace a malfunctioning keyboard prior to that in the 6+ years I've been with the company I see it as a massive increase in failure rate.

I'd be interested in knowing this as well. But with all of the complaints I'm seeing across various forums and websites...it's reasonable to believe there is an issue.

Indeed, I'm just wondering how long it has been an issue. I have had some issues with MacBook keyboards in the past, before the butterfly keyboards. Either way, I hope it gets sorted.

5% is a lot. The number of people affected grows as the sample size grows. I actually don't think a 5% ROI is a bad estimate, given how many people have reported issues with it. You're also assuming there are NO MORE REPORTS of keyboard failure on the other 95% in the future. They keyboards don't all fail simultaneously, and some people have had multiple failures on the same machine (after multiple "repairs"). You really are trying too hard at this. Ratchet the defensiveness down. You aren't even an Apple employee, yet you're acting like you're the company's founder.

I never said the fault didn't exist, more that it would be interesting to know how many faults there were with previous MacBook Pros. I've had faults with the keyboard before the butterfly keyboard change, so I was wondering whether there is really an increase or whether the keyboard failure rate is pretty much the same as it was previously. Either way, I think an improvement is needed, so I'm not defending Apple here. And likewise, I don't defend Apple where mistakes are genuinely made

You just said "FYI" and a then a statement with no sources. Where are you pulling this information from?

So if there were some reports of iPhones exploding, and some news sites exaggerated it to say that it was happening to all iPhones, you'd just consider it common sense? There needs to be facts to prove it, otherwise it's just heresay

Still no sources? Ok then, I'll disregard your comment on the "flawed design" and whatever else, since you don't seem to have any evidence to back up your claim

I would imagine the person drinking the "kool-aid" is the person that thinks you can just make a claim out of nowhere and that makes it a fact.

Some people prefer the new keyboards, I can't say because I haven't tried it. I haven't read about the iPhone bending but if it's anything like the last reports, it's probably heavily exaggerated.

I've heard of a small amount bending, as always, a small amount

It was a very small report of iPhones bending

Rene - Apple HAS acknowledged this problem - why else post a detailed, unbelievably screwy, support bulletin on how to hold your device at an awkward angle and blow out the keyboard deck with compressed air: https://support.apple.com/en-us/HT205662

I thought so too at first, but the actual explanation is pretty pedestrian: you can't point an air can down, the foam often comes out, and that can damage things. The weird angle is a way of aligning the laptop so you hold the air can straight up, yet allowing space for dust to fall out. The bigger issue is that you do have to blow air out. I've had to do this once in a year, for the only time I've ever had to do it with a keyboard. I do really love the new keyboard, but if Apple can increase the tolerances here while keeping the feel IMO that would be a much better tradeoff.

Thanks to Renee for the assessment of the issues surrounding this keyboard.
No one wants to call out friends and colleagues who rail against this new keyboard, yet that is what may be necessary.
The keyboards detractors believe themselves to have an accurate and unassailable read on its failure rate and in fact they may not.
I am not suggesting their experiences are not important or valid data points - but they are just that, data points that do not necessarily reflect the whole.
To suggest that Apple should make a change because of the optics of the situation - essentially because the blogosphere has ginned up its heat against this design is an insidious and corrosive idea.

"To suggest that Apple should make a change because of the optics of the situation" Well they made a change. And it looks like the keyboard detractors were right all along. While you all made their issues seem minimal...

"(It's why Apple reversed course on the buttonless iPod nano and, finally, the 2013 Mac Pro.)" Don't forget the buttonless iPod shuffle. I had a 2015 12" MacBook for about 2 years before the motherboard died and in that time I only had keys stop working twice, and both those times were when I was eating near the machine and crumbs got under the keys but I'm not going to blame Apple for my food crumbs clogging the keys. People need to take more responsibility for things that are their own fault.

Two years? Man! I seriously started to think in not buying Macs

I have a 2016 MPB 15" Touchbar purchased in 11/2016. I haven't had the keyboard issues, but of the 10 Apple Laptops I've owned over the years, it is the first one I've had to have in the shop multiple times for major issues. Less than a month in , they replaced whole unit because USB-C ports stopped working. 6 months in, the logic board was replaced due to defective USB-C ports again. Then, in February, the display malfunctioned and was replaced. Apple has stepped up to the plate each time (I have AppleCare thankfully) and quickly remedied the issue with a repair. 2 months since display replacement, it is still working satisfactorily. However, because of the history of this unit, I've been nervous about it's long term quality. As for the keyboard, I love it but understand that my anecdotal evidence is just that. I've been in other folks' shoes with tech equipment problems that are very real. I hope Apple addresses sooner or later for those folks.

It's very much a poor design choice seemingly done to satisfy Ive's ego. It's been universally panned and is just one more mistake Apple's made in recent years.

Given what I've heard some people seem to really enjoy using this keyboard and some don't. It has more divided opinion rather than just being a bad decision, but Apple has often made decisions that people are unsure of. We'll see if they revert back, or keep it, but I won't be surprised if it's the latter.

I have a 2017 15" MacBook Pro. One key became stuck and Apple replaced the top case under warranty. I've had no issues since. I like the keyboard, although I wish it were quieter. My preference is that Apple upgrades the keyboard so the touch-feel lands somewhere between the 2015 and 2017 machines and was as reliable as the earlier models. Also, I hope they make all the direction keys the same size (similar to the MacBook Air), as I have trouble finding the current ones by touch.

Having not read the article word-for-word or every comment please pardon if I missed this:
Like many having dealt with humans - especially in IT - the first thought that come to mind is that humans are dirty. Keyboards (read keys) layered with "mung" that not even the CDC can identify.
Apple make terrifically 'clean' computers and I wonder if they expect the same from the end users? That late night Taco Bell run or early morning scone may just be the fly in the ointment...

I don't think so, devices have to pass real-world usage which involves someone using these devices out and about in normal daily life. Apple also has a section on their website about cleaning the keyboard, so they know their users will need to do it at some point

Apart from the whole "better hardware for lower cost," this was a big consideration when I picked a Windows Notebook over a 15" MBP. I tried the keyboard. It feels awful. I'm not sure about the durability, but I absolutely love my iMac keyboard, and the MBA that I had felt much like this. There is no way I could use that keyboard. I also don't think the thermal management is very good in these laptops when used for creative work (i.e. video editing). A lot of people have complained about the 15" MBP overheating under load when rendering video (using FCPX, which I do not use - obviously). Would be more convenient if my new Notebook was a MacBook, but I appreciate the better performance, the better (and more tactile) keyboard, the Precision Touchpad is not much different than my MBA's in function and performance, and I have much better thermal management and port selection than a MacBook (which I desperately need, considering the peripherals and accessories I own).

Where there's smoke there is fire. I'm not marginalizing owners who had zero problems, but that doesn't negate a significant portion of owners having issues. The last time I saw problems on this scale was the GPU failures for the 2011 MBPs.

Problem is with the amplification of the internet, we don't know how much smoke there is. However from the numbers in the AI article, the failure rates don't warrant a change or extended warranty. It stinks for people with the issue, but the fact is that these MacBook pros have seen fewer failures over all than past MacBook pros, no matter what those with big platforms and loud voices say about it. Data > anecdotes.

There isn't enough data to make that assumption that they don't warrant a change. We know the failure rate is double but overall still quite small so yes. The data we don't have is how many users are having problems and needing to follow Apple's instructions with the "compressed air spray". If there is a significant number of laptops needing that done to it then they do need to change even if they don't become "warranty repairs". If the number of users needing to go through unusual methods like the compressed air workaround is also tiny then maybe no changes are necessary.

Agree. But what does "significant portion" means? If I'm one of those impacted, that's significant to me. If Apple doesn't make me whole, that's significant. The business question is whether Apple suffers reputation damage by treating customers poorly or not supporting products; of if Apple incurs significant warranty cost to make up for a product defect.

2017 MBP wTB bought Aug 17. Firstly I treat this MBP with great care, it cost a lot of money (so no eating over it to avoid crumbs). It gets used a lot for work and leisure. Had issues with a number of keys they either repeat, delay or don't register at all. Tried the compressed air. Im planning my work time to fit in an apple store appointment, as some reports I have read suggest the computer is sent away for 4 or 5 days for a top-case replacement.

Where's the data to say this is problem? Remember the exploding iPhones last fall? The bending iPhones a year earlier? My favorite was the so called "LogoGate" which lasted 24 hours about the logo on Apple Watch being rubbed off. Has Apple's warrantee expense gone up dramatically? Have used MacBook Pros dropped in price?

the data is in the article. per the numbers, the % of repairs that are keyboard issues: 2014 5.6%, 2015 6.0%, 2016 11.8%, 2017 7.8%

It's quite interesting to me that no on has mentioned problems with the data, but continue to say Apple should do something, because... feelings? Data > anecdotal evidence. Every time. Apple has the data, so they're the only ones with enough information to solve the problem. Maybe they're greedily not extending warranty, but, if so, why did they just extend the warranty on the battery? Occam's razor (meaning we have to leave our feelings out of it, and our conspiracy theories), says the simplest explanation is the right one. There aren't a high enough number of failing keyboards to warrant a replacement program.

> So, all told, it looks like Apple improved the overall reliability of the MacBook Pro in 2016 in every way except for the keyboard, which goes up in 2016 but seems to go back to normal in 2017. Huh? 94/1161 (2017) is slightly closer to 114/1904 (2015) than to 165/1402 (2016) so 2017 keyboard is more reliable than that of 2016 to the slightly higher degree the 2015 keyboard is more reliable than 2017 one. If 2015 is the "normal", Aplle has some way to go before reaching it.

"Mike Wuerthele as done the hard work" Take a leaf out of Mike's book and work harder on proofreading.

"Apple gets sued all the time, so this comes as no surprise. There's also a petition. Also not a surprise." Rene Ritchie defending a poor design choice by Apple. Also not a surprise.

This isn't necessarily defending Apple, but stating that Apple does indeed get sued all the time. There's a saying, that the more fans you have, the more enemies you have. The bigger the company, the more complaints there will be. I don't think there's been concrete evidence either that this is specifically caused by the butterfly design, it could be a faulty batch. Either way it seems like an issue does exist, but is it caused by the butterfly design? We don't know, but Apple should fix whatever the issue is.

Speak of the devil! Here is Rene now under a pseudonym trying to defend Apple and his article, like always! Keep fighting the PR fight, Cupertino Knight! Apple will continue to reward your undying and unquestioning loyalty with more dudads and event invites! Huzzah!

I tell you that it's not really defending Apple, and you say I'm defending him? Do you know the definition of "defence"?

The data listed here show that around 10% of MBP repairs are for keyboard issues, give or take a few percent. Most Macs never get taken back for repairs, period. So if we assume maybe 10% of Macs need repairs, and only 10% are for keyboard issues, then this looks more and more like a total nothing burger.

Welcome to the world of scaremongering and sensationalism, and Apple always get dragged into it.

"scaremongering and sensationalism" How is it scaremongering and sensationalism when it's a widely acknowledged problem plaguing the keyboards? Perhaps if Apple didn't make absurd design decisions all in the name of thinness they might not run into issues like this.

"might not run into issues". They could still run into problems, it's not really an absurd design decision when you can understand the reason they did it.

Not meaning to split hairs but the gist of the OPs statement was not run into issues "like this". We know they might still run into problems.

The main point was that mls14's comment was valid, these comments often get derailed

I see a lot of people focus on the percentage of incidents. What's also important is the cost. In the past, these keyboard repairs didn't cost $700, which is ridiculous. Courage!

Kudos to you Rene for admitting that you have experienced this fault which can only be put down to a serious design flaw. Apple need to extend the warranty period for the affected devices and start offering FOC repairs/replacements.

Can I also point out the wear marks on the keyboard caps (space bar!!) as well? Having spent just over $3000 on a 15" MBP, after only one month I started noticing shiny spots on frequently used keys. Rene's look pretty bad in the video. Yeah this is cosmetic for sure... but my 4 year old +$2000 Alienware laptop that gets intense FPS gaming (Fortnite, Overwatch, Robocraft ...) on a daily basis has a keyboard that looks like it just came out of the box. I ended up putting a silicone keyboard skin on the MBP to protect my keys, it had the added benefit of quieting the keyboard, and (thus far) preventing any dust from getting under the keys.

People love to deride class action lawsuits, and yes the lawyers make most of the money (and do most of the work).
They punish companies for making bad decisions/products and that is a good thing.

The real issue is how does Apple "walk-back" the 2016 invention of the worthless shallow keyboards (forget the crumbs under the keys problem - who can honestly say the typing experience on that flat mess is BETTER than the 2015 MacBook Pro keyboard) and go back to the 2015 design, without two-years of beta testers going up in arms wanting the retro keyboard too?

"who can honestly say the typing experience on that flat mess is BETTER" This is a classic situation of tunnel vision. There are plenty of people that prefer this keyboard, not everyone shares your opinion

So sorry your keyboard died. I'm looking at getting a MacBook Air. Do you think this is a bad time?

I have the 2016 macbook pro. my spacebar up arrow and left arrow are stuck. Like an fool i tried to remove my spacebar like have done in several other mac i have owned and ended up breaking it. So now i am even worse off. It is too expensive to fix through apple and practically unsaleable without a spacebar so for the mean time i have to use an external keyboard to get by. I am seriously considering my options. Do i move to windows laptop? Do i move to an imac/ipad setup? Do i just suck it up and by a new macbook? I am waiting for WWDC do sort of see what Apple puts on tha table to make my decision. this is really annoying.

I would wait for WWDC, hopefully Apple will recognise any problems and will figure out a solution, it's not good that you ended up in that situation. Of course, going to a Windows laptop would depend on the brand, some of them are terrible in quality so you have to be careful

Honestly, I just don't like this keyboard at all.

We are also looking into this issue and would like to hear your story if you have experienced the problem. 855-425-2775

El oh el. So Apple has just admitted that it's butterfly design is as seriously flawed as we all knew it to be.

They're still using the butterfly design, they've just improved it to prevent the issues that were happening.

So, the original design WAS bad. Just say it.

Is this an argument of semantics? Narthalus was saying that the "butterfly" design is bad, not that the design as a whole is bad. The first version of the butterfly keyboard was bad, that's correct, but the concept of the butterfly keyboard itself isn't bad.

It has nothing to do with semantics. We are all just waiting for you to admit that Apple made a mistake. You admitting that "The first version of the butterfly keyboard was bad, that's correct" is probably the closest we are going to get.

You're more interested in being immature than actually realising that Narthalus's comment was wrong. Also, I laughed at: "we are all waiting", when it's actually just you

Ok then answer me this: If the design wasn't bad or flawed, then why did Apple add this membrane?

"Narthalus: El oh el. So Apple has just admitted that it's butterfly design is as seriously flawed as we all knew it to be." With or without the membrane, it's still a butterfly design. Yes, Apple added the membrane because the design was flawed, which is why I said "The first version of the butterfly keyboard was bad". I'm not denying that, the butterfly keyboard should've had the membrane in the first place.

What's interesting is that you all weren't saying this months ago. Before this happened it was, "Well where is the data to support this being an issue? Is this really an issue? People are over-exaggerating". But now it's, "oh Apple should have done this to begin with. This is exactly what we were all saying. But many of you, Rene included, marginalized the issue rather than listening to those who use these machines daily. There was an issue. Apple has now unofficially acknowledged and "resolved" it. It would just be nice if people would pay attention earlier in the process sometimes.

Clearly, not just me waiting.

From what was publicly available, it did not appear that there was significant information to support it being an issue, however this always excludes information that's being sent to Apple privately.

Can you link a few reputable sources that describe this issue?

Of course these things happen, it's just often that it's scaremongering rather than actual fact.

You should note that I never said the fault didn't exist, I just asked you for a source. You were the one that got defensive.

The fix has been implemented now, time to go back to your troll cave

I've had my 2018 Mac Book Pro for 4 months. I use it about 10-14 hours a day. I now have 3 keys with erratic behavior: space, s, and t. Plus I can't stand the way the keyboard feels. My 2014 MBP has a way better keyboard feel.