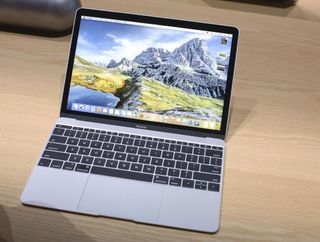 If you're thinking about getting Apple's new MacBook, you're probably wondering what it's like to use and how well it works. Read on to find out what the first reviewers think, and check back with iMore after we get our hands on one.
These first reviews are an interesting study in contradictions. Many of the reviewers repeat the same basic idea: That the new MacBook is unquestionably the future direction not just of Apple's laptop products, but of the PC laptop industry in general, since so many PC manufacturers ape the same design features that Apple puts in its systems.
But having said that, the current MacBook design clearly has some limitations that at least some of the reviewers are not pleased with.
Christina Warren, writing for Mashable:
Katherine Boehret, writing for Recode:
Ben Bajarin, writing for his Techpinions blog:
Joanna Stern, writing for the Wall Street Journal:
Mark Spoonauer, writing for Tom's Guide/Laptop:
Joshua Topolosky and Stephen Pulvirent tag-team for Bloomberg:
Harry McCracken, writing for Fast Company:
David Pierce, writing for Wired:
Jim Dalrymple, writing for The Loop:
Darrell Etherington, writing for TechCrunch:
Dan Ackerman, writing for CNet:
Jason Snell, writing for Macworld:
Dieter Bohn, writing for The Verge:
David Pogue, writing for Yahoo Tech:
Andrew Cunningham, writing for Ars Technica:
Anick Jesdanun for ABC News:
Did any of these reviews change your opinion of the new MacBook, either positively or negatively? Are you planning to order one? Sound off in the comments.
Get the best of iMore in in your inbox, every day!
It's missing the LED Apple logo on the lid - that's a deal breaker for me. Glad I got my Early 2015 13" MacBook Air. Faster processor, bigger screen (resolution is nice) and $300 less. I couldn't be happier.

Ars Technica put it best - This laptop is defined by the features it doesn't have. For some, it'll be a deal-breaker, for others, it's what they've always wanted (funny how they missed Chromebooks though). Me? I'll give it a few years. This thing's pretty much in the same space the Air was when it first came out. Give it a couple of iterations and it'll be enough computer for most people, I reckon. As it is right now, an iPad Air plus keyboard seems a way better deal for "everyday" portable computing, to my eyes at least. Wonder how it'll all play out if/when Apple bring out that rumored iPad Pro or whatever the speculators are naming it now.

Except an iPad doesn't run OS X.

Interesting there's so little feedback on the reviews on actual performance. It's all about the form factor and the screen. I'll be buying one tomorrow as my first Mac laptop to compliment my 2012 Mac Mini.

Now I'm really stuck! I am looking to change out of my mid-2011 Macbook Air 11" and I've been eyeing the Macbook. The new Macbook Air is pretty much the same I have now, only newer, maybe a little faster. But no retina display. The new Macbook has a retina display, but it's a smaller processor (although some reviews tell us it beats out my air handily), and it has a 480p camera. Then again, who uses the camera on the laptop? That's what my iPhone 6 is for. So I'm stuck. Do I buy it? I have birthday money burning a hole in my pocket!!!!

The new MacBook is lighter and has a retina display. Those are about the only advantages you have right now. If probably want to wait until next year with Intel's skylake processors in the MacBook. They will be faster, have better battery life, and the chip includes wireless charging. According to Wikipedia, all the computer manufacturers have agreed to use it. If this is true, next year's MacBook will have a big advantage over this year's model. Sent from the iMore App

"According to Wikipedia, all the computer manufacturers have agreed to use it"
Remember it's Apple we are talking about. Since when they go with the flow? The set the course of the flow :p

The new mac is perfect for me. Although I relish having an earth shattering processor to brag about (I also have a 400 horsepower car I hardly ever get to drive), in real world use, my world that is, I just don't need it. The M processor will power everything I need to do on it and looking back over the last 14 months, as a road warrior, I have never had a need to plug ANYTHING into my mac but the charger. The new, smaller size, sheds weight from ones carry on shoulder bag, which is a big deal for frequent travelers. Brings me back to the days when the 12" Lenovo ThinkPad ruled my world. Although the ThinkPad had to double as my desktop back then so the superior horsepower was a must. Today, I use whatever PC my clients have on-site while on a job, and often reminds me of a scene from one of those Star Trek movies where Scotty had to use a keyboard to write the formula for transparent aluminum: "How Quaint". Thats what windows feels like to me now, quaint. Some people never upgrade versions either. On a side note, if my existing plug bug doesn't fit the new charger, I will be upset. That means I have to pack an additional iDevice charger.

It all sounds nice, still none of that makes me want to change my 13" rMBP just yet. I agree with those who say give it a few years!

I just recently switched back to an iPhone from windows phone and really enjoy it. But until Apple has a touchscreen laptop they will never get my money for one. I use touch all the time on my Yoga 3 and couldn't imagine living without it. And no, a great trackpad does not obviate the need for a touchscreen for me. Too bad, looks like touch may never happen. I'll go surface pro next as I don't like Lenovos lack of updates.

Nice mix of opinions. I'm keen to side with Techopinions and Jim Dalrymple myself. I think this IS the long rumored iPad Pro, with the lightness and portability, long battery life, silent operation, Retina display and case color choice of an iPad, but with the Full functionality of a Macintosh. As much as Jason Snell derides it, that keyboard still must be a big step up from the iPad's glass panel keyboard.
I've worked on slow Macs before. This thing has still got to be much faster than any of those.
Has nobody yet noticed the new, improved, faster SSD internal storage? I can't afford one this year, but I'll be looking at it seriously for next year...
Thank you for signing up to iMore. You will receive a verification email shortly.
There was a problem. Please refresh the page and try again.