Macworld 2009 Keynote Photos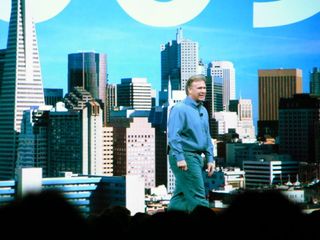 You saw the epic liveblog, now see the photos.
We have the deets in photo on the new 17" MacBook with the ridiculously large 8 hours of battery life, the fact that iTunes is going 100% DRM-Free, the new iLife with GarageBand Music Lessons, iMovie's stunning upgrades, and iPhoto's geo-tagging and face-recognition, and also the new iWork with Keynote -- which now has an iPhone-based remote for switching slides and reading your notes.
Um, yeah, this was a huge Macworld for Mac people -- and the iTunes DRM news and the Keynote news were incredibly great upgrades for iPhone owners.
Makes you weep that Apple will never go to a Macworld again, don't it?
[gallery]
Get the best of iMore in in your inbox, every day!
:shock: Hey, where's Phil's black shirt? What the hellll is going on here?
Thank you for signing up to iMore. You will receive a verification email shortly.
There was a problem. Please refresh the page and try again.