Magzter unveils all-you-can-read magazine subscription service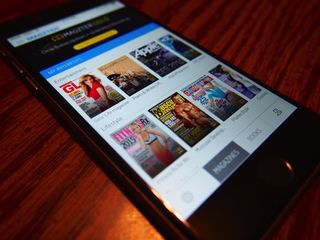 If you're tired of shelling out a ton of money each month on your favorite magazines, Magzter may have the solution for you. The company just launched its "Magzter Gold" subscription service, which offers up a Netflix-esque all-you-can-read approach to digital magazines via its iOS app. Similarly, the company also unveiled a lite version of Magzter Gold that allows you to peruse your choice of 5 titles for a slightly cheaper $5 per month.
If you're unfamiliar with Magzter, the app is essentially a digital distribution platform for tons of magazines. Previously, you could only purchase individual issues or subscriptions to individual magazines. With its Magzter Gold subscription, however, the barrier to checking out a new publication is potentially a lot lower.
No matter which option you go with, you'll be able to choose from an assortment of 2,000 titles spanning everything from Maxim to ESPN Magazine. If you decide you want to check it out, you can grab the app from the App Store link below, after which you can try out a 7-day trial of Magzter Gold for free.
Press Release:
New York, NY (January 19, 2014)
Magzter, the largest and fastest-growing digital magazine store and newsstand in the world, with more than 24 million users globally, today announced the launch of Magzter Gold, an "all-you-can-read" subscription model that gives users unlimited access to the largest library of digital magazines across mobile, tablet and web for $9.99 a month. At launch, Magzter Gold features over 2,000 titles, including Maxim, ESPN The Magazine, and Fast Company, as well as many top magazines from different geographies, including the UK, Singapore, and India, with many more planned for 2015.
"It's still early days for digital magazine reading," said Girish Ramdas, CEO & Co-Founder of Magzter. "Barriers to entry, like paying for and managing multiple magazine subscriptions, have stalled true adoption. With Magzter Gold, we're delivering a better experience, giving readers instant access to the largest collection of digital magazines anywhere, on any device, and for one low monthly price."
In conjunction with the launch of Magzter Gold, which spans all content categories, from many of the most popular titles to more niche publications on specific interest areas and hobbies, Magzter has also unveiled a reimagined user interface to better support content discovery. A key feature of the new interface is the ability to algorithmically tailor the reading experience for individual users based on their interests and interactions with in-app content. The interface also allows users to download multiple titles simultaneously and also five times faster than before, reducing "speed-to-read" times and making content discovery easier than ever.
"With thousands of titles available, content discovery is a huge benefit of the digital reading experience on Magzter," said Vijay Radhakrishnan, President & Co-Founder of Magzter. "To take full advantage of that, we've built a leading-edge recommendation engine to power the back-end of our new user interface. With it, we can identify the reading habits of our users and then recommend titles based on engagement, all in real-time. It's the most intuitive interface in our category."
In addition to the $9.99 a month subscription option, Magzter is also offering Magzter Gold Lite, available for $4.99 a month. Magzter Gold Lite gives users unlimited access to any five of the available 2,000 titles per month.
"We're mindful that some users have a very select group of magazines that they like to read each month," added Ramdas. "For them, unlimited access – including the ability to read all back issues – to a few of their favorite titles at just half the price is all they're really looking for in a digital magazine subscription service."
"Keeping in line with our commitment to provide greater accessibility across digital media, Magzter Gold Lite users are free to change what magazines they have access to at the end of each month, so they're never locked into their choices," said Radhakrishnan.
Magzter Gold is the first in a series of product and service launches set for 2015 that the company believes will redefine the digital reading experience. In addition to magazine content, Magzter will also add digital books to its platform later this year.
"The 'all-you-can-read' model is a natural progression for digital reading," Radhakrishnan added. "Movies and music have already adapted to it and we're bringing that to the magazine experience. But this is only the first step—we plan on expanding into other areas to make digital reading even more convenient and accessible for millions of existing and potential new users worldwide."
Magzter is FREE to download across Apple iOS, Android (Google Play), Windows 8, the web, Amazon App Store, and Kindle Fire. It is truly the #1 choice for magazine readers the world over.
For more information about Magzter Gold, please visit: www.magzter.com/magztergold.
About Magzter
Magzter Inc. is the world's largest and fastest growing self-service, cross-platform digital magazine store and newsstand with over 24 million digital consumers, more than 5000 magazines and 1000s of books and comic titles from over 2000 publishers. Headquartered in New York, Magzter has its local presence in London, Paris, Barcelona, Munich, Amsterdam, Cape Town, Chennai and Singapore and will soon be expanding to other countries. Founded by global entrepreneurs, Girish Ramdas and Vijayakumar Radhakrishnan in June 2011, Magzter enables magazine publishers around the world to create and deliver digital editions of their titles to global consumers. Powered by its proprietary OREY Click Publishing System®, that allows publishers to upload their magazines with a single touch, Magzter also enables them to publish interactive/audio-visual content in the magazine as it supports HTML 5.
The FREE Magzter app is available on Apple iOS, Android (Google Play), Windows 8, the web, Amazon App Store and Kindle Fire and is expanding to more platforms soon. Users can buy their magazines on any of the above devices/platforms and seamlessly port their purchases to any other devices, a feature unique to Magzter.
The company counts among its publisher customers some marquee names including Hearst (USA), Conde Nast (USA), Newsweek (USA), AMI (USA), Dennis Publishing (UK), Haymarket (UK), Media24 (South Africa), Edipresse Asia (HK), India Today Group (India), WorldWide Media (India), Maxim Inc. (USA), Black Enterprise (USA), Singapore Press Holdings (Singapore), RBA (Spain), Grupo Expansión (MX), and has been rapidly expanding its publisher base with magazines from more than 40 countries including USA, UK, Germany, Spain, China, Hong Kong, India, Indonesia, Mexico, Thailand, Philippines, Malaysia, Singapore, etc., making Magzter truly the #1 choice for magazine readers and publishers the world over.
For more information about Magzter, please visit: www.magzter.com.
Get the best of iMore in in your inbox, every day!
This is a great service/ idea. Allows users to make the best of their time and money. If I don't have the time to read; why do I subscribe a magazine for an entire year? If I'm free and don't have much to do this month; I can browse and read through hundreds and thousands of magazines. Super!!!!

Scam. They charged me for free gold subscription. When I asked why, customer care representative said they know of wrongful deduction but won't refund!!. They offered me store credit by which I can't renew subscription also. Worst first week after installing the app trying to get money back. Don't subscribe.
Thank you for signing up to iMore. You will receive a verification email shortly.
There was a problem. Please refresh the page and try again.