Make your iPhone better than a DSLR with these six apps!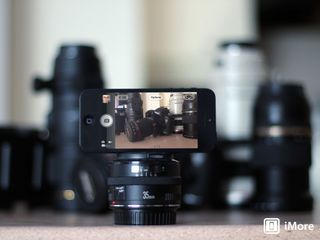 While the iPhone's built-in Camera app is perfectly serviceable, the technology behind the iSight has the potential to be amazing. Luckily, there are a ton of great photography apps in the App Store that can help you turn every day moments into something truly special. The iPhone may never match the sheer sensor size and lens quality of a DSLR, but it's far more portable, connected, and thanks to these apps, even more powerful in its own way. If you're ready to take your iPhoneography to the next level, here are the apps you need to download now!
Camera+
Camera+ is not only a great photo editing suite for the iPhone, it can also serve as a complete Camera app replacement if you want it to. Complete with a timer, stabilizer mode, and tons more, it's arguably a heck of a lot more versatile than the stock app. It's a huge step towards giving you just about as much control as you'd have with a professional DSLR. Where editing is concerned you can adjust things such as exposure, saturation, blur, and more. Lightbox integration also lets you quickly flip through your photos and edits before importing them to your Camera Roll, ensuring it stays uncluttered.
If you want an all-in-one camera replacement app paired with an editing suite that's packed with features, Camera+ is a must.
ProCamera 7
ProCamera 7 is similar to Camera+ when it comes to editing capabilities but has a layout that's a little more user friendly than Camera+. It can also be used as a replacement for the default Camera app and is the one I personally choose to use. Mainly because I've found that ProCamera 7 handles night shots slightly better than Camera+. Mainly I've asked it to produce less noise. I find myself jumping back into Camera+ to do some editing work and fine tuning but when it comes to trying to get the best shot right from the start, I normally turn to ProCamera 7.
If your main goal is to get the best possible shot and have minimal editing work to do, ProCamera 7 is the Camera app replacement you want.
Snapseed
Snapseed has been on of my favorite photo editing apps for a long time mainly because it's dead simple to pick up and use. There's nothing terribly advanced about Snapseed but if you managed to get a decent shot in-camera and need to do minimal editing work, Snapseed lets you make smaller edits in the least amount of time. Just swipe through different editing tools and then choose them by sliding your finger up and down over the image. Then swipe left and right to adjust the different levels. Quickly compare the original and the edited version by tapping the photo. That's all there is to it.
For super quick edits on the go, Snapseed is an iPhoneographer's best friend.
Tadaa SLR
Tadaa SLR has a lot of quick edit tools but serves up one feature that makes it a must have and that's bokeh, or the blurring effect we sometimes desire when focusing on a subject. With Tadaa SLR, just tell it where your subject is and adjust the blur type and strength accordingly. You can also bring up and down other levels such as highlights to blend the image better. I've tried several depth of focus and bokeh apps and Tadaa SLR produces the best results without looking obvious and cheesy.
If you want blur effects, there's no better choice than Tadaa SLR.
Slow Shutter Cam
Slow Shutter Cam is great at two things, creating an amazing long exposure shot and helping you tackle night time photography. Slow Shutter Cam gives you complete control over shutter speed and exposure in order to grab light streaks and motion blur just like you can with long exposures using a DSLR. There's no limits to what you can create, especially if you get your hands on a tripod for your iPhone. For low light photos, Slow Shutter Cam can help you gather every possible bit of light without motion blur in order to capture great shots that are brighter and less noisy than the stock Camera app could ever dream of achieving in its current state. Above you can see a photo on the left with the stock camera and the far right using Slow Shutter Cam. The results speak for themselves.
If you are interested in long exposures and better night photography, Slow Shutter Cam doesn't disappoint.
Photoshop Touch
Sometimes it just isn't possible to get a great shot due to conditions beyond our control. Photoshop Touch gives you a scaled down version of Photoshop but it's still more powerful than other photo editing apps combined. Add layers, fine tune adjustments, and blend until your heart's content. Advanced typically comes at a price though and in this case, that's user friendliness. But if you know your way around Photoshop, the Touch version is actually an enjoyable experience once you learn the interface.
If you need some of the editing capabilities of Photoshop in the palm of your hand, nothing will give you that but Photoshop Touch.
See also:
Your picks?
If you take lots of photos on your iPhone, whether in a professional or personal capacity, we want to know what your favorite photography apps are. Be sure to let us know in the comments what apps you use and why!
Get the best of iMore in your inbox, every day!
iMore senior editor from 2011 to 2015.
If I could have the new Nokia camera app on iOS, I would be a happy iPhone photographer. None of these apps, or Apple for that matter, just do not seem to get the UI right.

Nokia Camera can't be touched when it comes to capturing photos. But iOS does have much better editing apps... looking at you Snapseed!

Pro cam 2 is one of the best I've used for taking pictures. It rivals apples but with a lot more options with it, I got it for free as one of the free apps of the day. Plus the icon is pretty cool as well.

Right with you on ProCamera 7. It is ridiculously powerful, but easy to use. I had tried many camera apps, basically stopped looking when I found this one.

Me too. ProCamera 7 is my favorite BY FAR! Especially now that it can scan barcodes.

"Make your iPhone better than a DSLR with these six apps" LOL, yeah sure; haven't heard something that dumb in a long time.

For general purpose photography, I'd argue yes actually. I use both on a daily basis and wouldn't have made a statement like that if I didn't feel it was true.

No app is going to make the iPhone better than a DSLR. Might have been better to say "For general purpose photography, iPhone can be used instead of a DSLR with one of these six apps".

The best camera is the camera you have with you. I always have my phone, and almost never have my DSLR. So for 99.99% of my day, my iPhone is way better than my DSLR.

I frequently use Photogene2. It has a lot of editing tools and flexibility.

Hey Ally, how does "Slow Shutter Cam" stack up against "SlowShutter"? Have you had a chance to try both apps yet? Sent from the iMore App

Professional Photographer here just chiming in. No way can a phone on the market compete with a DSLR. You are talking about a phone with a camera as an add on vs a device that is built around capturing pictures. It is bad enough people automatically think buying a DSLR automatically turns them into a photographer. Now people with iPhones are going to download these apps and think the same thing.

I take most of the photos here on iMore. I know a DSLR always has its place. This article is not aimed at photographers. It is aimed at everyday people that don't want to carry around a camera. For those people, aka the mainstream, it can replace a DSLR. Sent from the iMore App

So glad you know everything! Thanks for your humble "advice," err maybe I mean, "barked opinions!"

Question... We're YOU an amateur at one time?
Answer: YES!

Thank you for the article Ally! People that are complaining that phone photography can't rival a real DSLR shouldn't be commenting. There's a reason iPhones don't cost $3,000+. She is just trying to use the apps available for iPhones that take phone photography to that level. These apps are great and really do rival the options you have with DSLRs. I really enjoy slow shutter cam and pro cam 2 I think its the best app out there, so many options! Sent from the iMore App

A good DSLR can be purchased for the price of an off contract iPhone and $3000 is not a required outlay of cash. I am not a pro photographer but an avid shutterbug. The skills of the person using the device are much more important than the device itself. However, the premise in Ally's title is silly. Perhaps a skilled photographer with an iPhone versus a total novice with a DSLR... And a crap lens attached :-). I own all these apps except photoshop and find then useful for enhancing photo capture on my iPhone. However, my DSLR smokes my iPhone on its best day. Period.

If you take the time to read oscaramzz's comment, he was not saying a DSLR would cost $3000. He was saying if that technology was in an iPhone it would cost $3000+ dollars. Sent from the iMore App

You need to carefully read that again. The commentator IS referencing a 3000+ DSLR: "There's a reason iPhones don't cost $3,000+. She is just trying to use the apps available for iPhones that take phone photography to that level. " Note the TO THAT LEVEL And I am not lashing out. I am correcting the statement that an app can turn an iPhone into a camera better than a DSLR, which it says in this article's title. Even Allyson has changed her mind as she states in a post above ".. it can replace a DSLR." Yes, nice informative article. Thank you Allyson. But article title? FAIL

Thanks for the reading lesson. The implication was clear. The issue is not cost. It is technology and optics that present the user with the opportunity to capture an image. The rest is up to the user's skill. Ally's posts are frequently helpful, but in this case it is the implication about the product one can create that I disagree with. If you feel the photos you take with an iPhone are as good or better than your DSLR, I would contend that you are either beyond gifted with an iPhone cam, don't truly know how to use your DSLR, or have a very unconventional perspective on assessing the quality of photographs.

I have two out of four. I will definitely take a look at the other four. Thanks for the information on these apps. Sent from the iMore App

Geeze Allyson, try to help people by pointing out great apps and all you get is these "professional photographers" lashing you. No good deed goes unpunished. Well in any case, I think I speak for the majority Sent from the iMore App

Here when I say thank you. (Sorry the imore app posted my comment before I was done.) Sent from the iMore App

For editing: Photogene4 (similar functionality as Photoshop Touch but you don't have to import pics one-by-one; you can just scroll through the camera roll or albums), VSCO Cam, Snapseed, Camerabag 2, Photofx, Lenslight (for bokeh effects). For shooting: the much improved stock app or Cameramatic for "toy camera" effects. I shoot 1:1 (square) and found that Camera+ isn't calibrated correctly in this format, i.e. what you see on screen isn't what is saved to your camera roll. The actual photo is bigger, so bits you tried to cut off when you composed the pic aren't actually cut off. I miss the separate focus and exposure control of Camera+ in the stock app though so may try ProCamera 7.

Camera+, ProCam 2, PowerCam, and Snapseed are my staple apps for taking pictures with my device. Then I have at least a dozen more apps for editing or just doing something wacky with the pictures.

Camera+, ProCam 2, PowerCam, and Snapseed are my staple apps for taking pictures with my device. Then I have at least a dozen more apps for editing or just doing something wacky with the pictures.

I tried Sceene and while I really like how the paralax feature let you take those almost 3D shots, I had too much trouble with losing the background. If they can get that fixed, I would recommend that app to this list as well.

Hey guys,
do not forget to mention the new app Faded released in December, I think we can place at the top. I think it is very well done. You can use many filters, stack them to the bitter end, special effects, adjustments, vignetting, color and image overlay with blending modes. The thing that impressed me was the logic and simplicity with which they created the app. It is very convenient to store the Action Set, and now, after a lot of adjustment applied to a photo, you can apply to many other photos recalling the Actions. Oh I forgot, you can do three-second self-timer to take a photo only snapping fingers ... Great!

Hi Allyson I am new to iphone photo tech and you have answered a handful of questions here..Tonight the Perseid meteor shower and it will be flying right over head.
So I am hoping with the help of ProCamera 7 for editing and the Slow Shutter Cam for the night shots that I can snap and edit some really cool pics....

Guys I am glad to tell you that I have found another best 20 Photo Editing Apps fro this blog. - https://spaceotechnologies.wordpress.com/2014/08/25/the-20-best-photo-ed...

In Kickstarter: Search Lumera, for a new device for photography enthusiasts that connects wirelessly iPhone with DSLR cameras.