Making the Apple Silicon Mac ... multitouch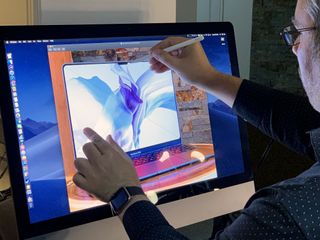 (Image credit: Rene Ritchie / iMore)
Almost two years ago, I wrote a column about how Apple could add multitouch to the Mac — the benefits, the costs, the challenges, all of it.
Because, in the age of the iPad, for a lot of people, a screen without multitouch not just feels but effectively is… broken. And... while I think I got a lot of it right… I also think I got a few things wrong.
So, with Apple Silicon on its way, I want to revisit it, especially the wrong part.
What Apple said
Now, Apple's had a lot to say about touch screen Macs over the years. They've prototyped them. They've tested them. They have… opinions on them.
Steve Jobs said they'd make your arms want to fall off.
Tim Cook said forcing things to converge doesn't please anyone, like toaster fridges.
Phil Schiller said you can't optimize for both. It's a least common denominator experience. It's absurd.
Jony Ive said it's not because we can't, it's because we decided they're not particularly useful.
Craig Federighi said none of the experiments out there today have been compelling.
But Apple has a lot to say… a lot of opinions… about a lot of things.
No one wants to watch video on an iPod. We're never making iTunes for Windows. If you see a stylus, you blew it. No one wants to read eBooks. You can't use a small tablet unless you shave your fingers down. Apple won't make a cheap phone. OLED displays are awful.
Sometimes it's an attempt to misdirect the competition, sometimes technologies change or improve to the point where a no becomes a yes, and sometimes, just sometimes, someone at Apple managed to change Steve or Jony or Phil or Craig or Tim's mind.
Because, of course, Apple went on to ship the video iPod, iTunes for Windows, Apple Pencil, iBooks, the iPad mini, the iPhone SE, and the iPhone X.
A thousand 'no's
Google doesn't have a legacy graphical user interface. Google bought Android just as multitouch was taking off and refactored it from a BlackBerry to an iPhone faster than you can say where's the Pixel 4a. And ChromeOS, well, that was born during the age of multitouch.
Microsoft wasn't able to make a modern operating system. Not from WindowsCE or Windows Mobile, not from Windows Phone and not for Windows RT. So, they were forced to spend years crossing the desert from Windows 8 to Windows 10, trying as best as they could to make their legacy GUI into a modern multitouch operating system.
Apple, though.. Apple built iOS from OS X as multitouch to begin with, and while their market share was never as big as Windows then or Android now, their profit share became enormous, and so they're either caught… or bouyeed… depending on how you look at it, by both a legacy GUI and modern multitouch operating system.
And may well have an even more modern augmented reality OS on the way. But.. that's probably the topic for a future column. Let me know in the comments if you want to see it.
And that's why, when Apple said they were happy to let the Mac be the Mac — namely an indirect, pointer-based system — and the iPad be the iPad — namely a direct, multitouch-based system — I didn't really take them at their word but I did take them at their circumstances.
See, I kind of assumed Apple wasn't just being philosophical but was being practical.
In other words, even if they did want multitouch Macs, taking a Windows 8 to Windows 10 amount of time to implement it just seemed like a non-starter. Especially since, unlike Microsoft, they already had a hugely popular multitouch system, and never enough resources, and taking engineers off what was going to become iPadOS just to graft multitouch onto macOS… Well, that seemed to make the kind of sense that just never did or would.
But, a few things have changed since then. Or, fairer to say, a few things have changed my mind.
For every 'Yes'
The Apple Pencil is lightyears ahead of the old Palm Pilot stylus. The OLED on a modern iPhone or Galaxy phone is extra-dimensionally better than the early versions, and the iPhone SE may be cheap compared to the iPhone 11, but it's by no means cheaply built or powered.
Point is, executives misdirect, technology evolves, minds change.
Here, I think MY mistake was assuming it would take Apple several torturous, Windows-like cycles to make macOS multitouch. Where they announce and start in one version, transition through another, and finish… ish… in a third.
What I didn't consider is that, one, Apple doesn't always announce the purposes of their transitions, and two, that they were already doing the mother of all transitions.
See, for the last several years, they've basically been rebuilding macOS in mid-flight. Not ripping and replacing it like they did with the Classic macOS and OS X.
No, re-writing and swapping out parts, years after year, version after version. Things like Swift and APFS, sure, but also the launch daemon and the windowing manager, the security model and even Catalyst — UIKit on Mac.
One obvious end game was Apple silicon, which they finally announced just a couple of weeks ago. But the other could just as easily be multitouch.
In other words, they've been spending their 3 versions in the desert this whole time. And it was still torturous in many ways, for all of us, but we were also seeing so many new parts arrive it distracted some of us from some of the bigger pain loops.
Now, Apple announced Apple Silicon in June so developers would have Apple Silicon apps ready when it ships this fall. Wouldn't they have to announce multitouch Macs at the same time so multitouch Mac apps would also be ready in time?
Maybe… Probably…
Like I said in my macOS explainer, the new interface is the ultimate Rorschach test for where you see the future of the Mac. But, if you see that future as multitouch, the new interface fits it pretty perfectly.
It's got more space, more padding. Even the menu bar can be made bigger and less bitsy.
Part of Apple's big silicon announcement was also the advent of iPhone and iPad apps on the Mac. Sure, Apple only showed off a game, but any app that developers allow to run can run. And controlling multitouch apps with a precision mouse pointer will be about as good as Apple's always said a cursor would be on the iPad.
But, if the Mac supported basic multitouch, for tapping, swiping, pinching... even if not perfect, it could be a whole lot better. There'd still be work to do, of course, but how much? Developer friends, let me know in the comments.
The other thing that changed is, I think, starting with the accessibility team but radiating out from there, is the determination and drive to make all input methods are effective as possible.
You can see it with the iPad, where last year assistive touch kicked off the trackpad and cursor support and also voice control.
The Mac got voice control as well, but nothing even remotely equal and opposite to the iPad's newfound pointer prowess. Nothing remotely multitouch.
But then, last year, Apple hadn't announced the move to their own custom silicon.
The toaster fridge
So, when the iPad debuted it was "just a big iPhone". And that was a huge advantage for mainstream customers, the ones who always felt traditional computers were just too complicated, confusing, and consternating. But, it made the traditional computer users cranky because they lusted after the hardware but felt like they hit a wall of expectational debt when it came to the software, memory, and input methods.
So, when the iPad Pro debuted, it was more than just as quote-unquote a big iPad. It added the Pencil, which was new and novel to Apple's ecosystem, but also the Smart Keyboard, which was all shades of retro.
Similar to how Steve Jobs insisted the original Mac ship without arrow keys so developers couldn't just port over existing command line apps and users couldn't just rely on existing keyboard habits — they'd actually have to pick up that new fangled mouse thing and use it. But, later, added the arrow keys back once the new habits were formed, Apple first with the Smart Keyboard and just this year with the Magic Keyboard, has now fully added the old graphical user interface fallbacks to the iPad Pro.
And, I'd argue, similar to how Steve Jobs said that, in order to exist between the iPhone and the MacBook, the iPad had to do some things better than both, it also just needs to be in between both. And until iPadOS and the Magic Keyboard and cursor support, it really wasn't.
Which actually fits into the Schiller doctrine — the one about how each of Apple's products has to push so hard against the next one in line, that next one has to fight back just to survive in the line. Watch pushes against iPhone pushes against iPad pushes against MacBook pushes against iMac.
And wow is the iPad Pro pushing hard against the Mac now. Multitouch native but with a good enough pointer to get by.
How can the Mac push back? By staying a traditional computing system, offering all the hobbyiest and pro and developer and traditional form factor potential the iPad will never do as well, doing the higher memory and storage tasks the iPad can't, being all pointer first, but with good enough multitouch to get by.
The kind that Apple silicon has supported on the iPad — and iPad Pro — with 120 hrz refresh and touch response going on 3 years now.
Get more iMore in your inbox!
Our news, reviews, opinions, and easy to follow guides can turn any iPhone owner into an Apple aficionado
Rene Ritchie is one of the most respected Apple analysts in the business, reaching a combined audience of over 40 million readers a month. His YouTube channel, Vector, has over 90 thousand subscribers and 14 million views and his podcasts, including Debug, have been downloaded over 20 million times. He also regularly co-hosts MacBreak Weekly for the TWiT network and co-hosted CES Live! and Talk Mobile. Based in Montreal, Rene is a former director of product marketing, web developer, and graphic designer. He's authored several books and appeared on numerous television and radio segments to discuss Apple and the technology industry. When not working, he likes to cook, grapple, and spend time with his friends and family.
The inherent (as opposed to stated) goal of any particular company (as opposed to an individual) is not the Silicon Valley "Make the world a better place..." or to make a particular product, to include a particular feature (e.g. multi-touch), or even to achieve market share, but rather to pursue those things, to the extent they help the bigger goal of maximizing shareholder return in the near and long term. That is the market signal upon which a business must attempt to make rational decisions. If a company doesn't pursue that end, its shareholders will seek alternative uses for their capital, thus de-allocating current and future capital from the business. Business management, economic forecasting, product design and marketing, capital allocation, and even "total customer experience" are not precise sciences. But Apple is doing better than most. Apple isn't perfect, but I'll continue to buy their products which costs me money and buy their stock which makes me money.

I don't really have a dog in the touch Mac fight, but I have been a Windows touch/pen user (bystander?) since Windows XP Touch Edition. Currently I have a couple of Surface devices, and my wife has a couple of HP Spectre 2-1s (13" AND 15"). Also have iPhones, iPads, and a MacBook. Besides that have a work laptop for working at home, with an external monitor, and my own Windows desktop with a nice 34" curved screen. Those last few things are not touch enabled. No not even the work laptop. I dearly love my Surface devices and use touch on them a lot, when I have the keyboard folded back and am sitting on the couch. That's sort of how the iPads are used, sans the keyboard folded back, of course. If I stick the Surface on my lap or on a desk with the keyboard available, I will occasionally reach out and scroll a page, or spreadsheet, but typically it is keyboard, trackpad or mouse. The important thing is on the multiple devices I have that don't have a touch capability, I don't miss it at all. I never reach up to my 34" screen and try to poke a UI element or scroll a web page. I don't try to do that on my MacBook either. Some things lend themselves to that UI, some don't. Personally I don't think the Windows Desktop environment really lends itself all that well to touch and pen, outside of some specific applications. Mostly graphical creation stuff. For that though, The screen needs to be laid down, more so than vertical, painter's easel and brushes not withstanding. More of a sketch pad, drawing/drafting table configuration. To that end, and it is just my opinion, a touch MacBook would have to be a 2-1. It would be awkward as a traditional laptop. That said, can you imagine a Mac Studio in the vein of a Surface Studio. Maybe just a touch screen version of the Pro Display XDR that lays down, to hook to your Mac Pro? What's another couple thousand?

There are people who want a keyboard and mouse on an iPad. There are people who want touch screens on Macs. Seriously, I don't get it. While we are at it, why not put a steering wheel, air conditioning, doors and windows on a motorcycle? Why not make a hot dog that tastes like a hamburger? Why not have a Toyota Corolla that unfolds into a Cadillac? Absurd ideas, right? Yet, some people seem to believe that a universal, one-size-fits-all computer is a great idea. I have no idea why. There is no reason for such a device. Just as there is no reason for a Toyota that unfolds into a Cadillac.

"Just as there is no reason for a Toyota that unfolds into a Cadillac."
The Cadillac is for cruising the highway. The Toyota is for around town and parking. While you could have one of each, it is cheaper to have one do both. If you settle on a Cadillac, every now and then you might have to park it. The Toyota is great in town, but you might want to take a road trip some day. For the most part I agree with you. There are many who can do 80-90% of what they want to do on a tablet, like an iPad. There eventually comes a time when having a keyboard to produce something longer, or a mouse/touchpad for finer control, does come in handy. I wouldn't suggest resting your professional productivity expectations on an iPad, except in very specific circumstances. Similarly, sometimes it is nice to just poke at the screen and scroll through web pages sitting on a couch, and being able to do so on a laptop, a 2-1, is convenient. Again, a touch screen, on a Mac would support some specific applications all the time. Either of those options make it reasonable to have one device that serves one function most of the time, but if needed, can fill in for the other.
BTW, while totally impractical, I have on occasion wished for air conditioning (think 110 degrees), or doors and windows (and a roof) on my motorcycle (think hail).