Mercedes-Benz exploring CarPlay for older vehicles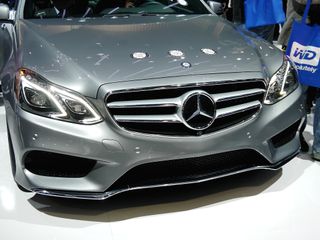 CarPlay has so far been shown off on new vehicles, but what about folks with older ones? It's a question a lot of people are asking, since there are a ton of people with iPhones that own cars made by manufacturers already committed to CarPlay. In the case of Mercedes-Benz, it seems a solution is being explored. From 9to5Mac
At this stage – and before CarPlay is actually available to the public anyway – that's probably as good as we can expect. It's also just one manufacturer, but if Mercedes is looking at it, we'd hope that others will be looking at it also. Sadly, Mercedes implementation of CarPlay so far isn't the most elegant, so hopefully any retro fitting doesn't involve gluing a tablet sized display to your dashboard.
We're going to be talking about CarPlay for a long time to come, and we're still a way off seeing any vehicles actually hit the road with it on board. Would you be interested in retro fitting this into your car? Or would you prefer a third-party kit that didn't involve the manufacturer?
Source: 9to5Mac
Get the best of iMore in your inbox, every day!
I would love to retrofit my Prius with CarPlay!

I would love to sit next to your Prius revving my 300bhp engine.

Would love an option for both of my cars - coming from either Honda/Acura OR aftermarket would interest me!

Buick Intellilink seems ripe for a software upgrade to support CarPlay. Even though GM advertises the software as upgradeable, I have yet to see them come out with a single upgrade.
The problem with Intellilink syncing with the iPhone 5S when it first came out had to wait for an Apple fix rather than an Intellilink update as other manufacturers did with their infotanement software.

I would update both my 2013 honda pilots if made available. Sent from the iMore App

This is great idea to start with the higher end cars first. I can't wait to see how this develop. Sent from the iMore App

Well I did say same thing and someone made a comment "LOL for your fabric navigation UPGRADE"! I know that so many companies did that, like NISSAN (in my moms JUKE) and I hope my 7 month old Mercedes A class will get the same!

I have a 2008 Tahoe, it has a screen already, would LOVE to retro and integrate something to have Car play to work!!! Sent from the iMore App

Yes I want to retrofit my 2012 Peugeot 508 with carplay. The beautiful large high-res display would have to be changed to a touch display I reckon but otherwise it should be a fairly inobtrusive conversion.

I'd love to replace the Microsoft Sync in my 2013 Mustang GT with CarPlay. Sync works ok, but not as elegant as Siri. I doubt GM is working on retrofitting it to my '65 Corvair Corsa though ;)

My MKZ has a touch screen already and would be a good candidate for a factory upgradeable or aftermarket solution.

Might be interesting since I just got a 2009 Mercedes.