Milking the iPhone doesn't much matter when it comes to what's next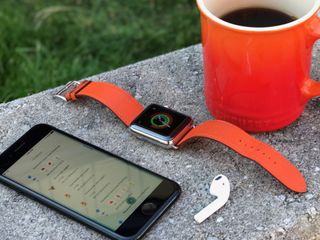 (Image credit: Rene Ritchie / iMore)
Neil Cybart provides excellent analysis of Apple and its business. Here's his recent take from Above Avalon:
Mac pivoted to iPod. iPod pivoted to iPhone and iPad and Watch. Let's call them "macOS devices". They're all still doing well. "iOS devices" are also doing well. The point is not to think of them as a collection of single products but as a platform and ecosystem.
On one hand, you have some people thinking Apple is tapped out on products. iPhone was it, much as Mac was it in the early to mid-90s. See what happens without Steve? First Scully, Spindler, and Amelio, and now Tim Cook.
That's the bet some seem intent on making — that Apple was Steve Jobs and without him there's no vision and no direction. Apple is adrift. Apple is lost.
On the other hand you have people who know that when Steve recommended to the board that Tim Cook take over as CEO, he knew exactly what he was doing. And now Tim, surrounded by much of the same leadership team, also knows what he's doing. Maybe that's something we aren't considering?
No one expected iPod. When it was introduced, it was mocked for being overly simple and laughed at for being overpriced. Just wait until Sony gets into MP3 players!
That's what happens when all you look at is the numbers and the charts. I should know, I make some pretty great numbers and charts. But the problem with them is that they only show you what's known.
And with Apple, which continuously rejects the known, all that matters is what's next.
Master your iPhone in minutes
iMore offers spot-on advice and guidance from our team of experts, with decades of Apple device experience to lean on. Learn more with iMore!
I've covered the personal technology beat for more than two decades at places like Gartner, Jupiter Research and Altimeter Group. I've also had the fun of contributing my $.02 on the topic at Computerworld, Engadget, Macworld, SlashGear and now iMore. Most recently I spent a few years at Apple as Sr. Director of Worldwide Product Marketing. On Twitter I'm an unverified @gartenberg. I still own some Apple stock.