Mobile Nations podcast changes and updates!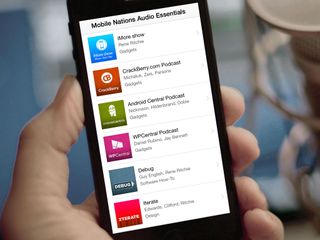 We're going to be making some changes to the podcasts we do here at Mobile Nations — Android Central, CrackBerry, Connectedly, iMore, and Windows Phone Central. That'll no doubt excite some people and upset others, but our single, unwavering goal is to make better shows that you'll enjoy even more. We want to respect your time and your interests, we want to stay focused and stay relevant, So, with all of that in mind, here's what's changing!
Android Central podcast and iMore show
Both the Android Central podcast and the iMore show continue to be the heart of our communities and the shows themselves aren't changing. (Though Ally Kazmucha joined the iMore show a regular co-host last week!)
What is changing are the RSS/iTunes videos. We're going to stop posting those and go all-in on YouTube. It was a tough decision to make but ultimately it cost us a fortunate to serve a tiny fraction of the audience and it just wasn't feasible to keep doing it.
To be clear, the video versions of the shows aren't going away. They're just going to be posted exclusively to YouTube for now. Luckily, there are playlists for both shows that make them really easy to keep up with:
Windows Phone Central, CrackBerry, and Connectedly
The CrackBerry podcast is going to continue as an occasional show — whenever BlackBerry news and Bla1ze want to fire it up. We have the most enthusiastic BlackBerry users, abusers, and community on the planet, and we'll talk with them whenever we have a chance.
We're working hard to reboot the Windows Phone Central and Connectedly podcasts. No spoilers yet, but stay tuned! (And keep bugging Dan and Adam!)
Debug and Iterate
Our developer and designer shows are staying as-is. No changes. If you're at all interested in pushing bits or pixels, or in the history of bit or pixel pushing, check them out!
Vector and ZEN&TECH
Less is more is a hard lesson to learn. I've been doing 7+ shows a week for a while now and it's tough. Getting guests for Vector every week is hard, doing two entertainment-themed shows a week is hard, and it's all more than a little unfocused. So, we're merging some thing together.
Vector is merging with ZEN&TECH to be the all new, all better Vector. It's staying weekly but it's switching format to a panel show where Guy English, Dave Wiskus, Georgia Dow and I talk about technology and culture, from the latest news to how it impacts our lives. We'll also still have the occasional guests.
We're not going to keep posting Vector on Mobile Nations, so if you want to make absolutely sure you don't miss it, subscribe now:
Review and The TV Show
Review is merging with The TV Show to be the all new, all better Review. Dave Wiskus and I will still do the week TV rundowns and Guy English, Dave Wiskus, Georgia Dow and I will still do the current movies, and Guy English, Don Melton, Matt Drance and I will still do the 80s movies, but since it's all one theme, it'll all be in one feed.
We're not going to keep posting Review on Mobile Nations, so if you want to make absolutely sure you don't miss it, subscribe now:
Thanks everyone!
Your support for, and involvement in, all of our shows means more to us than you could imagine! We really hope you understand the changes and keep enjoying the shows we approach, both on Mobile Nations and off.
As always your feedback is invaluable to us, so please make sure you read the entire post and let me know your questions or comments!
Get the best of iMore in your inbox, every day!
Rene Ritchie is one of the most respected Apple analysts in the business, reaching a combined audience of over 40 million readers a month. His YouTube channel, Vector, has over 90 thousand subscribers and 14 million views and his podcasts, including Debug, have been downloaded over 20 million times. He also regularly co-hosts MacBreak Weekly for the TWiT network and co-hosted CES Live! and Talk Mobile. Based in Montreal, Rene is a former director of product marketing, web developer, and graphic designer. He's authored several books and appeared on numerous television and radio segments to discuss Apple and the technology industry. When not working, he likes to cook, grapple, and spend time with his friends and family.
Glad nothing it really going away, and just some restructuring. Love the Arrow podcast, I mean The TV Show - ;) - and love Review, so glad their spirits will merge and live on! Sent from the iMore App

I listened to vector occasionally but have no use for the rest. Although vector seems to be changing for the worse.

Your generosity of spirit, kindness of heart, and politeness of comment are what keep us all going, Cardfan.

Hasn't been a Mobile Nations Podcast since October. I enjoyed those from time to time.

I was always curious why they seemed to stop doing the windows phone podcast. Hope to see that start back up soon. Also, I do hope you guys still do some of the zen and tech stuff in vector. I don't want to see that type of discussion go away.

We absolutely will, see last episode. And we may do some special short-run series on Z&T, like parenting.

Thanks RavenSword, we will still be doing some ZenandTech as special segments. If you want to make sure not to miss them follow our RSS or us on twitter. We always post when we have new episodes.

I'm happy to see that there won't be many changes. I got worried when I saw the headline. Any reason why Vector and Review won't be posted on Mobile Nations anymore? The comments could be fun sometimes.

Mobile Nations wants to focus on the site-specific shows and tech shows. Never say never, and maybe I'll still sneak them onto iMore or include them in roundups, but RSS/iTunes is the way to go to make sure you don't miss anything from now on.

Makes sense, and cutting the actual number of shows makes it easier to choose between them too (you know, limited time and all).
I can say I enjoyed the "season finale" of Vector more than in the past. The panel format is actually pretty good, and the occasional playful head-butting between Dave and Guy is great! A good thing Georgia is not going away with the merger, her insights are essential and never fail to move the conversation to higher levels.
As for the iMore show, could you bring in "the bearded-one" every so often please?! But then it might descend in a grunting match with Peter... just kidding! ;-) Love the show and the addition of Ally.

Thank you Clanthin. That was a such a thoughtful comment, much appreciated and Im still here =)

'Tis the truth! Looking forward to the shows, cheers!

I'm a recent listener of your work here, coming from MacBreak.
I like it. A lot.
Your post sounds reasonable and your motives very well explained and logic.
There's no doubt in my mind that you're doing your best, trying to do what you like and your public appreciates. I'm still having lots of problems with iTunes (you don't remember, but we talked about it on Twitter when you where doing Vector) and the iTunes option only became viable when I found an old Windows computer and an old iTunes version :) Thank you for your work. I'm learning a lot.

We're keeping RSS, and that should work in any app!

Yes, it should.
But my 2008 MacBook and IPod 2gen don't like that (they should, but hasn't go very well) :) The second half of the Accidental Tech Podcast 79 has a good description of my problems. If you go directly to the last 14:30 minutes (right after the closing music) you can hear a direct explanation of some of my problems. Just don't get scared by his declaration that in 3 weeks he'll be death, writing the OSX review :)
The last one he will do, apparently :(
I understand that, to much weight, but ...

I listen / watch almost all of these and they are all great. The one on TV I didn't check out since it's just so many to listen to along with the twitch podcasts. Your great on all the shows. Cardfan probably never even listened to the podcasts do never mind him. I love yelling when Don keeps dissing Android. You guys should do a Don M podcast with one to the top android developers showing him what great in Android App development. Maybe they can do a compare and contrast show. Lots of people want to learn programming. Lets talk about swift and whats new with android L and programing with Don and a really good Android programmer. Only people I know is the Dude Ranch I though it was called. They've been on AAA on Twit. What do you think?

Only Nixon can go to China? :)

Had to Google this. It's a little before my time. Sorry, "where not kids anymore" from your last podcast. I'd just like to get to fans of each platform to talk about whats new in each and you really can tell Don is one of those people who truly is excited when talking about swift and what Apple has coming shortly and would love to have him team up with someone who feels the same about Android and what programming on Android has coming down the pike. Lets get these guys/gals chatting. Don doesn't have anyone to set him straight on what the Android platform has to offer. Another 6 hr podcast anyone?

Sadly, I guess this means there will be no way to download imore show video episodes to watch on long flights? The shows have helped me endure many a voyage. I wish YouTube was streamable while in flight. At least Mac break weekly remains an option for this, and Rene is still on there.

There's probably a YouTube downloader that could store it locally for you. I'll take a look. I wish we could keep doing it, but we could buy you a car so you to drive instead of fly for the amount of money it was costing us :-/

A few things: 1) So, this is how you get in touch with Renee!; 2) I, too will miss the video in iTunes, but I understand; 3) I think I'll check out Vector; and, 4) I think you should consider adding Georgia to the iMore show, it would benefit from her personality. No offense to anyone else, just what I hope is valuable user feedback.

was gonna ask why you were stopping posting vector and review to mobile nations but didn't see the already answered comment sorry!