More next gen iPhone part leaks show revised Home button and possible NFC chip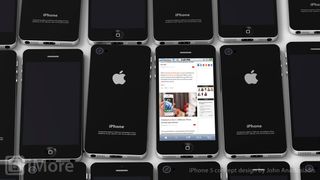 Even more next generation iPhone part leaks are copping up that appear to show a revised Home button enclosure that could possibly solve some of the hardware issues iPhone 4 and iPhone 4S owners already encounter. Even more intriguing is the appearance of a new component that could turn out to be an NFC chip.
While the front of the digitizer and LCD assembly is almost identical to the current iPhone 4/4S except for the taller display, the back may show some new clues as to what we can expect this Fall. First we can see that the LCD is enclosed in a shield which is different than the current unshielded iPhone 4/4S LCD assembly. It seems to go back to the same LCD shield design Apple used in both the iPhone 3G and iPhone 3GS. Running above the LCD assembly next to the digitizer and LCD cables is a new component. The folks over at Macotakara believe this could be an NFC chipset. While this could be the case it's hard to know for sure considering it appears to be covered with a shield much like the new LCD.
This would make sense considering many Android phones and tables are already using NFC technology. It could also be another form of integration for the new Passbook feature that is set to debut in iOS 6. Instead of just scanning QR codes, NFC could make it easier to check in at airports or other locations.
The second noticeable change is the addition of a metal bracket around the Home button. This is very simliar to the way Apple has already design the Home button in the iPad 2 and new iPad. The GSM and CDMA variants of the iPhone 4 have both been prone to Home button issues due to the flimsy flex cable that sits behind the Home button. Apple seemed to try to alleviate this issue in the iPhone 4S by adding a rubber flange around the actual Home button and re-designing the Home button contact on the mid-frame. While there aren't as many issues with the iPhone 4S, they are still present. No generation of iPad has experienced these issues thus far so going with that design may be in Apple's best interest at this point.
As we near closer to an announcement it appears that the next generation iPhone will have not only new components such as the micro dock connector but re-designed ones that should make it a more solid build hardware wise than what we've seen in previous iterations of the iPhone. If our sources are correct, we don't have much longer to wait before we find out.
Source: Apple.pro via
iMore senior editor from 2011 to 2015.
Love that they are trying to improve the reliability of the Home button with each major update. It might not be that bad these days with the availability of a "virtual/on screen" home button, but i had an iPhone 3G that isn't able to reach iOS 5. Without the Home button, i basically can't exit apps. Also, a broken power button didn't help. Had to find means to jailbreak (I've never jailbroke any of my iphone, that was the only time i had to and it was to make the phone usable again) and use activator to make the phone at least work. My iPhone 4 also faced some issues with unresponsive home button that sometimes require multiple tries to work. The Home button is the main button that revolves around the iOS experience, and that is a button that should be rock solid.

eh.. what virtual onscreen home button do you speak of on iPhone???

If you go to Settings, General, Accessibility -- there is an assistive touch option. Activate it. You'll have an onscreen glowing button that gives you access to the Home function without using the button. It's only available in iOS 5 and above

I rarely use the home button on my iPad, with the gestures being so fluid. If only Apple would find a way to kill the physical home button forever...

On the iPad pinch to Home screen works really well. On iPhone, it'd be awkward. :\

Hallelujah! The home button has been the ugly pimple on the iPhone 4(S) otherwise solid build quality. Only a few more weeks of using the Accessible on-screen home button...

I have the same issue with my iPhone 4 Home Button. Waiting (im)patiently for the iPhone 5. :-D

I also use iphone 4s. It's very good to relax www.frivgroup.info
Thank you for signing up to iMore. You will receive a verification email shortly.
There was a problem. Please refresh the page and try again.