Best rugged lenses for iPhone photography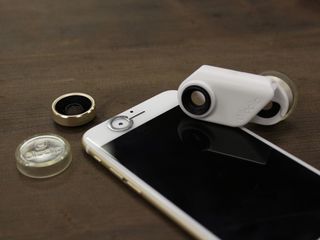 Sometimes getting the best shot can mean putting your iPhone at risk, but you shouldn't have to sacrifice durability for beautiful photographs.
Here are three iPhoneography lens accessories and cases – and one epic runner up! – if you're looking for some durable gear while shooting with your iPhone!
Olloclip 4-in-1 Lens for Otterbox uniVERSE
While the Olloclip lens itself isn't the most super-rugged piece of gear, the case that the 4-in-1 lens attaches to makes shooting with your iPhone as secure as ever.
The Olloclip 4-in-1 lens works hand-in-hand with the Otterbox uniVERSE, a case that is designed to be dropped, tossed around, and generally roughhoused with. In fact the uniVERSE case was put through over 283 hours of more than 24 torture tests, so it's definitely a durable device to shoot with.
The Olloclip comes with four lenses, including fisheye, wide-angle, 10x and 15x macro options. To install the clip to your phone, simply pop the clip over on to your uniVERSE case, pick whichever lens you want to shoot with, and snap a photo!
The case comes in black or white and gray, while the Olloclip itself is a sleek, lightweight black clip that works on both front-facing and back cameras.
See at Amazon (opens in new tab)
Hitcase Snap
Get ready to snap your best snapshots in a snap with the Hitcase Snap! ("Say snap again–" "Snap.")
Lightweight and not crazy bulky, Hitcase's SNAP is a phone case that turns your iPhone into a true adventure camera. Though the SNAP isn't waterproof, the case's extra drop protection means that no matter what photo you're capturing, your lenses and phone are safe to take a tumble.
With the SNAP, you get to pick from three lens options that secure directly to the case for the most professional looking results, including a 160 degree superwide lens, a 104 degree wide-angle lens, and a 15mm – 25mm macro lens.
The coolest part of the SNAP is the ShooR pole that comes with the case, so you can secure your iPhone and try shooting from some more creative angles!
See at Amazon (opens in new tab)
Optrix by Body Glove
Though not exactly the most practical day-to-day iPhone case, Optrix by Body Glove is a unique, durable, waterproof, iPhoneography-focused case that captures vivid video and photographs all from its transparent housing.
It is designed "to allow you to go anywhere and shoot anything," and that's apparent with the case's ability to stay waterproof and still function at depths up to 33 feet, while your iPhone can survive falls up to 20 feet with the Optrix's intense drop-proof abilities.
The Optrix comes with two lens options to play with, a 165 degree wide-angle lens and a basic lens that doesn't alter the field of view for your iPhone. Whether you're deep underwater or bracing the elements on land, the Optrix is sure to power through whatever tough situation you're shooting in.
Note: Don't forget to perform the waterproof test on the Optrix before shooting with your iPhone underwater! Simply slide in a piece of paper towel, lock-down your Optrix, and submerge it in some water for around 30 minutes. If the paper towel is dry, then you're good to go!
See at Amazon (opens in new tab)
SNAP ! PRO
Though not specifically designed to be an uber durable, rough-and-tumble case, bitplay's SNAP ! PRO iPhone case is a great iPhoneography tool that protects your phone and the attached lenses quite well from bumping and breaking.
The stylish grip that comes with the SNAP ! PRO makes it a lot easier to hang on to than most iPhoneography cases and the leather wrist strap adds a bit of security while you're out shooting. The other great part of the SNAP ! PRO is the shutter button that lets you use your iPhone like a classic point and click camera, lowering the chance of you dropping it as you strain to hit that shutter button on the touch screen or the volume button on the side.
The entire SNAP ! PRO is reinforced with a tough, shock-absorbing bumper that surrounds the whole case quite snuggly. A protective soft-interior keeps your phone from getting scratched up, but be sure that the screws that attach the grip are tightened or they'll shift around while your iPhone is in the case and ding up the back of your phone.
See at Amazon (opens in new tab)
What're your favorite lenses to shoot with?
Are there some durable iPhoneography lenses or cases that you love to shoot with? Let us know what you prefer and why in the comments below.
Get the best of iMore in in your inbox, every day!
Cella writes for iMore on social and photography. She's a true crime enthusiast, bestselling horror author, lipstick collector, buzzkill, and Sicilian. Follow her on Twitter and Instagram: @hellorousseau
Thank you for signing up to iMore. You will receive a verification email shortly.
There was a problem. Please refresh the page and try again.