My wish list for features in Animal Crossing: Pocket Camp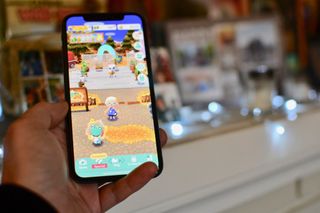 I've been playing Animal Crossing: Pocket Camp for nearly two months now and have become familiar enough with the mechanics that I've got a nitpick or two. If Nintendo never changes a single thing about ACPC, I'll still play it multiple times per day, every day, possibly for the rest of my life, but here are some of the things I'd like to see change in a future update.
General user interface changes that would make the game better
These are some game design features that I'd like to see, or I'd like to see done differently in ACPC.
Make it easier for me to see when friends need help in Shovelstrike Quarry - Right now, the only way you can tell if friends need help is to visit your Friends tab. There is no indication that someone has requested your help. A little red notification dot, similar to the one you see when you get kudos or new friends. For that matter, I don't need to see when someone has given me kudos.
When I get a fish or a bug or pick fruit, I'd like to see how many of that material I already have. It's a little annoying to have to go into the Items tab and scroll until I find the material just to see how many I have.
More notifications! We are asked to allow ACPC to send notifications, but the only ones I've received had to do with the new event. I'd like to know when my crafting items have finished, when my friends need a hand in Shovelstrike Quarry, or when fruit has re-spawned. These would be very helpful notifications.
Why is it so hard to buy items from my friends?
The worst design feature in ACPC is the friends' market box. If you want to buy, say, a couple of pears, you have to open your Friends tab, tap on a friend, visit the friend's campsite, view the friend's market box, and then, if the friend has the pears, you can buy them.
Here's how it should change:
In the Friends List, we should be able to see every item in our friends' market boxes, not just the four most expensive ones.
We should be able to go directly to a friend's market box instead of having to visit their campsite first.
We should be able to search our friends' market boxes for materials. For example, if I want pears, I should be able to type "pear" into the search field and only the friends that have pears in their market box will appear in the search results.
When scrolling down our list of friends, when we tap on one, our place should be remembered so that when we go back to the Friend List, it doesn't start back at the top again.
Some fun Animal Crossing content I'd like to see
Though I'd be happy just the way ACPC is, there are a few Animal Crossing iconic things that I'd jump for joy if were added to Pocket Camp.
Campsite naming - When you first start a game of Animal Crossing, you're given the opportunity to name the city you're about to become mayor of. I'd love to be able to give the campground a name in ACPC.
A museum so you can store your rare items - In Animal Crossing, players are able to show off their collection by storing stuff in a museum in town. It would be awesome (and helpful for freeing up market boxes) to be able to have a museum in ACPC — or in keeping with the campground theme — a visitor's center where you can show off that rare Rainbow Trout or Jeweled Beetle you caught.
The ability to leave notes for other players - Kudos are nice and all, but I'd like to tell a friend that their outfit is cute or that I love how they set up their Campsite. Notes could be left inside the camper. Nintendo could even set up pre-made messages to avoid concerns about harassment or inappropriate language.
So how can I tell Nintendo about my great ideas?
There's actually a way to send Nintendo a message directly from inside ACPC.
Tap More in the bottom right corner of the screen.
Tap Misc.
Tap Customer Support.
Tap Feedback.
In the feedback section, you can select "Other Thoughts (Requests, Ect.) as the topic and then let Nintendo know about the things you'd like to see added or changed in the game. With enough feedback, we might at least get that market box horror fixed.
What changes would you like to see in Animal Crossing: Pocket Camp?
Are you completely satisfied with how Nintendo designed ACPC? What kind of changes would you ask the company to make if you could?
Get the best of iMore in in your inbox, every day!
Lory is a renaissance woman, writing news, reviews, and how-to guides for iMore. She also fancies herself a bit of a rock star in her town and spends too much time reading comic books. If she's not typing away at her keyboard, you can probably find her at Disneyland or watching Star Wars (or both).
Thank you for signing up to iMore. You will receive a verification email shortly.
There was a problem. Please refresh the page and try again.