Animal Crossing: Pocket Camp - Beginner's Guide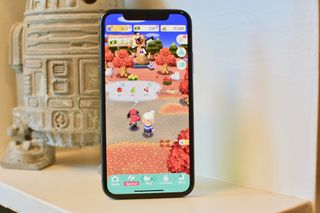 (Image credit: iMore)
Animal Crossing: Pocket Camp is now available on iPhone, iPad, and Android. If you're new to the Animal Crossing kingdom, there's a lot to learn. For the most part, you'll pick up on the basics fairly fast. Without some background knowledge, though, you might make some big mistakes early on that you wish you could go back and change. That's were we come in. We've got a comprehensive beginner's guide to help you avoid mistakes and explain some of the leveling activities that might not seem obvious to you at first.
Sign in with your Nintendo Account
If you've played Miitomo, Super Mario Run, Fire Emblem Heroes, or any game on a Nintendo device, its likely you have a Nintendo account. When you first start the game, you'll be asked to sign in to your Nintendo Account or Nintendo Network ID. This is the only way to save your game data, so be sure to sign in. If you don't have a Nintendo account. Now is the time to get one. You can follow the on-screen instructions to create a Nintendo account before starting the game.
Create your character
After your sign into your Nintendo account and pick your theme, you'll be able to create a character. This is your avatar that you use to play the game. You can pick a boy or girl, select a particular hair style and color, and a specific eye style and color. Everything can be changed at any time after you start the game except the gender of your character.
You can later change the hair style and color or eye style and color by tapping More in the bottom right corner of your menu screen. Then select Settings and tap on Edit Character.
Choose your style
At the beginning of the game, you'll meet Isabelle She'll ask you a question about your ideal campsite. Depending on how you answer the question, she'll suggest a particular theme for your campsite. You can choose Natural, Cool, Cute, or Sporty. This doesn't mean a whole lot, but it does determine the items you'll receive for your starter Campsite setup. Don't worry, you'll be crafting materials for all of the themes, and can completely change how your Campsite looks any time you want. But, this is just the starting point. The style you pick determines the first camper to join your Campsite. Starter villagers are as follows:
Apollo: Cool
Goldie: Natural
Jay: Sporty
Rosie: Cute
The basic gameplay
Your role in Animal Crossing Pocket Camp is the acting manager of a campground. Your job is to help out visiting animals (AKA: villagers), getting them the items they want in order to make their stay with you comfortable and pleasant.
In exchange for your help and generosity, villagers will give you materials. Use these materials to craft items that you can place in your campsite or camper van.
Animal Crossing: Pocket Camp villager list and the materials they give
One of the goals of the game is to invite villagers to your Campsite. Villagers will only visit your Campsite if you own certain "creature" comforts. Each animal has a specific list of items they'd like before they will visit your Campsite.
You can get these furniture and edible items by crafting them. Once you've crafted all of the items an animal requests, it will visit your Campsite and stay (unless your Campsite is already full). You can rotate different villagers in and out of your Campsite once you've welcomed them.
Crafting costs materials. You can earn materials as rewards by completing tasks for villagers at your campsite and in the campground. Villagers will ask for items like fish, fruit, and bugs. You can farm these items at different locations in your campground.
In exchange for fish, fruit, and bugs, villagers will give you materials like cotton, wood, steel, and preserves. Use these materials to craft the necessary items to convince an animal to visit your campsite.
Once you meet a villager, you become friends with it. The villager's happiness level will increase the more you help out your new friend. The goal is to level the happiness to 20 for each of the animals in the game. This is not an easy feat. The higher the happiness level is, the more difficult the tasks the villagers ask you to complete. You may only have to get a couple of shells for a friend that's at level 3, but at level 10, you'll be asked to find rare items or a larger quantity of items, which makes growing your friendship much more difficult.
You'll also receive special rewards for performing timed goals and stretch goals. Timed goals include things like giving other players "kudos" at their campsite or collecting a certain number of specific items. Stretch goals are available throughout the existence of your game and include such things as expanding the size of your van or making a certain number of friends in the game.
Check the map
Your campground is made up of eight locations. There are four farming locations, the Market Place, OK Motors where you can upgrade your camper van, your campsite, and Shovelstrike Quarry where you can play a mini-game to earn a large quantity of a specific type of materials.
Each farm location has one animal in need of attention and yields a specific type of materials. Check the map when you first log in to see which animals you can help out. There will be a check mark next to the animal if you already have the materials needed to help them.
You can tap on an animal to get more details on what they want. If you tap on Kid Cat and see that he is requesting a Monarch Butterfly, you can hop on over to Sunburst Island to gather the necessary materials to help out.
Each farming location also has a player visiting. Talk to players in order to visit their campsite to give Kudos, buy from their Market Box, and get some decorating ideas for your own campsite.
Your campsite is the main hub of activity for the game. One of your biggest goals is to get your animal friends to want to visit you, which is a little harder than you might think. Your new friends won't visit your campsite until you've crafted certain items for them. You don't have to keep the items in your campsite, but you'll need the items they requested just until you've welcomed them. You can then remove them.
I recommend using the automatic placement and removal of setups for welcoming new friends. That way, you don't have to mess with your perfectly crafted campsite.
You can have up to eight friends in your campsite. Here's where things get interesting: In order to level up your friendships, get the most materials, and increase your character's level, you'll need to figure out which friends to keep in your campsite and which ones to send away.
You can add and remove any friend you've welcomed. If there is no more room in your campsite after you've welcomed someone, they will head out to the campground where you'll be able to help them with tasks in the wild. Whenever you want to move a friend into your campsite, just kick someone out and invite them in. They don't have to be within the campground to invite them back once you've welcomed them the first time. Just invite them and they'll appear in your campsite.
The key to getting through the game with all the materials you could possibly need is to know what material each animal gives as a reward and maintain your in-campsite/out of campsite relationship closely.
Lost Lure Creek is one of two fishing spots. As soon as you enter this location, your character will pull out a fishing pole. You can expect to find fish in the creek, but you can also pick fruit from the trees. You can only pick fruit in each location every three hours, but you can fish much more often. Every few minutes, the creek will replenish with new fish.
Pro Tip: Rare fish can be recognized by their size. The shadow of a rare fish is always larger than smaller fish in the water. Olive Flounder are the exception. They are flat, wide fish, and so look large in the water, too.
To see which types of fish you can catch in Lost Lure Creek, tap the Found Here icon on the map next to the name banner.
Breezy Hollow is where you do most of your tree picking. Here, you'll find peaches, cherries, apples, oranges, and pears. You can only pick fruit from the trees every three hours unless you use a Fertilizer to reset the fruit tree immediately.
Pro Tip: You can only pick fruit every three hours. If you shake a tree but don't pick up the fruit that has dropped, the countdown for the replenish will begin immediately, but you won't have to fill up your item storage with fruit until you need it.
To see which types of fruit you can pick in Breezy, tap the Found Here icon on the map next to the name banner.
Saltwater Shores is the other fishing spot in the campground. You can also pick up coconuts and three different types of shell. While the coconut only replenishes every three hours, shells and fish replenish every few minutes. If you're in need of one of these items, clear the beach and wait just a couple of minutes and the Shore will be filled with items again.
To see which types of fish you can catch or shells you can pick up, tap the Found Here icon on the map next to the name banner.
At Sunburst Island, you can collect butterflies and beetles. There is also one coconut tree at this location. Similar to the speed that fish replenish, bugs replenish every few minutes, too. The key is to make sure you've collected everything on the island, though. If you need more Monarch butterflies, grab the fruit beetles off of the trees, too, or the other bugs won't replenish. Grab everything.
To see which types of bugs you can catch while in Sunburst Island tap the Found Here icon on the map next to the name banner.
All of the map locations are free to visit and interact with except one: The Shovelstrike Quarry. To enter this area, you'll need to either pay 20 Leaf Tickets (which are premium in-game currency) or convince five of your friends to help you out.
When you enter the Shovelstrike Quarry, you'll play a mini-game where you get to break open five rocks. You don't get to keep the swag that is inside the rock, but the Quarry manager will pay you for your hard work with whichever materials are part of the reward at the time. The quarry rewards change every few hours.
In the Market Place, you can buy or sell premium items. The booths change every few hours, so you can shop for different items throughout the day. Select from an array of clothing and accessories, or deck out your campsite or camper van with some unique furniture.
Your campervan starts out as a vintage van (not unlike the VW Westfalia #vanlife!), which you can upgrade with a new paint job (first one's on the house!). As you level up, you can expand your van into a small camper. You can also increase the space inside. None of the animals will visit it, but decorating your camper van is part of the fun of playing ACPC.
Power Tip: When you have Giovanni upgrade your van, he won't tell you how much it costs. Instead, he'll do the work and create a loan for you.
Crafting items
In order to convince animals to visit your campsite, you'll need certain items. You can find out what items a camper wants by tapping on their name in the Contacts section. Crafting takes time and materials. Different items will need different materials, and harder items will need more and rare materials.
You can also craft your own outfits.These clothing items cannot be purchased from the Able Sisters or Kicks. They are unique craftable items.
You can have up to three items crafting at a time, plus you can make or upgrade a new tent. Some items are finished fast, while others can take half a day.
To access the crafting tab, tap the Craft icon at the bottom of the screen. Craftable items are organized by special items (the leaf with a border around it), Campsite items like furniture and food (the leaf), clothing (the t-shirt icon), and tents and amenities.
You can tell what you've got in your item storage and what you still need to craft by noting the tiny bag icon next to them. If you have a crafted item, you'll see the bag. If not, you won't see it.
You can also tell when you have enough materials to craft an item because you'll see a big banner next to it that reads, "Craft It!."
Tap an item that you want to craft. Then, tap Order Screen to place the order. If you're ready to go, tap Craft it to begin the crafting process.
When a crafted item is complete, you'll see a banner in the Craft tab that reads "Completed"
Switching out animals in your Campsite
Once your Campsite gets full, animals you've welcomed will not be able to stay. Instead, they will thank you for the invitation and head back out into the wild. They will tell you to give them a call when you have room. The only way to make room in your Campsite is to kick out campers first. Then, you can invite the ones you want.
Go to your Campsite.
Tap the Animal icon. It's the last icon on the right. It looks like a cat face.
Tap an animal to remove from your campsite. This will send the animal out "into the wild" where they may or may not appear on the map in the next quest refresh.
Tap the Add button. It looks like a plus symbol.
Select an animal to add.
Tap Confirm to confirm that you want to make these changes.
The new animal you want will stay put in your Campsite. You can talk to animals in your Campsite every three hours and random animals will give you crafting materials or Bells as a thank you for inviting them.
Your Market Box
You'll pick up, fairly quickly, that your item storage will fill up fast. You can make space by selling surplus items either directly to the game's Market Place or to other players in the game. The first way, through the Market Place, yields you a relatively low return, about 10 Bells per item. The other way, you can raise the price of items and place them in your Market Box. These items will be available for other players to purchase when they need to. You can sell items at such prices as 100 Bells for one item, and players will pay for it if they're in need.
The problem with selling items to friends from your Market Box is that, once they go into the box, you can't get them back. If you don't sell the items, and you need to make room to sell more, you have to throw those items away.
My recommendation: Sell fruits like oranges and apples. Sell them in small amounts (players aren't going to have enough storage for 10 fruit), about three or four per stack.
Don't sell your super rare items, like the Football Fish, in your Market Box. No one needs them (at least so far in the game, no one has come across a task that requests them), and no one is going to pay 30,000 Bells for one. It'll take up space in your Market Box and you'll just have to throw it away when you need the extra room.
How to garden
If you're ready to make your Campsite a little prettier, head over to the far-left of your Campsite (just past your camper) and talk to Isabelle, then Lloid, about getting started with your garden. Remember to water your plants every hour when they need it and help your fellow players out by watering their gardens, too. You'll earn some pretty sweet rewards.
We've got a great guide to getting all of the rare flowers so you can trade them for cool items to add to your Campsite.
How to get rare flowers in Animal Crossing: Pocket Camp
Upgrade your campsite to increase max friendship levels
You will start your campsite with one standard tent based on the style you choose when talking to KK at the beginning of the game. Before you upgrade or build a different type of tent, your friendship levels will max out at seven. To increase the max friendship levels, you'll need to upgrade your current tent or build a different style of tent.
Friendship level caps are based on the type of tent and style of the friend. Friends that prefer cool stuff needs a cool tent, cute friends need a cute tent, sporty friends need a sporty tent, and so on.
As your animal friends get closer to maxing out their friendship level, it's time to start planning your tent building. It takes 12 hours to build a new tent, so plan ahead.
I suggest saving up as much of the necessary materials as possible right from the start. By the time you need to build the various tents, it won't be so painful on your pocketbook (in other words, you won't have to fork over as many Leaf Tickets).
Taking out loans
If you're going to go big as far as your campervan is concerned, it's going to cost you a lot of Bells. Luckily, for some big-ticket items, like an upgrade to your camper van's interior size, you can take out a loan and pay it off when you have a few extra Bells. Your loan can be found in the More tab under Loans. When you've got money to spare, drop $1000 - $5000 on your loan until its paid off. You can't get any more upgrades until a loan is paid off, so be sure to make payments on it whenever you can.
Campervan size increases significantly from one to the next. You'll be paying off the biggest upgrade for a very long time.
Call Cards and Request Rickets
Call Cards allow you to call an animal that is not within the campground at the time. These cards can be useful if you want to invite a camper to your campground, but that animal is not nearby.
Request Tickets reset the task list for an animal. If you're in need of a certain number of materials and this one camper can get you to the number you need with just a few more tasks, use a Request Ticket to trigger a new list of items that animal wants and will reward you for.
The game runs in cycles
As the day grows long, your game will also change. Daytime, evening, and nighttime are represented in the game. Additionally, you'll notice the seasonal changes in the game, too. As fall gets into full swing, the leaves on your trees will turn a beautiful shade of red.
But, that's not the only cyclical changes that take place in Animal Crossing: Pocket Camp. The game's activities also run in cycles. Whether you're waiting for your animal friends to move around on the campground or you want to check out the Market Place for new items, the basic structure of the game changes every few hours. Below is a list of the cyclical changes in the game.
Shovelstrike Quarry: Every 24-hours
The Market Place: Every 6 hours
Animal request/movement: Every 3 hours
Campsite animal chats: Every hour
Want more?
Do you feel like you've made it past the beginner level? We've got some handy tips and tricks to help you get the most out of Animal Crossing: Pocket Camp.
Animal Crossing: Pocket Camp - Tips and Tricks
Originally published Nov. 21, 2017. Updated Nov. 27 2017: Added steps for switching out animals in your Campsite.
Master your iPhone in minutes
iMore offers spot-on advice and guidance from our team of experts, with decades of Apple device experience to lean on. Learn more with iMore!
Lory is a renaissance woman, writing news, reviews, and how-to guides for iMore. She also fancies herself a bit of a rock star in her town and spends too much time reading comic books. If she's not typing away at her keyboard, you can probably find her at Disneyland or watching Star Wars (or both).