Animal Crossing: Pocket Camp rumor roundup: What's coming next!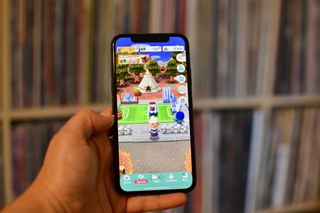 Animal Crossing: Pocket Camp (ACPC) released globally on November 21, 2017 (one day before the announced date). In the short time it has been available, it has become a cultural trend, though not the literal phenomenon that Pokémon GO was. Just as you might expect, ACPC will be updated regularly with new features, new characters, new items to craft, and new, limited-time events. Here's the latest news being talked about around the water cooler.
February 13, 2018: ACPC down for maintenance - what's coming next?
As of 11:00 AM ET, Animal Crossing: Pocket Camp is down for maintenance. It's very likely that Nintendo is working on adding some important new features for our enjoyment. After the last scheduled maintenance, gardening and a few new user features were added to the game. Nintendo has already announced some changes coming soon, so we'll probably see some of them as of 6:00 PM ET tonight.
In January, we received a notification of some upcoming feature headed our way. Here are some of the new features that are likely being added right now.
Customizing the terrain of your Campsite
We'll be able to change what the background terrain looks like. Screenshots from the notification showed bamboo stalks, flower gardens, and pine trees. Will there be more?
One feature I'm looking forward to is the ability to add two rugs at the same time to my Campsite. Currently, only one rug can be placed at a time, even though there's plenty of room for two. With a little extra decorating, we can really create some interesting Campsites!
Dress your villagers to the nines
In the last major update, we got the ability to craft clothing for ourselves. In this one, it's expected that we'll be able to craft outfits for friends visiting our Campsite. Imagine Pietro in a Gothic Lolita outfit!
Possible quality of life improvements
It's no secret that many of us have issues with how some of the game's user interface designs currently work. Nintendo has announced some changes that we will hopefully see with this update.
Shovelstrike Quarry help - I wanted to get notifications when my friends need help, but it looks like we're actually going to see improvements to how we ask for help (probably the ability to ask multiple friends at once).
Market Box improvements - Dear glob yes. I'm not sure what that means, but the overall Market Box experience is abysmal, so any improvement will be welcome.
New fish and bugs - This one might not show up this time around. It never showed up in the data-mined codes, which is always a clear indication of features coming soon. We will get them, but it might not be until spring.
Not yet announced, but in the game's code
There are a few additional features that have been teased, but are not quite official yet. The biggest being the new OK Motors Arcade Machine.
From what was data mined from update 1.1.0, we know that this feature will require Friend Powders to play. You'll be awarded medals, which can be exchanged for craft materials and essences. There is potentially clothing and furniture in the mix, as well.
December 18, 2017: ACPC 1.1 datamined: Upcoming events, four new characters
With version 1.1 to Animal Crossing: Pocket Camp out now, dataminers have already plumbed the depths of this update to uncover new characters, future events, and more.
New characters, furniture, clothes, and much more
Four new characters, Ava, Boots, Sprinkle, and Static, have all been found in the latest update, as have their portraits. There are also a number of new pieces of furniture, clothing, and craftable outfits.
Additionally, OK Motors is getting a slot machine from which you can earn medals that will net you materials.
You can take a peak at this, as well as a lot more that's coming down the pipeline, at this gallery.
A new list of events has been added, including some that are already happening or have already passed. The next set of events kicks off with New Year's 2018, and include the following:
New Year's 2018
Event Challenge
Host the Most
Rover
Event Challenge
OK Motors
Host the Most
winter sports
Event Challenge
Trial Challenge
Trial Challenge
Seasonal item
While there's not a lot of information available on these events, dataminers have uncovered some details about the Rover event. During this event, planting dahlias will attract four new types of butterfly to your garden. If you catch them, they'll be added to your collection, or you can trade them with Rover for event-specific clothes and furniture.
A number of new stretch goals are present in the update:
Catch a rare creature
Catch "x" rare creatures
Harvest
Harvest flowers "x" times
Water some flowers
Water flowers "x" times
Cross-pollinate flowers
Cross-pollinate flowers "x" times
Share a rare creature you caught with a friend
Share a rare creature with a friend "x" times
Craft a piece of clothing
Craft "x" pieces of clothing
The gardening portion of the game will soon see the addition of 20 new flowers to grow. There will also be a new screenshot function so you can easily show off your gardening skills.
It also appears that there will be tutorials for gardening, including for growing, pollinating, and purchasing flowers.
November 27, 2017: ACPC datamined: New characters, Christmas event!
Dedicated ACPC fans have already started data-mining the upcoming 1.0.2 update and discovered lots of new content we can expect in the near future. First off, there are 11 new characters, 91 new crafting items, and 45 new clothing items that will hopefully appear in the next update. Hurrah!
Additionally, there are new furniture items, new themes, and new categories for the in-game catalog, which all point to an upcoming holiday event.
Themes are styles that can relate to clothing items, like Hip or Elegant, or can relate to a new campsite style, like Sporty, Cool, Natural, and Cute.
The data-mine uncovered a Rustic Tent and it's max level upgrade design, a hot-air balloon, and a canvas hammock.
One of the biggest bits of information gleaned from data-mining the 1.0.2 update is that there is very likely to be a holiday event.
Holiday 2017
New Year's 2018
Event Challenge
Host the Most
Friend Frenzy
Event Challenge
Additionally, Twitter has been. buzzing with rumors of a holiday event on the horizon.
New clothing and craft materials are also on the way, including Santa suits, Christmas decorations, and candy canes. That's not all. There are 91 new furniture items and 45 new clothing items heading to an update soon.
New Catalog categories
If that's not enough, new categories for the in-game catalog have been uncovered, which also point to lots of holiday treasures to craft and add to our campsites.
Tourism
Medical
Alpine Series
Office
Sloppy Series
New Year's 2018
Holiday 2017
What new features, items, and events are you looking forward to in Animal Crossing: Pocket Camp?
Are you hoping for a specific character, a different game style, more locations? Tell us your ACPC hopes and dreams in the comments.
Master your iPhone in minutes
iMore offers spot-on advice and guidance from our team of experts, with decades of Apple device experience to lean on. Learn more with iMore!
Lory is a renaissance woman, writing news, reviews, and how-to guides for iMore. She also fancies herself a bit of a rock star in her town and spends too much time reading comic books. If she's not typing away at her keyboard, you can probably find her at Disneyland or watching Star Wars (or both).