Need to Find an iPhone 3G? Use This Nifty Tool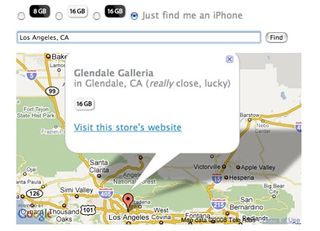 Yeah, we know that Apple has its own iPhone 3G finder but that one doesn't work during store business hours. Plus this iPhone finder searches the Apple Stores closest to your location via Google Maps and is a little bit cooler than Apple's. Location Based Services are all the rage right?
Some interesting tidbits on iPhone 3G availability as of July 16th is that it's sold out in 23 of the 38 states that Apple has retail stores in. And the most difficult model to find is the 16 GB Black version which is only available in 12 of Apple's 188 stores. Apple desperately needs to re-stock those puppies!
So if you didn't get your hands on an iPhone 3G yet, feel free to use the tool to plan your purchase!
Read
Get the best of iMore in your inbox, every day!
I'm really surprised there's not more in the news about this. To an outsider it would seem to indicate some real problems in Apple's supply chain...

What I've found is that the smaller Apple stores in Atlanta at least have not shown stock on the website, but then get shippments in around 10:30 am. That was true of all of the atlanta Apple stores today, as I was able to snag a 16GB Black and only had to wait for about 35min at the North Point store. However, once word got out I guess, the line grew and by about 12pm they had capped it as they did not have stock to fulfill the demand. So I guess moral of the story is call and be persistent as the apple locator will not likely show stock the night before even if they are going to get more in during the course of the day.

Wow what a great app. If you still cant seem to find one though this site is giving some away.
www.iphone-3g-forums.com
GO register in the forums or blog, if you enjoy blogging please write for us I will make anyone a writer! Go join in this great site:
www.iphone-3g-forums.com

Thats great.....IF YOU HAVE AN APPLE STORE!! The closest one to me is in Baton Rouge (Louisiana)and they never show to have any. We have 4 ATT stores here, and none have any, nor do they know when they will get any. They are telling their customer's the only way to guarantee a phone is to order one. I did on Sunday, and the next day got an email telling me the phone was BACK ORDERED and did not know when it will ship.
Want to see something funny....search Apple's store on 5th Ave in NY. They claim to sell the iPhone from 7:00 am til 11:30 pm 7 DAYS A WEEK!!! What's up with that?? Seems like Apple circled the wagons on this one, and is protecting their own.