New and updated apps: Line, Echofon for Twitter, Amazing Spider-Man 2 and more!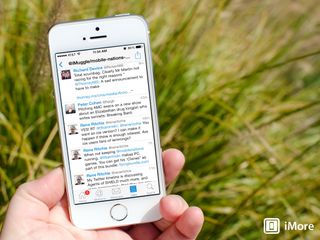 Every day dozens and dozens of new and updated apps and games hit the iOS and Mac App Stores. It's impossible to keep up with them all, but it's not impossible to pick out the very best. Here they are! Today we've got games, games and more games and some social networking stuff!
New and updated iOS apps
New and updated jailbreak apps
Auki: Quick reply app for jailbroken iPhones on iOS 7. Large update that includes a new dark theme, support for parallax, more actions such as a long hold on send to reply as an SMS instead of an iMessage. $3.99 - Cydia link
More apps and updates?
If you try any of the apps or updates, let me know how they work for you. If you got any new or updated apps today that you loved, but don't see here, let us know about them!
Get the best of iMore in your inbox, every day!
I am still having problems with the 45% bug even after the update on Amazing Spiderman 2. The other issues I'm encountering are enemies and NPC's phasing in and out of buildings or getting stuck behind solid objects. In my boss fight with Goblin on the top of Oscorp he kept getting caught behind things, which at first added a level of difficulty but then quickly became annoying when that is the only place Goblin would appear. I was more annoyed with myself that it took 6 rounds to defeat him, but that probably was inflated by the fact he would be "stuck" in one of three areas on the map so his attacks were focused on the only path you could take to him. I am finishing the 7th Chapter and calling it a day with this title, even if Rhino is in Chapter 8 and I could technically continue.

Bought Echofon Pro months ago and ended up going back to the stock Twitter app because of notifications were either very very slow or never came at all. E-Mailed the developers and said that many people are having the same problem. They continue to update the app but don't seem to fix notifications. Does anyone know if the notifications issue has been resolved with this latest update???
Thanks

Peter u know the situ Sent from the iMore App

PDF Expert by Readdle was updated today. They say it's for "-compatibility update for future version of PDF Expert". It will be interesting to see what they have planned.