New Apple Watch bands reportedly due in March; second-generation watch rumored for fall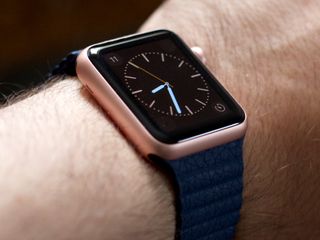 Apple is rumored to be launching new band styles for its current-generation Apple Watch sometime in March, according to a new report. The same story says that the company is planning to launch a second-generation version of the smartwatch this fall, with a full announcement coming in September.
The high-end Apple Watch Hermès went on sale in October, but according to 9to5Mac, there's even more plans for the smartwatch this spring:
The story also claims that Apple might officially launch watchOS 2.2 to the public around the same time, the first beta of which was recently released to developers. The story did not offer details on the features for the rumored next-generation Apple Watch.
Source: 9to5Mac
Get the best of iMore in in your inbox, every day!
I have been writing professionally about technology and gaming news for 14 years.
Well, there goes my Apple stock heading for the drain again - no new Apple Watch until fall, no iPad Air 3, "stellar" introduction of an iPhone 5se cheapie phone instead of the hoped for 4" 6c, new bands for our existing watch (gee - I bet Sir Jony is just all tingly) - this will make the stock soar (or is that sour)...

If AAPL isn't working out for you, there's always another option - maybe GOOG/GOOGL (Alphabet, Inc.) would better meet your investing goals?

Darn, I was hoping for an Apple Watch 2 with GPS sooner than fall. But hopefully the time makes it a more polished product :)

There won't be a gps. They require massive amounts of power. My 6 plus can't even last 4 hours with gps. Sent from the iMore App

If you search YouTube for "Small(s) GPS" you will find a homemade GPS receiver with display that lasts 10 hours and fits in a Smalls mint box. So if that guy can do it, I think that Apple could take a stab at it.

Agreed. If Garmin, Polar, Fitbit, Motorola (yes, Motorola) can do it Apple certainly can. GPS watches are not new and modern running watches have smart watch functionality. I got a Garmin 235 for the meantime.

Their GPS isn't very good, it's slow, not accurate and those devices are doing far less than the Apple Watch. It just wont happen until it can be good enough, it has nothing to do with Apple, even Microsoft ****** it up with the huge Band 2, it's GPS is terrible.

As a runner I beg to differ about the GPS. Garmin has been doing GPS watches for years and I find them very accurate and their new watches are pretty quick lock on for GPS. Nonetheless, Apple Watch can do more but is far from perfect. Too much is slower than pulling out my phone. Microsoft made the Band devices thick and ugly. Motorola made a Moto 360 Sport with terrible battery life and GPS. So yeah, Apple will do it when it's ready but I think the pieces are there. Nobody has put it all in one package yet. Apple is well equipped to do that. If I have to wait until September tho, I might pick up an Apple Watch again. It is much better than any other smart watch (not even being biased. I've tried enough)

Well then how about some software updates to the existing Watch so I don't have to wait 10 seconds to reply to a text message?

Dam, it's a watch! Its a timepiece which should stay for long. Shouldn't be released every year!!!! Sent from the iMore App

No, it's a smart device, of which the technology gets outdated very fast

Before it was released in fact...

The sooner they release V2 of the watch the sooner they can have my money. Not buying V1. Sent from the iMore App

That is fine with me, I'm hoping for longer cycles on everything really as I feel like we've reached a point where 12 months just isn't enough for real big changes. 18-24 months is much better now, I feel like two years is where I really feel my device of whatever is old. I look at what they could do with the Apple Watch 2 right now and it's nothing hardware wise. I mean is there a more energy efficient chip out right now? If so is it that much better? I doubt it. What can they even add? The Watch has everything that is allowed with current tech and I don't see any demand for a camera. on a Watch. Everything they can do better is in software, like when it thinks I'm lifting my wrist up to look at it, currently I have that turned off because it just turns the screen on all the time.. it's so bad. I want custom watch faces, more useful apps... where is Whatsapp? etc etc.

It's not Apple's fault WhatsApp hasn't developed an app for the Watch, and WhatsApp have a very bad track record for updating their apps

Lets hope they will be updated watch bands. Extra functions, battery life anyone? Sent from the iMore App

Why would you need a dedicated Whatsapp app? You can reply to Whatsapp notifications just fine without it. Sent from the iMore App

If I want to view previous messages? Messages, Facebook Messenger and Telegram offer this functionality, so WhatsApp should too Sent from the iMore App
Thank you for signing up to iMore. You will receive a verification email shortly.
There was a problem. Please refresh the page and try again.