The new Mac mini is not only upgradeable, but easily repairable too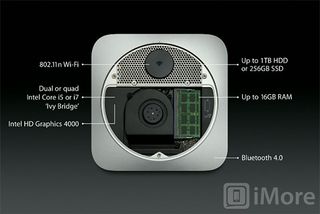 The new Mac mini is the latest in Apple's staggering list of new releases to get the teardown treatment. Though the outward appearance hasn't changed much from last year's model, teardowns are all about finding out what's new on the inside. And that's just what iFixit has done:
The Mac mini looks to be the most repairable and upgradeable device Apple has released in quite a while. Adding another drive or upgrading the RAM is an easy task earning the the Mac mini an 8 out of 10 repairability score. For Apple, that's stratospheric.
Also, unlike many Apple devices, the Mac mini actually doesn't require even a single pry tool in order to access the internals. The bottom simply twists off.
Considering the Mac mini is aimed at being a simple and more customizable solution than a retina MacBook Pro, it only makes sense that Apple would allow certain components to be easily upgradeable. Many users seem to steer towards a Mac mini not only because they're much more affordable but because they are upgradeable which makes the Mac mini more future proof, and more functional.
Any of you plan on picking up a new Mac mini? What kind of upgrades do you plan to do either right away or over time?
Source: iFixit
iMore senior editor from 2011 to 2015.
It would be proper etiquette to link to the source article at iFixit which can be found here: http://www.ifixit.com/Teardown/Mac+Mini+Late+2012+Teardown/11262/1

I'm tossing the idea around of getting one. If I do, I would first upgrade the RAM to 16GB followed shortly after by an HD upgrade to SSD - undetermined size.

The Mac mini is great. I have the 2011 base model. I immediately upgraded the RAM to 8 GB for about $30. It takes about 5 minutes to upgrade the RAM. I want to upgrade to an SSD soon but need to look into it...

I love my Mini. I have a 2010 Core 2 Duo, bumped the RAM to 8 gb. Streams HD media over my network to the game consoles without any problems. The only thing I could wish for (in the latest version too) would be something other than the Intel graphics chipset.

Yep. The AMD GPU in last years mid-range Mac Min is better than the current Intel GPU by quite a margin. Shame really as it would otherwise make quite a nice portable gaming machine with an SSD.

"The AMD GPU in last years mid-range Mac Min is better than the current Intel GPU by quite a margin." Not by much. The Intel 4000 GPU is much improved over previous Intel integrated graphics and next year the integrated GPU in Haswell is suppose to be significantly more powerful than the Intel 4000. That's when I'll pick up one these bad boys.

AMD 6630M:
http://www.notebookcheck.net/AMD-Radeon-HD-6630M.43963.0.html Intel HD 4000:
http://www.notebookcheck.net/Intel-HD-Graphics-4000.69168.0.html AMD 6630M 3DMark 11 Benchmark: 999.8
Intel HD 4000 3DMark 11 Benchmark: 622.9 I'd call that quite a margin and it is reflected in the actual game benchmarks. The AMD GPU can play many modern games at medium and even sometimes high settings, whereas the Intel GPU often struggles with low settings. Maybe next year's GPU from Intel will be better, but new games may also be more demanding.

Can you define what benchmark is? Like how do I know if 622.9 is good or bad? To me it's just a number.

question: as a mac mini owner. I think we have the same model, I purchased this in spring 2011 like a month and a half before the newer versions came out. However, I feel like this thing is old and so SLOW. now, I only have the 4GB of RAM it came with, do you think upgrading to the 8 would make it faster? I mean I don't do much on this thing, and itunes, safari, iphoto, take several minutes to load. My hard drive isn't full either. I'm usually force-restarting my computer a couple times a week because the processes are taking way too long. It's strange as it's not very old, it should be running a lot snappier I feel like and I am running the latest OSX on it...

I am guessing you have the Core 2 Duo version. If it is running slow, something is wrong. 4GB of memory is plenty for everyday tasks. You can upgrade to 8GB but I doubt that will fix the issue. I had issues with my Mac in the past. I ran Disk Utility, repaired the disk (lots of errors), and it worked great again. It's an easy thing to do, so I would try that.

Where do you get RAM from? I really want one of these to replace my really really old Mac Pro. But i want to upgrade it outside of the Apple Store as there upgrades seem very expensive.

Start with eBay, Frys.com, or NewEgg.com even.

How is the Mac Mini for gaming? I'm not looking for 100% top performance but does it allow for most of today's modern games to be played? Things like Lord of the Rings Online, Diablo 3, etc etc?

The new Mac Minis use this GPU: http://www.notebookcheck.net/Intel-HD-Graphics-4000.69168.0.html On that page it gives an indication of how well it plays games. Basically it can play some games at low settings.

I'm hoping to pick one up and replace my Apple TV with a more capable mac mini media center.

i thinks it's nice .. and when it comes to my country .. it will be my first tablet .. :D

PDF Expert 5 is one of the best apps I have ever used, and I use it every day. As you say, it does everything PDF apps need to do and more. In fact in my mind, all of the Readdle apps are some of the best apps available. They are all worth every penny and then some. If I could, I would give them all 10 stars.
Thank you for signing up to iMore. You will receive a verification email shortly.
There was a problem. Please refresh the page and try again.