Newsblur will look after your RSS long after Google has said goodbye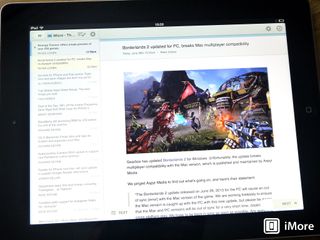 In rounding up the possible go-to RSS services after Google Reader closes its doors, it seems one slipped our attention; Newsblur. On the face of it, Newsblur looks to offer a similarly solid product to some other RSS services, and comes with the option of a paid, premium account to access the full range of features. The recommendation for Newsblur actually came from iMore community member Ben Pike, who particularly likes the "training" aspect of Newsblur:
So, I went and took a look at Newsblur and came away pleasantly surprised. As with many other RSS providers, Newsblur will import all your feeds from Google Reader on your behalf, preserving all the folders you've set up along the way. A free account will let you sign up to a limited number of feeds, so if you're a heavy user the $24 a year subscription for a premium account is something you'll need to look at.
The training aspect of Newsblur is an interesting tool to help you sort the wheat from the chaff. By identifying key tags as thumbs up and thumbs down, Newsblur will aim to hide things you're less interested in, while highlighting the thumbs up content; the stuff you've told it you want to read, basically.
The web app is decent enough, with plenty of options for customizing your experience, and of course all the premium, power tools are there at your disposal. Reading wise, Newsblur gives you real-time RSS updates, and the ability to read the content as it was meant to be, in its original form. Beyond getting everything set up, I doubt i'll use it again on my Mac, because there's a much better option; ReadKit.
ReadKit is available in the Mac App Store for $4.99, and besides Newsblur will also pull in your content from Pocket, Readability, Instapaper, Feedbin, Feed Wrangler and more besides. It's very clean, has an essence of Reeder about the Interface, and is a very pleasurable way to read on your Mac.
Over on the iPhone and iPad, Newsblur has an official app, which mimics to a large extent the overall design of the web app. Instantly recognizable, it looks great on both the iPhone and the iPad, but the larger screen of the iPad is definitely a winner.
So, better late than never, Newsblur is another great way to carry on your RSS needs after July 1. If, like Ben Pike you're a Newsblur fan, drop into the comments and tell us why!
Get the best of iMore in in your inbox, every day!
For those of you looking for a free newsreader, give ArrEssEss a try at https://www.arressess.com/ We import your Google Feeds and don't limit the number of feeds you can keep track of.

Just a suggestion, I know it's easy to Google but a direct link to Newsblur's site would still be good to include. :-)
http://www.newsblur.com I got Feedly set up yesterday, but this seems worth a look as well (signed up for Digg and AOL too, might as well try one more!) ETA - Looks like free accounts are currently subject to a waiting list, I'm number 1,748. Hopefully it won't take too long.

Ugh, you're right, it should have been in all along. It is now :)
Thank you for signing up to iMore. You will receive a verification email shortly.
There was a problem. Please refresh the page and try again.