Looking for life after Google Reader? Here's what you need to know!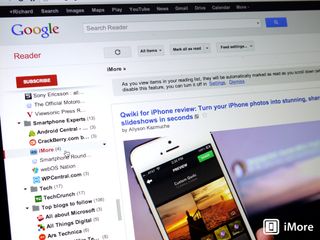 Google Reader will soon be gone, and anyone who uses it daily — like everyone here at Mobile Nations — will have to make a decision on how to carry on their RSS love affair. Fortunately, it's no longer the disaster we all feared on first hearing the news, and we're actually left with an ample selection of replacements. Here's everything you need to know.
Export your feeds from Google Reader, like, now!
The absolute first thing you should do if you haven't already, is export all of your Reader information through Google Takeout. After shutdown, it will be gone, so unless you want to start again from scratch, do it. Do it now. And if you're not sure how, we've got you covered with a full walkthrough.
If you're quick, and do it before July 1, several alternative solutions will allow you to import your RSS feeds directly from Google Reader into their apps. This includes popular titles like Flipboard and Feedly, and should take some of the pain away of transferring your feeds.
Alternative providers - Feedly
In looking for an alternative provider, thankfully there's several different paths you can take. Some free, some not so free, but all more than capable.
Feedly quickly emerged as an early favorite, in no small part down to their work to clone the Google Reader API, transfer people across seamlessly, and provide their own API to other third-party apps to hook into. Feedly does have an app for iOS, but not for the Mac, but they have just launched "Feedly Cloud" and a new web interface along with it. Hit them up before July 1 and let them do all the work for you.
If the Feedly app doesn't do it for you, then take a look at Newsify for iOS, which has already been updated to switch over to the Feedly API.
Alternative providers - AOL and Digg
New to the RSS game, AOL and Digg are both looking to take over where Google downed tools. Digg announced their product pretty early on, and it's finally, almost, with us for use. Early reports are mixed, but there's clearly some promise. At the time of writing, the Digg app hasn't yet been updated, and we haven't had chance to take a look at the web client, either. But, if you're interested, stick your name in the hat for access; Digg is reportedly allowing people in gradually to ensure the service remains stable.
AOL came from literally nowhere, and just a couple of days after an announcement the doors were opened. Initially, AOL Reader is in beta, though access seems to be pretty wide, and is in web only form. Our early impressions are that it's a pretty good, if unremarkable product. Import your Google Reader subscriptions to AOL Reader by way of an OPML file and you're good to go. iOS apps are inbound, though AOL hasn't yet said when.
Request access to AOL Reader beta
Alternative providers - Pulse
Pulse is a news aggregating app that's been around for as long as we can remember. It's perhaps not the first port of call for RSS power users; Pulse offers a more visual, magazine style interface that's very pleasing on the eye. It has plenty of features, including support for Pocket, Evernote and other read later services, and importantly Pulse will import all your Google Reader feeds for you into a new or existing Pulse account.
There's no native Mac client for Pulse, but there is a pretty nice looking web app to keep you up to date while you're at the computer. It also syncs reading progress across to your mobile Pulse apps too, which is exactly what we'd hope for.
Alternative providers - Flipboard
Flipboard needs little introduction, but it's not perhaps the first app you'd think of moving your RSS feeds to. But, you can, and it'll probably be nicer on the eye than most other solutions out there. If that's what you're looking for, we've got you covered with a walkthrough on how to import your Google Reader feeds into Flipboard.
Alternative providers - The paid subscription clients
Feed Wrangler bills their offering as a "modern, sustainable RSS reader." It comes with free apps for iOS, and will import from Google Reader. But, it costs $19 a year. The app is fast, clean and simple, and a great reading experience, but with so many other free options out there now, it's unclear how many folks will be willing to pay.
Feedbin sits in a similar seat to Feed Wrangler, only slightly more expensive again. A Feedbin subscription is $2 per month, so only slightly more than Feed Wrangler, but still more. Feedbin's advantage comes more with the third-party apps which hook into it, including the extremely popular Reeder. The iPhone version of Reeder has already been updated to add Feedbin support, and the Mac and iPad versions can currently be had for free until they have been updated to receive the "same sharing and syncing support." So, if you love Reeder, a Feedbin subscription could be a good way to go.
Reeder also supports Fever, another paid subscription service costing $30 a year. Fever isn't a service we're that familiar with, but its "hot list" works as such:
What are you going to be using?
There's a lot of RSS apps out there for Mac and iOS that make use of some or all of these different providers, or use something different entirely. If you have a favorite RSS app or service, be sure to drop it into the comments below and let us know why you like it. It might just be the perfect solution for another member of the iMore community!
Get the best of iMore in your inbox, every day!
Red Tree Reader is a faithful Google Reader replica. Only a week old, it is aimed at those who want the same old Google Reader look and feel for efficient blog ingestion. http://redtreereader.com

Using LuckNews here. It's a stand alone, all by itself, reader and doing fine with it.

Feeddler Pro. Easy to use and they say they'll be ready for the move away from Google.

I've settled in on a Feeder.co pro account. Well worth it. You should also check out this post with a giant list of alternatives. Most complete list anywhere. http://www.russellbeattie.com/blog/readerpocalypse-the-alternatives Bazqux.com is also a great looking site.

Think I'll stick with Feedly for now. Does what I want, plugins for web browsers, nice visuals.

We'd like to add ours to the list: http://www.arressess.com/

I've been using feedly for now, but commafeed is an open source clone you can run yourself.

I'm using Mr. Reader. It will sync with Feedly and several others.

Fever is actually $30 one time to the dev, but then it has to be hosted somewhere, I think that is a little unclear in the article. Nice write up on the alternatives. I'm caught between newsblur and fever, but I also am running with feed wrangler too. These are good times, I'm actually glad google reader is going away

In previous reviews, iMore praised Zite, my favorite. Why is it missing in the above article?!

Zite is more of a personalized RSS magazine. Flipboard is too I suppose but some articles vary depending on the writers point of view. And diversity is good in our staff. It gives you, our readers, much more diversity in content. :) Sent from the iMore App

been using Newsblur. At first they were not very good but I think after they received a lot of complaints, they redid the whole interface and I really enjoy using the app and the website. It shows only the new stuff that has come in and I like how it's easy to navigate.

Why no NewsBlur love?? I've been using it since the closing of Google Reader was announced and now can't believe I never did before!

Got to cut it off somewhere...;-) Not at all familiar with Newsblur. Care to share why you love it so much?

UI/UX feels familiar but with more polish. I REALLY dig their "Intelligence Trainer" which allows you to favorite specific authors on blogs, specific tags, or keywords in headlines and then only look at THOSE sites - essentially it's filters. For example - I like to know when my fav Apple blogs mention "Google" or "gmail" or "update" and on the other side when my fav Android sites mention "update" or "cyanogenmod" or "gmail" etc... I also use it on a music blog I follow to filter down on artists I like that way I can get a quick glance at stories I'm more likely to care about. That was a feature I had been longing for on Google Reader but never got - because when you follow 200+ feeds you need to filter the signal from the noise ;-)

the old reader http://theoldreader.com/ works like reader.google.com important thing for me is auto mark as read

http://www.goread.io/ is another free one that can import your google reader feeds

Using Feedly, is not as good as Google Reader, but I think they care about getting better.