Nintendo recap: Pokémon BDSP outsells Sword and Shield at launch and '97 Zelda Ocarina of Time demo available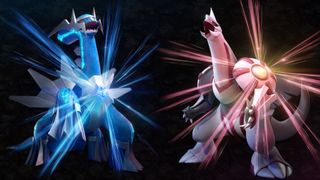 (Image credit: The Pokemon Company)
Hello everyone! It's been a crazy couple of weeks with Black Friday/Cyber Monday deals, and some interesting reveal theories coming to light with the Game Awards premieres approaching. Plus, The Legend of Zelda Ocarina of Time demo from 1997 Space World has been decompiled and can legally be obtained. We also learned that Pokémon Brilliant Diamond and Shining Pearl sold very well and even had a stronger launch than Sword and Shield. Crazy, right? There's plenty to talk about this week, so let's dive in!
Game Awards tease
Geoff Keighly is building hype for the upcoming 2021 Game Awards which take place Dec. 9 at 5 p.m. PT / 8 p.m. ET. As part of that, he's announced via a tweet that he "saw the final cut of a #thegameawards world premiere we have been working on with a developer for 2.5 years." This has led to a lot of speculation from gamers as to what the game could be.
Just saw the final cut of a #thegameawards world premiere we have been working on with a developer for 2.5 years.

Truly honored we are entrusted to share this work with the world.Just saw the final cut of a #thegameawards world premiere we have been working on with a developer for 2.5 years.

Truly honored we are entrusted to share this work with the world.— Geoff Keighley (@geoffkeighley) November 28, 2021November 28, 2021
Many suspect it's the official name for The Legend of Zelda: Breath of the Wild sequel as well as new content for it. After all, it was back at E3 2019 that the sequel was first announced, which would make that roughly about 2.5 years ago that this collaboration with the Game Awards could have begun. Still, it could very well be something different and not Nintendo-related at all. We'll have to wait and find out. Either way, I'll be tuning in and will definitely report on any exciting Nintendo news that comes from that evening.
Best Switch games sales for Black Friday
As listed in the Gamesindustry.biz Black Friday charts, Mario Kart 8 Deluxe was the number one best-selling Switch game this Black Friday. This isn't surprising due to the Switch bundle deal that came with the racing game and a three-month Nintendo Switch Online subscription. These were the five best-selling Switch games during that period:
Mario Kart 8 Deluxe
Minecraft
Pokémon Brilliant Diamond
Animal Crossing: New Horizons
Mario Party Superstars
Surprisingly enough, Pokémon Brilliant Diamond was only the third best-selling Switch game for this Black Friday weekend, with Minecraft beating it out. Now, Minecraft has always been an unstoppable cash cow that continues to sell well. Since it's been out for a while now, it probably saw better deals than the just-released Gen IV remakes, which were still at full price. Still, it's interesting to see that Brilliant Diamond was the better-selling version of these remakes. That's not too surprising given that the game that is listed first for any Pokémon generation is usually the one that sells more.
After that, we have Mario Party Superstars, which was only just released this October and is definitely the best Mario Party game to have come out in years. This too isn't a shock considering that it's more like a remake collection of past classic boards and popular minigames. It's hard to go wrong when you're working with the best there is. At any rate, it will make for a great family gift this holiday season if you haven't picked it up already.
Pokémon Brilliant Diamond and Shining Pearl had an amazing launch
Japanese gaming outlet Famitsu reported that Brilliant Diamond and Shining Pearl (BDSP) have sold an estimated 1,396,000 physical copies in Japan in just three days. That doesn't even take into account the number of digital sales. As such, this is the second-largest opening week for any Switch game in Japan, just after Animal Crossing: New Horizons. That's better than Sword and Shield's launch by about 30,000 physical units.
We also know via Gamesindustry.biz that BDSP also had the biggest launch of any Pokémon game in U.K. history. We don't really know what the U.S. numbers are yet, but it's looking like this remake performed well here, too.
Makes you wonder how Pokémon Legends: Arceus is going to perform in February. After all, it's vastly different from the normal Pokémon formula and there is only going to be one game instead of two versions, so sales will likely look smaller due to that alone.
Speedrunner beat Pokémon BDSP in under 18 minutes
Speaking of BDSP, Speedrunner Werster on YouTube has been repeatedly breaking his record for Any% completing (getting to the end credits with any level of completion acceptable) the remakes in record time. His best record at the time of this writing was 17 minutes and 17 seconds. This was accomplished by taking advantage of glitches and opening and closing menus at the right moments to skip cutscenes. It's not something the average player wants to go through, but it's an impressive feat nonetheless.
Kirby The Forgotten Land release date could be coming soon
Kirby and the Forgotten Land was announced a few months ago, but no exact release date was given. However, this last week the game received its ESRB rating, as reported by Stealth on Twitter. This means that it is likely near completion, and we could be getting a release date announcement very soon. My bet is that we'll see a special video for it at The Game Awards.
Nintendo's Doug Bowser calls the Activision Blizzard situation 'distressing and disturbing'
It recently came to light that Activision Blizzard CEO, Bobby Kotick, knew of sexual harassment claims for years and actually even took measures to keep the situations quiet. Phil Spencer of Xbox and Jim Ryan of PlayStation came out and stated they weren't happy with what was happening at Activision Blizzard and even went so far as to say they were reevaluating their companies' relationships with the gaming giant.
Nintendo of America's Doug Bowser, was the next to respond. In a letter to employees sent on Nov. 19 and obtained by Fanbyte, he stated that the reports are "distressing and disturbing, they run counter to my values as well as Nintendo's beliefs, values and policies."
He went on to say that Nintendo is in contact with Activision Blizzard and "have taken action and are assessing others." It's unclear what "taken action" specifically means in this case, but it stands to reason that all big gaming companies want to distance themselves from the egregious actions of this billion-dollar company's scandals. We'll keep an eye on this and will report as soon as we learn more. In the meantime, Kotick is still in power and as long as he stays there it won't feel like anything has really been done to change the culture.
Zelda Space World '97 Experience demo available for download
Back in 1997, a demo for The Legend of Zelda: Ocarina of Time was presented at the Space World conference. Since this was just a demo, hardly anyone has been able to play it and the coding was thought to have been lost for years. However, you might remember that earlier this year in January, a 32MB N64 cartridge of F-Zero was found by Twitter user Forest of Illusion, which included part of the Ocarina of Time demo.
We have a prototype Nintendo 64 cartridge of F-Zero X that contained data from an early build of Zelda 64 that used to be on the cartridge. We're estimating it's from Spaceworld 1997. We're going to look into this more. Of course everything will be released. pic.twitter.com/Q5SoAbsdWMWe have a prototype Nintendo 64 cartridge of F-Zero X that contained data from an early build of Zelda 64 that used to be on the cartridge. We're estimating it's from Spaceworld 1997. We're going to look into this more. Of course everything will be released. pic.twitter.com/Q5SoAbsdWM— Forest of Illusion (@forestillusion) January 19, 2021January 19, 2021
Then, later this year there was the Gigaleak, which contained source code for several classic N64 games, including Ocarina of Time content that could be used for the demo. As such, fans dumped the data and undertook the task to decompile it so they could recreate the demo as close to the original as possible. This has been a big project as many assets and menus have needed to be remade or added in to make the demo playable. The crazy thing from all of this is that you can actually legally obtain a ROM and play it on an emulator. If you're interested, you can find that Zelda demo ROM at Github.
In addition to the '97 Space World demo, the full Ocarina of Time game has also been fully decompiled. As reported by VGC it was decompiled by Zelda Reverse Engineering Team (ZRET), a community-led group, which had been working on this project for about two years. It's a perfectly legal thing for them to be doing, but we'll see if Nintendo does anything to attempt to protect one of its greatest games of all time.
Have a great weekend!
Even though I've beaten Brilliant Diamond and become the champion, I'll still be playing the game this weekend. After all, I still have to capture the Legendary Pokémon in Ramanas Park and I'm always down to spend hours shiny hunting. I hope you enjoy whatever games you are playing this weekend and have a relaxing few days before Monday rolls around.
Until next time.
- Rebecca Spear
Rebecca Spear is the dedicated gaming editor for iMore who loves playing games on Switch and iOS. She is a Zelda nut through and through and can also talk for hours about her favorite Pokémon games. She's written hundreds of guides and reviews over the last six years to the point that if you get stuck in a game somewhere, she can help you out. On any given day, you'll find her following the latest tech, digitally drawing with her iPad Air and Apple Pencil, reading a good book, or - you guessed it - playing video games. Follow her on Twitter @rrspear (opens in new tab) to see her post about her corgi, foster kitties, art, and favorite video game characters.
Get the best of iMore in in your inbox, every day!
Thank you for signing up to iMore. You will receive a verification email shortly.
There was a problem. Please refresh the page and try again.