Apple Watch will likely be unavailable for purchase in-store until June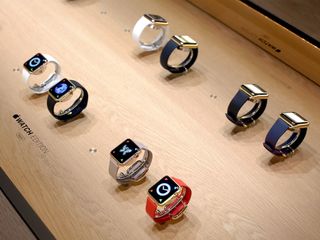 According to the memo, obtained by iGen, the senior vice president of retail and online stores stated that the Apple Watch will not be available for in-store purchase until June. Those who pre-ordered online will start to receive their orders from next Friday.
Ahrendts previously encouraged Apple retail staff to direct customers online to purchase the Apple Watch and new Retina MacBook. While the new order system for the Apple Watch hasn't gone as smoothly as previous product launches, customer feedback has been "overwhelmingly positive."
But the decision on how to launch the new Apple Watch wasn't an easy one to make, as Ahrendts' memo notes:
If you're concerned about future iPhone and other product launches, fear not as this will not become the norm for how Apple goes about things. The company also removed the availability date of April 24 featured on its website.
Team,
On behalf of Tim and the rest of the executive team, I want to thank you very much for making last Friday's debut of Apple Watch unforgettable. The Previews going on in our stores and support from our Contact Centers are unlike anything we have done before.
The feedback from customers is overwhelmingly positive. They are excited about Apple Watch, and your teams are creating fantastic experiences for them. Customers who pre-ordered will start receiving deliveries next Friday as planned, and I know you will do a great job helping them get set up.
Many of you have been getting questions asking if we will have the watch available in stores on April 24 for walk-in purchases. As we announced last week, due to high global interest combined with our initial supply, we are only taking orders online right now. I'll have more updates as we get closer to in-store availability, but we expect this to continue through the month of May. It has not been an easy decision, and I want to share with you the thinking behind it.
It's important to remember that Apple Watch is not just a new product but an entirely new category for us. There's never been anything quite like it. To deliver the kind of service our customers have come to expect—and that we expect from ourselves—we designed a completely new approach. That's why, for the first time, we are previewing a new product in our stores before it has started shipping.
Apple Watch is also our most personal product yet, with multiple case and band options because it's an object of self-expression. Given the high interest and initial supply at launch, we will be able to get customers the model they want earlier and faster by taking orders online.
I know this is a different experience for our customers, and a change for you as well. Are we going to launch every product this way from now on? No. We all love those blockbuster Apple product launch days—and there will be many more to come. They're the moments where you, our teams, shine. And our customers love them as well!
Apple Watch is an exciting new product and we are at the start of a very exciting time at Apple. You're the best team on earth and you are doing an amazing job.
For customers who want to buy a watch, please continue to help them place their order online. Also make sure they know that, wherever they buy, Apple will provide them with a great Personal Setup experience — either online or in our stores. This includes syncing their Apple Watch with their iPhone and teaching them about all the incredible features of their new Apple Watch.
Thank you very much again, and I look forward to seeing you soon.
Basically, they wanted to hedge their bets.. which I can understand.. Until now, no one broke 1 million smartwatches in a year, much less in 1 weekend. That said.. I think they might have been to conservative.

Agreed - they also may have had no idea which configurations and strap sizes would be more popular.

I can see why Apple would want to initially keep the watch to web only. Gives them time to weather the early adopter wave that was clearly bigger than they thought it would be. I was told that if I wanted one, it wouldn't be shipping till June. Sent from the iMore App

I just hope this doesn't mess with people that received a 4/24 - 5/8 ship date. Apple needs to do their best to honor those commitments.

The only thing I find unusual about this is the way in which nobody, or at least nobody in the tech press who covers Apple, is prepared to say that Apple has f*cked up here and failed to plan the supply of this product properly. If sales are really only a couple of million, and if people ordered within minutes of availability, (both true) then two month shipping times are just outrageously bad. How can this possibly be seen as anything but a mistake? They were conservative as to sales, and they got caught by a much higher demand than they anticipated. They likely only made enough to fill the display cases in their stores, and now have to manufacture the whole 2 million to serve the first orders.

I think this is a huge mess for apple, so for someone like me who wants one but wants to see reviews of a working model not a demo from someone like myself and not a reporter that will see online here shortly from the first wave of users. I think it'll justify buyers remorse and we may see this one million watch number not quite match up. I have to wait till middle of May to get mine if I don't like what I see I may cancle and I think that there is a problem for apple. Why didn't they poll their employees and ask them which configurations they liked and get an overall idea, 65% of the watches are one model color and band black on black that's what it seems everyone wants. How they couldn't find that out with market research is beyond me. I've never doubted apple in the past on anything but this maybe the one thing that makes or breaks them in my opinion. However the jury is still out and they do have some time to make this right. If they can offer their employees half off on these watches then maybe they can make the cost of the bands lower, it ridiculous. Just my thoughts

I swear... the one thing I felt Apple couldn't/shouldn't do with these is exactly what they did: offer the watch STRICTLY in predetermined configurations. Dumb... well, maybe not from a bottom-line standpoint, but it will affect some potential buyers. And why is the Modern Buckle only available in the 38mm size? Sent from the iMore App

I was at an Apple Store today in Arlington, VA and an employee confirmed to me that (at least the store I went to) will be receiving purchase-able units in June.

Well this sucks but it's not something anyone needs right away. Sent from the iMore App

I hope I get mine on the 24th... I got the day off and will be waiting anxiously all day until the UPS man or whoever arrives at my door!

Is anybody getting a watch on the 24th?
I finished my preorder at 12:03 AM --and today I noticed that my shipping time slipped to May 13th through May 27.
:-/ Sent from the iMore App
Thank you for signing up to iMore. You will receive a verification email shortly.
There was a problem. Please refresh the page and try again.