N.O.V.A. 2 for iPhone now available in the App Store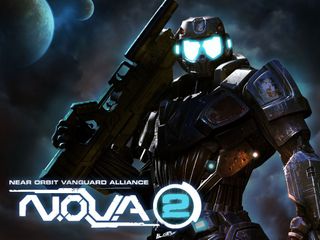 Gameloft has just released N.O.V.A. 2 for iPhone and iPod touch, the sequel to it's smash hit first-person shooter (FPS) N.O.V.A. If you are unfamiliar with the N.O.V.A. game it is Gameloft's take on the ever popular HALO genre. You play as an elite military soldier who is responsible for fending off an alien invasion. N.O.V.A. 2 is set 6 years after the ending of the original N.O.V.A.. The game includes an intense single player campaign as well as multiplayer brawls for you to eliminate opposing players.
N.O.V.A. 2 has some very welcomed updates which include:
Meet new enemies with improved AI! Volterites' new tactics make the gyroscope controls ideal
Master a larger range of weapons & powers
Much more diversified gameplay: run, shoot, fall, drive a motorbike, pilot a giant mech, and blast a laser
The more, the merrier, now with up to 10 players in 10 multiplayer maps
Build a career and rise through the multiplayer leaderboard
Explore new locations, offering amazing graphics, fully optimized for the Retina display
Enjoyed the first N.O.V.A. – Near Orbit Vanguard Alliance? Be rewarded with extra bonuses.
If you are like many of us and played the original N.O.V.A. you will start N.O.V.A. 2 multiplayer with advanced XP which allow you access to advanced weapons and an unlocked special achievement on Gameloft Live! This seems to be a nice little bonus for those hardcore players that spent a lot of their time playing the original game.
So if you are a diehard N.O.V.A. player go grab the next episode and get your game on! If you are new to this series and decide to see what all the fuss is about let us know what you think.
[ $9.99 - iTunes Link (opens in new tab) ]
Get the best of iMore in in your inbox, every day!
2nd, but 1st in the hearts of fans!

The game is 9,99$ not 6,99$. There goes Gameloft again. This is just ridiculous. Next thing we'll see is NOVA 3 for 60$. I've decided not to buy games from this companies until they start pricing their games fairly.

@Daniel
Yup, and they will surely be affected by one person not buying it. Lol.

Wow, $10 for an iphone game. Trying to pushing up the set point aren't they? Add me to the list of people not buying.

that's weird i got it for 6.99$ i'm in Canada

For you 2 guys who have no money, how much is a "fairly" priced game for iOS?

Rags are you stupid? of course we have the money but unlike you we have brains and we know they are gonna keep rising the prices unless we show that we're not accepting that. But if you wanna spend 10 bucks for a game that could be 4 go ahead, moron.

Coming in from 7 years later, yeah, well the prices are better, and in fact more than 2 3rds of gamelofts games are free. Including Nova 2 and 3, however they are now inaccessible and people with an "undercover" link can access it. Trust me if it weren't worth it then, just know its worth the money now.

@Bryandung make that everyone with a brain. If you are gonna buy it then go for it, next time you'll be buying a 40 dlls racing game...

An XBOX game will easily run you $60-70, and this is an actual, full-sized game... I don't really see the problem. An Nintendo DS game will run you $20, so I, personally, think this is a great price.

$4 is the price of a cup of coffee, not the price of a game months in the making...

@Daniel
That is some of the dumbest ish I've ever heard. Pay the $9.99 and shut up or don't and shut up. Either way, the rest of us will enjoy a great game for the cost of lunch. Seriously, how cheap can you be? You expect them to crank out great game after great game and not get anything for their effort, so you can be a tightwad. Ridiculous...

For me for the formfactor/screensize on the phone, $1-$5 for a game. I don't have the time to be spending hours at a go on the teensie phone screen trying to beat a game. The higher the cost, the less likely I'm going to take a chance on a game. $1 = more likely to buy.
In terms of fair value, it's a capitalistic system. The game companies don't charge a fair value. They charge as much as they can get out of people and push it as much as possible. No complaints = people don't mind = they aren't charging enough so they need to raise the prices...

@cheap people
come on guys stop being such of tight cheap people once in your life. if you're so cheap, stop complainting, just keep getting free apps and keep taking your girlfriend to the dollar menue with such people like you, there is nothing more we cant hope for.

It's only 6.99 idiots!!!!!!
Thank you for signing up to iMore. You will receive a verification email shortly.
There was a problem. Please refresh the page and try again.