NSFW: Apple is doomed without a purple MacBook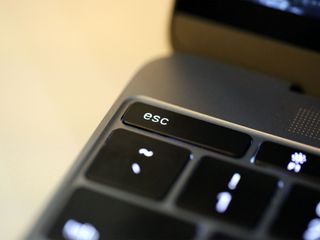 Shut up, you vulgar little tongue cluckers. There is nothing not fabulous about being able to walk into a serene, austere Apple Store and check out the new gear without having to stand in line and feel boxed in.
I liked being able to book a Watch try-on appointment from my phone and stick to it. Compared to my past few Genius Bar experiences, that's a big step in the right direction. Apple Stores shouldn't be as crowded as they are when new products launch. It's gross. And most people don't like it.
In Boston, everything was abuzz because the famous Boston Marathon happens next week, and the finish line is a few hundred yards from the entrance to the Boylston Street Apple Store.
With Boston Marathon bomber Dzhokhar Tsarnaev's trial and conviction putting the exclamation point on a particularly brutal winter, Boston's Back Bay was positively vibrating with energy. The sun was out and Boston residents and visitors were soaking in the warm spring rays as they made their way down the street. That energy was evident through the tall glass panels of Boston's Boylston Street store — but inside the ground floor of Apple's Boylston Street store, it was a cool oasis.
It was business as usual at the Genius Bar upstairs, but the new product area certainly left me with a positive impression. Boylston Street's ground floor is where the company showcased the new releases. I was able to breeze in, talk with someone, and get my hands on the watch almost instantly. Sure, there were a few other customers who'd made appointments, but that was pretty much it.
Which left me alone in my thoughts. What did I really think about the Apple Watch? Which MacBook color should I get to match my new Apple Watch and my iPhone 6, and why wasn't purple a choice?
I've seen some rather petty tongue-clucking on other web sites that suggests the lack of crowds is indicative of a disastrous product launch. Disastrous product launch? Bullshit.
Apple communicated the April 24th launch date pretty well in its TV advertising; a launch date they're softening lately because they're not going to have supply to meet demand. Tax day in the U.S. just happened; that's certainly where a lot of Apple's customers have had their attention focused, along with Major League Baseball's opening day in their local city.
Spring forward, as the puntastic Apple Watch rollout event was billed. The Apple Watch introduction experience is something new that Apple's never tried at its stores before. Let's actually wait to see how it goes before judging it.
As far as the new MacBook is concerned, I'm impressed. The new keyboard was as unnatural to me as Force Touch was natural, but I know my fingers would adapt quickly, because going back to the Retina MacBook Pro to write about it afterwards was like walking on the uneven planks of a buckled deck.
If you haven't already checked out Rene Ritchie's MacBook review, make sure to. And join us next week as we get closer to Apple Watch launch day. It's gonna be fun.
Get the best of iMore in in your inbox, every day!
Hello, FYI: We have (almost) the same name, and we think very much alike. "I liked being able to book a Watch try-on appointment from my phone and stick to it. Compared to my past few Genius Bar experiences, that's a big step in the right direction" How can I agree more? Well, I think you should know that you have a version of you, with hair, living in Brazil. @pedrocohn

I'm tempted to have all of my devices anodized purple. I do love the color. Sent from the iMore App

One of my faves also. It sure is WEIRD that Apple "doesn't do purple" for most of their coloured devices, whatever the reason they think they have for it. They often put out a device in a series of colours that includes all the primaries, and all the secondaries, but with purple left out. It's like they specifically hate purple for some reason.

I know in some things certain pigments gave issues with heat and application processes, I wonder if purple is one of those colors? Oh well, I'm more a fan of flat colors than metallic anyway. I prefer devices to suck in the light rather than reflect it.

I'm not a fan of the anodised look either, but for the recored, Apple "leaves out purple" even on things like the iPhone 5c and other items that aren't anodised. There are six basic colours, plus black and white. For some reason at Apple it's typically *five( basic colours (leaving out purple) plus black and white. It's just weird. We'll probably never know why. I'm sure Prince is really upset about it.

Wait, April 25th? Isn't it the 24th? Anyway, other than that I totally agree with your observations. :)

It was the 24th, though Apple removed the date (how's that for clear communication?).

Wondering, does Apr 24 mean anything anymore? Some lucky folks who logged in at 11:59.9999999 might be getting theirs, but otherwise, it's been OBE (overcome by events). Still can't buy one in a store, yeah? Can only try it on and order it. Maybe they've deleted the date from commo channels because it's no longer significant or relevant?

Thanks for the catch! oops.

@flargh
Third paragraph from the last, starts with "Spring Forward", the last sentence is incomplete. At least it rendered incomplete on my iOS iMore app. Sent from the iMore App

The complete graf reads: "Spring forward, as the puntastic Apple Watch rollout event was billed. The Apple Watch introduction experience is something new that Apple's never tried at its stores before. Let's actually wait to see how it goes before judging it." Is that what you're seeing?

That's what I see. That first sentence though. It's definitely awkward. I think it's more of a sentence fragment than a real sentence. No biggie to me though. Maybe you should do a NSFW on idiots in the comments like us who annoy people about grammar. :-)

I see that now. 6 hours ago it stopped at "... see how it As far as..." And that was it. No biggie. Thanks again for all your great work! Sent from the iMore App

The iMore app randomly clips things, especially comments. Sometimes I'll see a three paragraph comment and at other times I'll only get half of a single paragraph. The worst part is that it doesn't want to let me expand and read what I'm missing.

Yes, Apple, please make a purple watch band. Also, I would not mind a purple iPhone.

Idk how the Boston Bomber had anything to do with this but a nice dark purple Macbook or iPhone would be nice. Hopefully no one blows up anything though. Posted via the iMore App for Android

Oops double post but it'll be awesome if their was an assortment of colors like the iPhone 5c and the iPod touch 5 Posted via the iMore App for Android

Honey I know, I know, I know times are changing
It's time we all reach out for something new
That means you too
You say you want a leader
But you can't seem to make up your mind
I think you better close it
And let me guide you to the purple watch Purple watch
Purple watch "From the company formly known as Apple" Yeah we'll see a purple watch "When Doves Cry"

I agree. Without a purple watch, and matching purple MacBook Pro, Apple is DOOMED.
And if they stoop to doing it, they are DOOMED.
Actually my vote is for anodized Camo Macs and watches and phones.
Then when I am hanging with my hunting buddies I won't look like such a geek! (one can hope) Be that as it may be, I sure enjoyed giving a lecture today using my boring Aluminum Mac Book Pro with Keynote for the first time. Way better than doing it on a PC laptops!

Black and red is the best, like the MKBHD colors!

Right. But it is still very frustrating to expect it in April only to get the message to wait until June.

"tongue cluckers" I now have a new name for my fantasy baseball team. Thanks Peter!

I'm okay with the watch itself not being colored but I'm definitely bummed out by the color choices for the Sport bands. Did they have so much leftover colors from the iPhone 5c that they had to use it up for the bands or why else would they choose the boring blue, the washed out pink and the flashy green? :-/ How about a nice dark red, Apple? Or a bright orange? Or anything different than the colors you actually chose?!

Our local mall is interesting. Lots of people in the aisles and food court, almost every store is empty, except the Apple Store which is usually full without making it impossible to just walk up to something and check it out. Grand Rapids, Michigan, is not a ritzy area by any stretch of the imagination so it is a little surprising to me that their Apple Store is ALWAYS busy. Only one time did we go to our Apple Store on a launch day and there was a line. What was delightful about that experience is one of the Apple Store employees was passing out free bottles of water and representatives from various restaurants were going up and down the line offering free samples — all told, enough to keep you hydrated and fed while waiting. Not that bad of an experience, really. My last visit to our Apple Store was a couple days after the latest product "release" for the Macbook and Watch. There weren't many reservations for formally checking out the Watch and I was encouraged to go and try one on on the spot. I kindly refused because I don't want to want it. When I read about a use case that compels me I will check it out and buy one, but the notification/fitness/communication/medical thing is not for me. I don't rely on my devices for that sort of thing so it needs to be a more niche-for-me application. The Macbook was a thing of beauty and a delight to use. I love the Force Trackpad, I lust the keyboard which seems to be designed specifically for me. And the lovely display. Unfortunately my main use case for a laptop requires a minimum recommended 2 GHz dual core processor so I walked out with the new 13" Macbook Pro which has that new trackpad and the whole experience with it is wonderful. I do wish I could have waited for the new keyboard but as you often recommend, Peter, get something when you need it, not when a new cute little feature first comes out. That trackpad, though, is a reason to upgrade because it is so very good and affects everything done on the laptop constantly. It is the next big thing, making clicks easy no matter where you press.

Got my Space Gray MacBook yesterday. LOVE IT! The keyboard is so different - and better - than any laptop keyboard I've ever used. It's fast. Silent. Gorgeous. I'm really happy I got it to supplement my Mac Pro. I don't need horsepower, I need small. With a keyboard. This is a perfect fit. Now, where's that dang SanDisk USB-C flash drive? By the way, I read a review recently that said the MacBook doesn't do Target Disk Mode. It does.

I agree with your assessment Peter. I live two hours away from the nearest Apple Store, and when I finally got chance to go in one recently it was packed. I miss not living closer to one, where I can go during week. Not the weekend when they are the busiest. I would like to have the time to look at everything without waiting for my turn to try things out. I really want to go to see the  Watches and the Macbooks. Why Purple? Why not Orange?

PURPLE LAPTOPS WOULD BE AMAZING

I've wanted a Royal purple laptop for some time. Or Emerald. I'm honestly undecided. But the next one I buy will be painted. And I'll enjoy the $200 it costs me to do it. "I'm da Blur boys!" - Me with 1200 ping. Fiber in Nashville? Save me based Google.

In regards people wanting purple laptops, I think Apple is the creator of their own "problem" really. Once they started making gold ones, there really isn't a valid argument for not making purple (or green, red, whatever) ones. They should have stuck with the "honest" materials if they didn't want to go down this road IMO.

If they had a purple or green, I'd opt for one of those two, but other than that, space gray all the way.
Thank you for signing up to iMore. You will receive a verification email shortly.
There was a problem. Please refresh the page and try again.