NSFW: Apple Watch, turning the corner, and betting on the future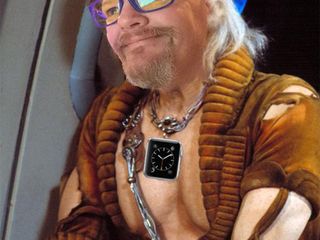 I admit that I'm later to the Apple Watch game than some of my colleagues. It was only recently that I had an epiphany about how the Apple Watch could really change things for me. I'm excited about them now. But what I'm even more excited about is seeing what happens from here.
For my part, I finally realized how helpful and personalized the Apple Watch will be to help me manage chronic health conditions. That's a game-changer.
Thinking beyond what the product that's about to go on sale can do, however, my imagination reels at the possibilities opened by wearable technology — especially wearable technology from Apple, really. People are already familiar with fitness wearables like the Fitbit, but these devices merely scratch the surface of what wearable technology might do in the coming years.
I've joked that I'd like to see an Apple Watch-powered pendant worn like Ricardo Montalban did in Star Trek II: The Wrath of Khan. I'm only joking a little. I think it'll be genuinely great to wear something that I could use to communicate with people non-verbally, broadcasting state of mind and other information.
While I realize full well that I'm not going to get an Apple watch pendant any time soon, I do recognize that there's about to be an explosion of third-party watch bands and other accessories for watch users. Already we've seen Apple Watch stands and boxes and other things designs to let people display or otherwise care for their devices.
Figuring out how to customize your Apple Watch is something that's probably going to make some buyers dizzy: Pick an Apple Watch model, pick a size, then pick a band. I'm sure Apple will sell tons of their own accessories. For my part I'm going to go as cheap as possible in store. I'll wait for third parties to start releasing bands that really interest me.
I fully recognize that a lot of people are still on the fence about the Apple Watch. Even if you've owned a Pebble, an Android Wear device, a fitness band or another sort of wearable, the Apple Watch is going to be very different.
If you still haven't figured out how or even if the Apple Watch is something you need, I don't blame you. Up until very recently, I didn't understand how I could fit this device into my lifestyle in a way that would fundamentally improve it.
Now that I have, I can't wait to get my hands on one. And I can't wait to see the cottage industries that are going to pop up around the Apple Watch, either.
Image courtesy Glenda Adams.
Get the best of iMore in in your inbox, every day!
I had a similar epiphany after dissing the whole idea at first, and then being angry when it was finally revealed that it didn't exactly match my predictions or hopes. Luckily, like you, I kept an open mind and kept ruminating on the issue. I think those that are still "anti-Watch" are probably still mad and just not ready to move forward yet. I find that a lot of folks (myself included of course), get an idea or a point of view and they simply don't want to change it, despite mounting evidence to the contrary. They sort of put their personal credibility on the line with some emphatic statement, and then feel that if they disown that statement, they lose face.

I'm with you on this one - I'm still "burned" there won't be a $500-600 stainless steel with link band ($1099 is outrageous for that combination), but I have resolved myself to a space gray sport watch to tide me over until Apple Watch 3 (my guess is Apple Watch 2 will be about as exciting as iPhone 3 was to iPhone).

I'm already "all in" myself. I have the Stainless Steel one with link bracelet "favourited" already and I will probably be buying at least two other bands (if they are available) because although I really want the link bracelet, it's really not something you can wear everyday. Total cost is going to be something close to two thousand! (gag) I don't think I will ever change my mind about the fact that I think Apple is seriously overpricing these things and actually GOUGING their customers. It really offends me deeply that they have chosen this route, (but apparently not enough to not buy the watch).

It's not that the watches are overpriced, it's just that they went over board on their whole we won't made crappy products thing. And so we get a link band that has over 110 parts per link that costs over $1,000.

Apple's hitting the watch market, not the smartwatch market. Stainless steel watches with this level of craftsmanship are at least this expensive.

The only people who are complaining about prices are the ones who either don't wear watches or wear $20 disposable Casios. $1100 is not an unreasonable price for a stainless steel link band and case. Go price a watch like an Omega or a Tag or a Brietling and you'll see. I paid $1100 for my SS Omega Seamster 300M 12 years ago, and it's only a quartz watch with a date. The Apple watch is a bargain comparatively.

Except that Apple IS NOT Omega, TAG, Brietling, or Rolex. This is their first time out of the blocks, and face facts, that black rectangular slab of aluminum/steel/gold + glass IS NOT the crafted chronograph of Swiss extraction. Top that with the fact that NONE of the top four will ever be obsolete, and the Apple Watch is guaranteed to be obsolete in two years (or less). THAT does not support these high prices.

I'm sorry. No. Your just wrong. You can get very nice watches with solid metal bands for 200-300. Check Amazon. I just bought a seiko steel band kinetic watch for 220 or so. Looks fantastic too. A Casio watch ranges in price from 20-2000, The watches under 100 usually have a plastic band. Like the 350-400 dollar apple watch. it's about 100 too expensive per watch. If the link band was included at that price. I was waiting for the apple watch and using a cheap watch because my diver's watch broke. Decided it was just way too expensive. And got a 2 tone seiko kinetic watch instead.

I'm sure that description no doubt best describes some peoples disposition about smartwatches, but there is also a group of people (I'm in this group) that don't see the importance of a smart watch, at least not yet. Sure it may add a little bit more convenience but the first generation of smart watches just don't appeal to me. When battery life gets better, and better functionality gets put into place, then I (and others) will consider shelling out money for a smart watch.

Nope, just don't see it fill a need I have yet. I'm looking forward to more devices and environmental cues that can interact with it, at which point I will probably pick one up, but at this point? Nah.

I was more interested in how it's going to manage your health condition. I don't really get the fitness part of it. I work out 20mins a day, play in basketball league, etc. I don't care how many calories I burn. I'm not sure I'd want to wear the Apple watch while doing these things either since I'm kind of anal about clean electronics. I think I'd rather wear something that I didn't care about for working out if I absolutely felt the desire to do that. Anyways, I'm sold on the notifications and convenience thing. The SS watch looks more substantial, durable, and more wearable with my business casual clothes that I wear a majority of the time for work.

Calorie burn measurement and workout measurement is kind of old-school, or maybe better, bad science these days in fitness anyway. I'm struggling to figure out how these things are actually going to help anyone get healthy and fit.... but I suppose a lot of people think they will. If they do measure blood-glucose levels well or heart-conditions and such, I suppose there are some vertical markets for people who need that kind of monitoring.

There will be a entire new market for 3rd party bands. I hope the 2nd gen comes down in price a little. It was nice to see Gazelle announce a trade in program. Now I can upgrade my watch like the phone every couple of years. I cannot wait to see what all the Dev's do with their apps to make the watch more interactive.

I would think if anything comes down in price next season, it will be the Sport model. I would expect the regular Apple Watch to remain the same price for many generations. This is because, let's face it, the Sport watch is not only the "budget model" it's main appeal is to joggers and bicyclists and all those folks that would normally buy a fitness tracker. The Sport watch competes against those $200 trackers, whereas the Apple Watch steel is aimed at people who want to wear a traditional watch and doesn't necessarily share the same market as the fitness tracker folks.

"For my part, I finally realized how helpful and personalized the Apple Watch will be to help me manage chronic health conditions. That's a game-changer." I'm not sure how measuring your pulse and daily activity will help manage chronic health conditions. I'm interested to understand why you think it's a game changer in this aspect since it can't measure BGL, BP, SaO2, ECG etc or even determine the regularity of your pulse to crudely detect dysrhthmias.

Apple fans love drinking the Kool-Aid. Their minds turn into a dust cloud.

A lot of people still haven't discovered the calorie-myth yet, so they think such measurements are the key to health.

I really want to like smart watches, but I just can't. I've never been a watch or jewelry person. I guess the good thing is that apple is finally getting into the smart watch game and this should cause the android wear and Fitbits to up their game as well. It still doesn't benefit me really, but good for those that like watches. Sent from the iMore App

For those who can't understand why or how the Watch can be an important part of health monitoring, you need to consider the whole ball of wax that is Apple's ecosystem. There are hundreds of Bluetooth-enabled health sensors available and coming to market. Several types connect directly to HealthKit, others have corresponding apps. If you have specific monitoring needs, there's almost certainly a Bluetooth Smart device for you. The only FDA approved medical devices for mobiles are available only for iPhone currently, more in the pipeline.

But those devices don't need the watch right? Does the watch work like a hub for controlling them or something? Sent from the iMore App

No, you won't *need* the Watch for those, but depending on app extensions and API's, it can alert, remind, request and display vital information, forcing health engagement. Combining native Watch and iPhone sensors with specific-needs Bluetooth health/fitness sensors, managed by HealthKit and ResearchKit apps, just about anything is possible. The iPhone is the digital health hub, a truly dynamic one. Existing fitness bands are limited to what they are, with little to no modularity from additional sensors. What little modularity exists comes by way of proprietary hardware accessories, plus nearly all feed your data to their own servers, services and partners. (i.e,. They own your data)

They didn't show any of this though. If this is the future, I wouldn't buy now for that. If it's the present, then why isn't Apple or anyone else demoing any of this?

A) The tech I mentioned exists now. I'm not speculating, nor have I violated any NDA by sharing. B) Most sensor companies don't possess immediate scaling to Apple's marketing demos C) The last 4 years at MWC in Barcelona have been a sea of health sensors/infrastructure/services (I've been an exhibitor for Qualcomm Life) MWC is B2B, not consumer, hence little coverage. D) Digital health is the future of medical research/records-management and I'm not talking about cheap, non-standardised, popular proprietary fitness bands. E) Follow @EricTopol and read his book, 'The Patient Will See You Now', for a comprehensive look at what's happening now in Digital Health and why it's paramount that we own and control our health data. The Watch isn't necessary for health monitoring, but it integrates well and health is just a single facet of its repertoire. More than you asked, I'm addressing this forum.

Of course, then the person will probably die from exposure to all the signals. ;)

I was anti watch when the pricing was released, but after hearing about 3rd party bands and other accessories I'm back on the bandwagon. I was ticked at first by the price of the model I wanted ($1,100 for the space gray Apple Watch with the Space Gray steel band). Now with 3rd party bands and the potential for the Apple bands to be used on future models (I hope) I am going to be pre-ordering the 42mm stainless steel Apple Watch with the Milanese Loop band and purchase a sport band once available separately. The potential options offered by 3rd party bands and accessories could be huge and honestly make or break the Apple Watch. Once again Apple has convinced me to shell out $700 - potentially thousands on another product. My bank account has been put on notice. Sent from the iMore App

I like the "idea" of the watch but my work and general lifestyle mean that I doubt it would stand up to the treatment that would come its way. For me at the very least it needs to be waterproof and I would also need to be convinced it will stand up to general knocks and bumps. Until then I can't justify the $$$ for something that just won't last. I wear my current watch 24/7. I don't want a watch I can only wear sometimes. Sent from the iMore App

It is waterproof. You can take a shower with it. You just don't want to go swimming with it. Sent from the iMore App

Btw... Best. Photoshop. Ever. Sent from the iMore App

Thanks! Glenda's been a friend of mine for what feels like a million years, and for whatever reason she's recently started Photoshopping me. She's a really talented Mac and iOS developer with her own company (Maverick Software). I'm really flattered. If you want to see some of her other work, check out @glenda_atom on Twitter.

Ok second best photoshop ever. You as a leprechaun on her timeline almost as funny, but is also creepy, so it is the new champion. Sent from the iMore App

Hey Peter.... can you enlighten the rest of us then on what you've finally realized? I'd love to want an Apple Watch, but I can't think of what I'd do with it, even if it were free, let alone hundreds of dollars. I suppose as prices drop and it breaks it's leash more and more to the iPhone, I might start to come around. But until then, I honestly don't get it. It's one of the very few Apple products I haven't wanted (and eventually purchased).
Thank you for signing up to iMore. You will receive a verification email shortly.
There was a problem. Please refresh the page and try again.