NSFW: Apple Watch, turning the corner, and betting on the future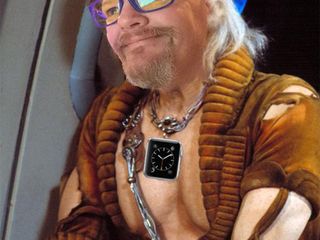 I admit that I'm later to the Apple Watch game than some of my colleagues. It was only recently that I had an epiphany about how the Apple Watch could really change things for me. I'm excited about them now. But what I'm even more excited about is seeing what happens from here.
For my part, I finally realized how helpful and personalized the Apple Watch will be to help me manage chronic health conditions. That's a game-changer.
Thinking beyond what the product that's about to go on sale can do, however, my imagination reels at the possibilities opened by wearable technology — especially wearable technology from Apple, really. People are already familiar with fitness wearables like the Fitbit, but these devices merely scratch the surface of what wearable technology might do in the coming years.
I've joked that I'd like to see an Apple Watch-powered pendant worn like Ricardo Montalban did in Star Trek II: The Wrath of Khan. I'm only joking a little. I think it'll be genuinely great to wear something that I could use to communicate with people non-verbally, broadcasting state of mind and other information.
While I realize full well that I'm not going to get an Apple watch pendant any time soon, I do recognize that there's about to be an explosion of third-party watch bands and other accessories for watch users. Already we've seen Apple Watch stands and boxes and other things designs to let people display or otherwise care for their devices.
Figuring out how to customize your Apple Watch is something that's probably going to make some buyers dizzy: Pick an Apple Watch model, pick a size, then pick a band. I'm sure Apple will sell tons of their own accessories. For my part I'm going to go as cheap as possible in store. I'll wait for third parties to start releasing bands that really interest me.
I fully recognize that a lot of people are still on the fence about the Apple Watch. Even if you've owned a Pebble, an Android Wear device, a fitness band or another sort of wearable, the Apple Watch is going to be very different.
If you still haven't figured out how or even if the Apple Watch is something you need, I don't blame you. Up until very recently, I didn't understand how I could fit this device into my lifestyle in a way that would fundamentally improve it.
Now that I have, I can't wait to get my hands on one. And I can't wait to see the cottage industries that are going to pop up around the Apple Watch, either.
Image courtesy Glenda Adams.
Master your iPhone in minutes
iMore offers spot-on advice and guidance from our team of experts, with decades of Apple device experience to lean on. Learn more with iMore!