NSFW: Developers hold the future of Apple Watch in their hands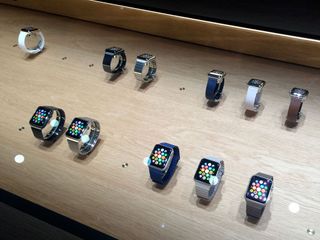 NSFW is a weekly op-ed column in which I talk about whatever's on my mind. Sometimes it'll have something to do with the technology we cover here on iMore; sometimes it'll be whatever pops into my head. Your questions, comments and observations are welcome.
I've been running on fewer cylinders than usual this week. A week ago last Thursday I had an operation that I've been planning for a while (gastric bypass surgery, for the curious), so I've spent most of this week recuperating. And by "recuperating," I mean stewing in a Vicodin-induced stupor. So if I'm having trouble mustering the requisite rage for one of my weekly curmudgeon rants, I apologize. This week I'm ruminating on the Apple Watch.
The big news on the Apple front this week is that WatchKit is in the hands of developers. WatchKit is the API Apple's developed for its forthcoming Apple Watch, which will be released some time in early 2015. "Early," of course, is open to interpretation — does that mean some time in the first quarter or the first half of the year? Time will tell.
As it stands now, the Apple Watch is still enough of an abstraction that I'm having trouble imagining that I'm going to want to get one the day it comes out. I haven't worn a watch in nigh on a decade, ever since I started using a laptop computer as my main computer. Wearing a watch was physically uncomfortable, because the band kept pressing against my wrist, but more to the point, it scratched the surface of the laptop. Once I got a cell phone it became even less of an issue, because almost all cell phones have a clock built into them too.
So far I haven't seen a "killer app" from Apple that tells me the Apple Watch is something I absolutely have to get: The idea of customizing it with different watch faces and drawing penises to troll my other Apple Watch-wearing friends simply isn't enough of a draw, as far as I'm concerned.
But now that WatchKit is in the hands of developers, the interesting stuff starts. It's third-party developers that are ultimately going to determine whether this thing lives or dies. It's third-party developers that are going to create the apps we can't live without.
To that end, I think my ambivalence to date about the Apple Watch has a lot less to do with what it actually is than a deficit of my imagination. I'm not a developer, and I don't pretend to be imbued with new ideas for how technology can work that will make life better either for myself or for others. That I leave in the hands of the millions of talented individuals who create products for the App Store.
Over the coming months, we're going to hear a lot about the Apple Watch from third party developers. And I'm sure that much of it is going to be fluff; stuff we can safely ignore, silly stuff that's going to waste time. But every once in a while we're going to hear about something truly revolutionary and really interesting.
And that's where the Apple Watch may lead to another sea change in the way we use technology.
I, for one, can't wait to see where that goes.
Get more iMore in your inbox!
Our news, reviews, opinions, and easy to follow guides can turn any iPhone owner into an Apple aficionado
My issue right now is that nothing has really surpassed the functionality of the Pebble. For all the things "Smartwatch" that does it just as well as anything newer right now, and the only benefit you get is color. Posted from the amazing whatever device I can afford because I'm a broke college kid.

From what I gather from Andy Ihnatko and Leo LePorte, the Android gear is more useful than the pebble. I love my pebble, but it is fairly limited in the information you get in it. I only get a notification when my iPhone gets one, I can't see what appointments I have coming up, see how many steps I took today, check reminder lists or check what my wife posted on Facebook. Is this apple's fault or pebble's? There are a bunch of pebble apps, but most are not integrated very well. I had a movie time app and Yelp on there, but I quickly found that this type of searching for information is better suited for a larger screen.
.
I agree, I don't need fancy battery killing color screen (apple would never release an e-ink screen like the pebble) but I do desire more functionality. Especially Siri. Maybe the next rev of Pebble will have mic/speaker. I don't need a touch screen, I don't want to look at pictures, and I won't be sending drawings of penis to people. Sent from the iMore App

I'm in the same boat -- nothing in the Apple Watch screams "you have go get this" -- though I am willing to be convinced by third parties. Hard to believe as a developer I am saying this, but that reliance on third parties is the troublesome part for Apple. With the iPhone and the iPad, Apple staked out a new category with at least one defining, kickass first party story, such as Mobile Safari on the iPhone. Developers were allowed to come in later, and under strict limitations, to flesh out the edges of the product, but the core product came out of the box with at least one Apple-produced element that grabbed you and made you want to buy it. That just is not here (at least not my tastes). Apple is in the business of crafting user experience, and of controlling it end-to-end. If the only compelling features of an Apple Watch are going to come from a third party, that suggests that Apple is unable to create a compelling end-to-end case for what they are positioning as a big product in their portfolio. That could mean that the watch itself is a poor category, or that Apple does not have a feel for the product they are making, or that they have created something that I just do not know I need yet. But Apple has always been good at both the creation of the product and the telling of the consumer need story, and both seem sadly lacking here.

Speaking as a Pebble user since it was released, doing what it does but better (and better looking) is actually quite a good place to start. I also suspect Apple have one or two tricks they haven't revealed yet, to stop Samsung et. al "paying homage" to them before launch.

The watch concept doesn't make sense until you see one in action, I just played with pebble that a friend had, and I absolutely see the possibility now. Someone else tends to revolutionize and create a new market Apple seems to have the knack of evolving that so the masses understand the possibilities, a smart watch isn't something you think is really useful until you see it in action. After playing with pebble I wonder what Apple can do with the concept. I'm pre-ordering Sent from the iMore App

As much as I'd like to agree with the author, unless Apple overprices itself based on those crazy rumors, the Apple Watch will be a hit all on its own. The only way I'd agree with the actual phrase "Developers hold the future of Apple Watch in their hands" is when Apple sees a developer, whether a real dev or a hacker, create something so awesome that they decide to incorporate it natively, essentially stealing the idea and shutting that person down. Maybe it's for the sake of the future and collective good in Apple's eyes, but we've seen it happen one too many times with developers who come out with a great idea on the iPhone, iPad, or Mac, only to be hijacked by Apple and taken in as their own awesome new feature.

Good point. And Apple always makes it nearly impossible for the developers to make their apps as full featured and integrated as they want them to be. Only after apple steals (or buys it - Siri) will it be as useful as it can be. (Not that Siri is all it can be) Sent from the iMore App

Apple Pay seems to be the first killer feature, not having to take out anything in order to buy a Big Mac. But I'll need more than that convenience to shell out $350. I want to want the thing but for the time being I can't even make up an excuse in order to think I'm getting an Apple Watch. Count-up and count-down timers also have a place in my heart, but there needs to be something special I've not heard of yet.

Without the security of the Touch ID, using Apple Pay with Apple watch is for the foolhardy.

Disagree. You must enter your code when you put on the watch. If it breaks skin contact with your wrist it won't do Apple Pay. And it transmits the one-time code in the same way as the iPhone. What is foolhardy about it?

You're questioning why the Touch ID for each transaction is more secure than entering a PIN code? Yikes.

I'm a little skeptical about that feature. I wear a watch all the time, and unless its really tight on your wrist, it breaks contact with your skin all the time. If the sensor is on the back of the dial, it will disconnect several times a day.

Peter, Here's hoping for a quick recovery and outcome success. I agree with your commentary which echoes my thoughts under Serenity's WATCH coverage last Tuesday: http://www.imore.com/what-you-need-know-about-watchkit#comment-601112 WATCH may become a multi-faceted product because of Apple hardware mixed with developer sorcery, but its potential will be fortified by several exclusive factors. One of which may prove to be more important to Apple than any other, and that's extending user ID&V (Identification and Verification). More secure than a fingerpint, ECG from heart rate sensors could become a part of that ID&V. Apple's Secure Enclave solution with TouchID and tokenization for ID&V sells Pay, but that's just the beginning. The same security architecture can be used for personal and virtual "keys" in countless scenarios including home-automation, commercial and corporate environments, and healthcare. Just as they do with credit card providers, Apple could lease this security virtually anywhere.

I'm excited for the Apple Watch because it will come stick with a lot of conveniences. I a have the 6 plus and it is wonderful if you're sitting in one place and using its huge screen is a pleasure, but when you're on the go or busy doing something and you just want to "glance" to see who called or texted or you want to change what music is playing or even (gasp) go somewhere jogging (without your iPhone!) you can hook up the Bluetooth earphones and you're good to go. I had a Pebble and it lost its ability to charge a few months ago. I miss the conveniences it offered but I'm not getting a new Pebble not that Apple is finally making its "moon watch". I don't think it will have the fashion sense of a traditional watch on the first go around, but I'm neither do any of the fitness trackers that are out there. I'm all in on the first generation Apple Watch. Third party apps will just be icing on the cake for me. Sent from the iMore App

Oops I meant *stock* with conveniences... ;) Sent from the iMore App

*now* that Apple is making its moon watch. Okay I was obviously rushing when I typed this but yes I have been waiting on the edge of my seat for Apple to do this smart watch thing! All the glitz and shiny stuff will help to sell it, but I'm going with the base model in the larger size. As long as it's fairly comfortable on my wrist I don't care how pretty it is I'd rather it just blend in (as much as a watch from the future can)! Sent from the iMore App

it depends on the price and battery life. i own a pebble and i paid 150$ and has a battery life from 5 -7 days, pebble does a really good job. however if the watch from apple will start 350$ there is no point to get one.

Does no one else use Siri? That's the main differentiation from Pebble and why I can't wait to have an Apple Watch.

I use Siri all the time. In fact I'm using it right now to write this note. Sent from the iMore App

Peter, I hope you have a quick and successful recovery!

I work 12-14 hr shifts for 7-11 days in a row at a hospital. When I have to return people to work or figure when their illness or injury started, I have to get the day right, and don't want to have to pull out my phone for it. Or pull it out to screen pages (which are by text). My Pebble watch lets me do both without interrupting while with patient to pull it out. And is waterproof so can be disinfected. It truly is a killer app-device for me. But Apple watch remains to be seen, as not waterproof. Sent from the iMore App

Hope you get well soon as it's crappy to feel like crap. Hope that made you laugh. I'm like you when it comes to a watch. I took my watch off the day my cellphone could tell the time. It's a little bit of a drag to take it out of my pocket every time I need to know the time but my arm feel so much better without a watch. Sent from the iMore App

What device or ecosystem has NOT depended on developers to sink or swim?

The car? Technically a device eh? Posted from the amazing whatever device I can afford because I'm a broke college kid.

The effort they put into this watch they should have put into making apple tv a truly do it all set top box, without file format restrictions, that plays all my local content to the standard of wdtv, that has the apps of roku.

Just to recap... 1) You just had gastric bypass surgery.
2) You can't think of any compelling reason to wear an Apple Watch.
3) One of the Apple Watch's biggest selling points is its all-day fitness tracker.
4) Hmm.

Garmin and Bushnell both have great golf watches, however I would opt for the iWatch if it ends up with equivalent functions. I realize I would have to drive the cart (I always keep my iPhone in my bag when I play) right up to my ball but I do that anyway. I like the Apple Pay feature also, however up to this point I have found very few stores I frequent that take it. Anyway the iWatch is gorgeous so I just might kiss my Rolly goodbye.