NSFW: For the love of old things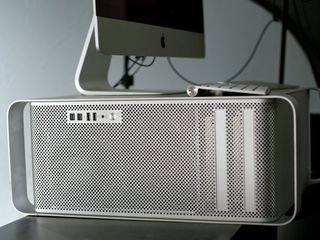 I like to surround myself with older computer parts. The keyboard I'm writing these words on was manufactured 20 years ago. My last mouse lasted me nigh on a decade. When I have a few free moments I like to play with an eMate 300, an Apple product from an earlier time. None of these objects really has much of a purpose for the modern Apple user, but they give me a sense of history.
This probably also explains my ongoing fascination with Chris Phin's excellent Think Retro column over at Macworld.com. If you haven't checked it out, please do: Each week he features old gear he, too, has kept, and it's a great walk down memory lane.
My 2008 Mac Pro used to be the very centerpiece of my home office, but now it's relegated mainly just to podcasting duties. Octocore — it's named for its two four-core processors — spends most of our day together asleep. Dormant. Like a bear hibernating for winter.
It's the most animate Mac I've ever used: Occasional network pings and miscellaneous timed processes force it to awaken, sleepily. A very clockworky computer, it's full of wheezes and groans as various parts sputter to life; fans whirr and hard disk drives spin up to speed with a turbine whine. Audible clicks and clacks abound, the computer chittering away to itself as it comes to life.
The Mac Pro howls with a stiff waking roar as all system fans blast full speed, then subside as they find an optimal rate of flow for the ambient temperature inside the case. Within a few moments the computer settles back into its hibernation, sleeping until the next time it's roused.
My ursine 2008 Mac Pro is a sputtering, clicking engine. In 2015, the positively antiquarian Mac Pro feels like old world craftsmanship somehow, clad in an aluminum case dreamt of by a Bauhaus designer in 1920's Weimar.
We have a new Mac Pro on display at the store I work, connected to an Apple Thunderbolt Display. It couldn't be any more different from my Mac Pro. Sleek. Round. Quiet. Clad in an almost chitinous silvery shell. With the exception of the fan, there are no moving parts inside, unlike my beloved podcasting machine. Storage is solid-state, and there is no optical drive bay that whirrs and complains when it's opened.
I admit that the new Mac Pro is an object of desire for me: I'd love to be able to justify its purchase as the centerpiece of a new digital workstation. But I can't, because my cranky old Octocore still works.
In my office I have two beige original-era Macs, along with an equally beige Commodore Amiga. I've gotten rid of a lot of stuff in the intervening years, but those have stuck with me.
But enough about my hoarding characteristics. If there's a point to all this, it's that after all these years, these devices are still very relevant. Okay, maybe I'm overstating that for the museum pieces like the Amiga and the old Mac, but the Mac Pro, for example, gets use regularly as my podcasting workstation, for media ingestion and also for some light file sharing for other devices, like my kids' PlayStation 3.
They're relevant because they still work, because old gear helps to give a sense of how far we've come: How far Apple has come, both in terms of design and engineering; how far the industry has come, in terms of evolution; and how far users have come, in expectation for how things should work.
It helps to put in perspective for me some of the complaints we have about the gear we use. Sometimes when I complain about Continuity features in OS X Yosemite not working right, I have to stop myself: It's true that things might not work 100 percent of the time, but what does happen is magic compared to what we would have expected just a few years ago.
How about you? Do you keep old gear around to remind you of what we've used and what we now expect? Or is best to let the past stay in the past? Let me know what you think in the comments.
Get the best of iMore in in your inbox, every day!
I love old tech. I keep everything and I collect all things apple. See my collection here. Www.theapplechapel.me

Would you (or anyone else) be interested in buying a fully functional 2006 Mac Pro? Twin dual-core 2.0Ghz Xeon, OEM 250Gb HDD, 5Gb RAM (1Gb OEM, 4Gb iRam), Apple installed OEM Wi-Fi & bluetooth. OEM NVIDIA GT7300 (I think). Original keyboard & mouse.
*fresh Snow Leopard installed, CANNOT upgrade past Lion. Sent from the iMore App

Old motorcycles and game consoles do more for me than Apple computers, to be honest. I have a 1966 Yamaha 125cc GP bike in my hallway and consoles (and carts) all the way back to the original Famicom - my first console which is also the first tech gift my parents ever bought me, so there's some sentimentality there, I suppose. Other than those, I don't archive anything at all. Personally, I try to hoard as little as possible, because my mom is a pathological hoarder - me going back to visit her is kinda the equivalent of a U.S. army veteran going back to Nam, seriously, scattered punch bowls in a dark store room are just as deadly as unexplored mines in a dark jungle - and I don't want that gene in me.

I can understand given your family history why you avoid "collecting." Still, the Yamaha sounds like a lot of fun!

Lol.. I have two 1977 Yamaha RD400's Posted via the iMore App for Android

Same reason the orginal NES sits in my entertianment system. Along with the gold clad Legend of Zelda game I knew so well.

And an original Atari 2600 that still works. Posted via the iMore App for Android

I've had many Macs over the years. Most of them have had to go because I just don't have the space (I'd keep them all otherwise!). I decided to keep my Power Mac G4 (Graphite) and bought the matching 23" Apple Cinema Display HD. What a great-looking setup! Something I remember drooling over back in university but would have been completely out of my reach. It is also one of the last machines that can boot natively into OS 9. Pretty awesome having one of the most powerful classic Macs handy.

I'm totally right there with you Peter, I'm a hoarder of old electronics, I'm afraid of throwing anything away because I might use/need it someday. This habit has become more pronounced sense becoming an Apple user. I believe it's because I am intrigued with their design. I'm a car guy, and I love classic cars. Call me crazy but I believe Jony Ive is comparable to my car design heroes like, Harley J. Earl, John DeLorean, or Zora Arkus-Duntov. (I'm partial to General Motors) Like yourself Peter, I enjoy having these relics displayed around my workstation. Just last night I was bored and going through old electronics and found the hard drive out of my first computer. Amazingly it still works but I have no use for it and disassembled it. I'm planning to make something cool out of the old bladders. I enjoy seeing what other people do with their old equipment.

We still have a Coleco Adam computer, and we still play Frogger with it. Frankly, I've forgotten how to use it as a computer (can't find the software cassettes), and I don't know if the printer still works, but it was great fun in its day.

LOL! The ColecoVision was the first game console that I got when I was still a teen. My wife got me a ColecoVision Flashback for Christmas last year. Sadly, no ADAM attachment.

Actually, I'm really new in the Apple world and stuff (but I'm writing this in my sister's MacBook Pro jaja!), but I really love old stuff. I have a 11 years old HP Pavilion dv4000 Laptop (back in the days when HP was nice), sadly the HDD doesn't work anymore and it's hard and expensive to buy one just to keep it working, but God, what a good machine!
Also, I have a couple of old video game consoles (like a NES, and still working!).

Sorry....
I think this article IS safe for work ;)

I have an original Bondi that still runs.
:) Sent from the iMore App

Have my first Mac, a Mac Plus that I got in November 1986. Autographed at the Apple Pitts Users Group by Steve Wozniak! He called it a Job's machine. Have all the original floppies of Mac Write, Mac Paint and Mac Draw and the Audio Cassette that Apple included to teach a new user how to use the Mac.

I love old tech... maybe because I'm on the "older" side and I love when it "just works" for years. Our Church recently retried a PC that had been running 24/7 for 17 years. It was still working but new tasks required more robustness. It was a Pentium II but did what it was suppose to do, for nearly 1/5 of a century. On this day, April 3, it's fitting to note that I still regularly use the first iPad. I use it as a music player sitting on the display console of a treadmill. It does exactly what I want. My wife as a music teacher in school has for years been using a 160GB iPod. I love the greatest and latest like anyone, and absolutely love the (only two week old) iPhone 6 plus 128GB model, but, it feels good when it just works and does that for many years. This might sound odd, but, I love when the devices get a little worn and battle scared and still function perfectly. As more devices have non-moving parts, I suspect many devices will last us a lifetime, and then continue on for someone else.

Old Stuff? I bought a 2008 MacPro and added and SSD and 12GB of RAM. I use it for video compression and as a Time Machine backup server, and that little rip roaring machine earns its keep day in and day out. Paid $400... Best Mac investment I have ever made.

I kind of wish I still had some of my old tech like all of my old cell phones, especially the BlackBerrys and my Apple Newton. The Newton some how got lost in a move long ago or maybe even stolen. I do still have my original NES, SNES, N64 and Sega Genisis. Best of all, they all still work! We just moved in a new house and I have a huge shop that I plan on turning into an office on one end and a wood shop in the other. I have an old plasma TV and RF switcher that I plan to use to hook all that stuff up in the shop. My first iPhone was a 4s and I have upgraded every year since. I still have the 4s and plan to keep it along with a first gen iPod Touch. Unfortunately I sold my 5, my iPad 2, iPad 3, and iPad 4 as I have upgraded. I do plan on keeping my 5s and 6+ around indefinitely because they have developed a certain nostalgia.

My 2006 Mac Pro is a first generation workhorse that is quieter than my PC and still quite zippy. The only part ever replaced is the hard drive and it's actually faster with the new hard drive. Not sure why yours is so noisy. Even with the fans moving, mine is rather quiet. It's still used with Cubase 6.5 and a Tascam US1800 audio interface as my primary recording rig. Still works like a mega-champ. Same can be said for my early 2008 Macbook Pro, although it boots up slower than the Mac Pro Workstation, due probably to Yosemite being on it, but otherwise, it runs like a champ too. Don't necessarily need the newest or latest tech. I just need tech that works and re-conditioned Macs work just fine for me.

I've kept some stuff that's served me well or was just interesting but lack of space fortunately tends to keep you away from hoarding. Things I've kept for nostalgic reasons include the original 3DFx card and that Asus Socket 7 motherboard that overclockers liked back in the 90s. I also have a bunch of Game&Watch games in their original boxes, some of which might even be quite valuable. The most unusual piece of tech I've held on to is probably Sweden's failed attempt at replicating the French Minitel system: A TeleGuide terminal. It still booted the last time I had it out of its box but of course it hasn't been able to do do much more than that for over 20 years.

I have an original IBM PC AT case from 1984 that has housed my desktop PC for the last 20 years - it still had the original 80286 motherboard when I got it free from office surplus. Inside the retro box though are up-to-date internals, which have been constantly upgraded through the years. I originally used one of the last AT form factor motherboards that kept me up to date 'til about 2002. I then had to mod the floorpan (or whatever you call the metal frame the motherboard attaches to) to accept an ATX form factor motherboard when new AT mobos disappeared from the market. The IBM indicator light panel peeking through, complete with keylock, is the only internal component that survives from the original machine. But from the outside, the DVD∓RW and USB/SD card reader where the 5-1/4" floppy drives once lived are the only indication that this isn't a 30 year old machine. It wasn't completely for the sake of the gag either - I had a desk hutch that perfectly accomodated a horizontal case that size, and few modern full-size PC cases are designed for horizontal placement.

Oh, I also still have my second-ever mobile phone, an analog Motorola StarTAC 3000 that doesn't work on any carrier anymore, but still looks mad cool when you power it up and see those quivering orange 7-segment LEDs. I have a Heathkit nixie-tube multimeter I still use. Then there's my BIC T4-M cassette deck, circa 1980 in that brief moment after reel-to-reel tape fell from favor but CDs weren't yet available, so audiophiles had to turn to cassettes for the time being. It's just so ridiculously complex for a *cassette* player, covered end to end with about 50 knobs and switches and indicator lights.

I have the same cheese grader as you. Seldom use it except in winter when I need my office a tad warmer. Occasionally I pop the side cover off to marvel at the design. I have closet full of old tech some good some best forgotten but all dear to me. My wife justs laughs when I show her my old work Palm 7. Sitting next to it is a box of 8 inch floppy disks from college days. Yeah I belong in a closet also :).

Me I've got a G4 Cube (the « super quiet, super computer »;) acting like a treasure on a mantle in my den. Not that old, but I feel I will never be able to part with it.

Our PowerMac G4 w/ Dual 450s & Gigabit Ethernet was finally set aside just a couple of years ago when my wife found that her Safari browser wasn't being accepted anymore. We had already upgraded as much as we could on Tiger (and Tiger itself dragged this machine down so much that it just wasn't fun to use anymore). I still use it occasionally to access font suitcases and such.
We still have the Performa 637 and 638 CDV that we had before we got the G4. We don't use them anymore, but there are still some necessary files on there, and I don't want to give up those old 680x0 machines. It was the 680x0 that lured me to the Mac in the first place. We screamed bloody hell when Steve announced the switch to those God-awful little-endian Intel chips.

I keep this guy around, still working with an Asante SC-EN ethernet adapter if I ever feel like going onto the internet with it: http://imgur.com/zJCLeJL It serves as a reminder of the golden age of Apple quality, before Apple decided quarterly profits were way more important than software stability or hardware reliability. Maybe one day they might do another Snow Leopard-like release where they actually fix bugs, but this version of Apple doesn't care to fix bugs until they're humiliated into doing so.

My 2009 MBP is still my daily driver. Not for much longer, though - it has gotten pretty long in the tooth and I'll be in the market for something faster as soon as I save up a few more pennies.

I had to leave all my old Macs in storage / sell when I moved continents last January for work, which I found quite hard actually, strangely.. But somehow fate already blessed me with an old Power Mac G5 I'm taking home this week from work, we're moving offices and found two of these machines. One broken, someone must have spilled a drink on it as it's completely oxidized on the inside, the other one working perfectly.

I wish someone would do a good benchmark comparison between an old machine like the G4 Mac Cube and a cheap modern thing like the Raspberry Pi 2.
Thank you for signing up to iMore. You will receive a verification email shortly.
There was a problem. Please refresh the page and try again.