NSFW: In praise of Mac User Groups (MUGs)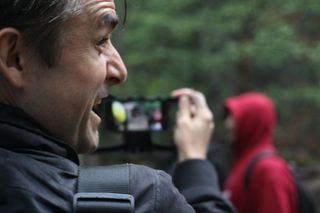 I got my first Macintosh when I was 15. It was 1985, and the Mac had been out for a little more than a year. It was still pretty new. People (and even Apple) were still trying to figure out how the little computer worked and what it could do. And one of the few ways we could talk with each other was at monthly user group meetings. In 2015, the concept of the mac user group still exists, though it's gone through very necessary transformations to keep up with the times.
The 1980s were the heyday of the user group: Personal computer use was still very much relegated to hobbyists. Many people who owned a computer in their home used even bigger, more sophisticated computers by day, and sought the company of others who shared their interest.
Back in their day, some user groups exercised enormous influence with Apple and other computer makers. The Berkeley Macintosh Users Group (BMUG) once had 13,000 members. The Boston Computer Society—whose membership swelled to 32,000 at its highest—was so influential that Steve Jobs visited the group to give one of the first public demonstrations of the Mac in early 1984. Those days are long gone, and those 800-pound user group gorillas are a distant memory.
The vast majority of us weren't online in those days. What few online services existed charged outrageous hourly rates to connect, assuming you had the expensive and rare equipment needed to connect your computer over a phone line.
Eventually that changed, of course. Services like America Online, Compuserve, Prodigy and others became popular. People discovered chat rooms and discussion boards—and folks with connections to the Internet discovered Usenet discussion boards. Eventually, websites popped up, and the focus of communicating with other computer users would change forever.
It's ironic, in retrospect, that the rise of the Internet has ultimately led to the downfall of the user group. The Internet is the single thing that's done the most to democratize the way people use computers and computer-based information. That improvement in the way people communicate has killed the need for many of us ever to go to a user group meeting. You don't have to wait for a monthly gathering of computer experts: You just have to log on.
Given that, you might be surprised to find out that user groups are still around. They're not like they used to be. They have fewer regular attendees. But they still plod on, in cities large and small, all over the United States and, indeed, the world.
In some cases, user groups have become specifically focused on particular tools and technology. There's the Boston Creative Pro User Group, for example, or BOSCPUG, which provides an outlet for digital filmmakers and broadcast pros. The Seattle Area Photoshop Users Group (SEAPUG) is another good example. These sorts of groups exist in many major cities where there are a lot of creative professionals who use the same tools and want to exchange tips and best practices with their colleagues.
There are iPad and iPhone user groups, FileMaker user groups, user groups for all sorts of different special topics. In fact, Apple maintains a special website to help you find user groups in your area. Though in fairness, some of the ones in my neck of the woods are moribund or lead to outdated and dead links.
And yes, the general user group is still alive and well: In fact, I've talked to a few recently. The Long Island Mac Users Group (LIMac) was kind enough to host me (virtually) not too long ago, giving me a chance to bloviate at length on OS X Yosemite. I also recently chatted with the Naples Macfriends User Group (NMUG) of Florida about Mac topics.
It's a lot easier now to find info about computers than it used to be. Many of us don't have to leave the house to find info. As immediate as the online connection, and as small as the world has become as more of us have gotten online, I still think there's a place for user groups. They're places where we can see others who share our interests face to face, places where we can ask questions and get answers, generate discussions and develop friendships. Places of community.
Long may the user group live.
Master your iPhone in minutes
iMore offers spot-on advice and guidance from our team of experts, with decades of Apple device experience to lean on. Learn more with iMore!