NSFW: Putting things in perspective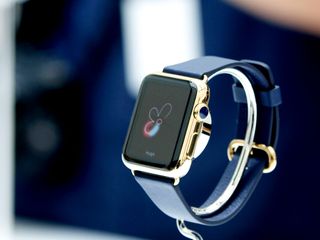 New Apple product releases have become a sadly predictable affair in watching people desperately trying to get their place in line, only to be disappointed when things don't go their way. I'm sick and tired of it.
Not getting your Apple Watch on April 24th? Shut up.
The Apple Watch only went on pre-order sale in the wee hours this morning, and already I'm seeing plenty of sturm und drang from folks on social media who are upset that the ship time on their order doesn't guarantee that they're going to have their new device on April 24th.
Look, whether you get it on the 24th or a few weeks later, consider yourself fortunate — blessed, even, if the word applies to your particular worldview — that you live in a time, in a part of the world, where this is your pressing concern. Any day you don't have to worry about dying of cholera or getting shot at is a good one.
I'm just going to leave this rant from Louis C.K. here.
And thus concludes another episode of "Peter rants from his soapbox about first world problems."
Casting pearls before swine
The initial reviews are in on the MacBook, and if I had to thread consensus on this round, it's that reviewers are impressed with the engineering and design work Apple has done, but are less impressed with the actual performance of the device.
Little surprise there: For the past several years, Apple's stuck to the mid-range and high-end of Intel's laptop processor line. You haven't been able to get even a MacBook Air with anything less than a Core i5 processor in a while. So for a Mac to show up with a Core M processor, which is in an entirely different performance class, it's bound to throw people a bit.
That the new MacBook isn't as fast a device as Mac reviewers are used to shouldn't be a revelation. The real question is what actual buyers are going to expect. I don't think the initial rash of reviews are going to turn away customers in droves, because I don't think most customers give a single shit about what reviewers think.
In fact, I don't think most Apple customers read reviews, or have the faintest idea that sites like ours exist. Most people considering the new laptop are, y'know, going to actually use one in a store before they decide if it's right for them.
Call me an Apple fanboy, but I expect that Apple engineers are infinitely more capable than the reviewers of figuring out the right balance for how this product should work and can work, given the engineering and design limitations.
And herein lies the essential conundrum for Apple when it comes time to offer any new product up for review: For the most part, the people writing the reviews have very narrow perspectives on how the devices work and what they should and shouldn't do.
As I've said before, I think the new MacBook is designed for an entirely different class of Mac user than has been buying Macs up until now — one that isn't overly concerned with how many peripherals can be connected or how fast the MacBook is when rendering effects in Photoshop.
Who actually gives a shit if the MacBook appeals to someone who plays with this stuff for a living?
No lines, no waiting
If there was any lingering doubt in my mind that Angela Ahrendts is the right person to head up Apple's retail operations, her decision to try to get rid of the scourge of lines at Apple retail stores sealed the deal.
I've stood in line at Apple Stores plenty of times in my life, but I swore after the iPhone 6 launch that it would be the last time. Mainly because most of the people I stood in line with had absolutely no intention of keeping the product — they were counting on high demand and limited availability, especially in lucrative overseas markets like China — driving up the resale value of the devices they were buying.
That sort of parasitic activity isn't something I want to be around, because I find it unsavory. What I found even more unsavory was the penchant that many of these people had for wholesale littering, yelling, and just general nincompoopery that made me wonder what sort of barns they'd been raised in.
But hell, I find the whole process of standing around at an Apple Store waiting for it to be open to be more than a bit pathetic. Gathering, in some cases, days before, to be the first kid on the block with a shiny new toy. Do you seriously have nothing better to do with your life? Do you have such little self-esteem that you need to prove you're Apple's biggest fan? Stephen King wrote a book dedicated to his "biggest fans" once. That book is Misery (opens in new tab) — you know, the one about the psychotic fan that keeps the author trapped in her house.
I'm a diehard Apple user. I don't want to begrudge anyone their enthusiasm to get their hands a new Apple device during its launch day or any time thereafter. But let's face it: Lining up on launch days feeds into a culture of conspicuous consumerism that's just really ugly and vulgar.
So yeah, pre-order to your heart's content, be glad you have the ability to do so, and be happy with whenever the product arrives. Whether you get your Apple Watch, MacBook or any other new product on launch day or a few weeks later, the world will still spin on its axis and everything's going to be okay.
Get the best of iMore in in your inbox, every day!
Your the man Peter! Sent from the iMore App

As usual, Peter, I can't decide if I should pat you on the back or step away from you. But . . . thank you for being you.

Pats on the back are fine. Just don't get your fingers too close to my mouth. ;)

"But hell, I find the whole process of standing around at an Apple Store waiting for it to be open to be more than a bit pathetic." Quote of the century.

lol...Love it... Whole damn article was spot on, especially the part about the new Mac...Once you hit mach 7 you can slow it down a little and still fly along plenty fast...Windows machines came to that revelation several years ago. You can find all kinds of different processor speeds nowadays.

I loved that part. I have great respect for those that lined up for the original iPhone on the first day. For everyone who has lined up since ... not so much. It's like, someday the Moon will be more populated, and people will be saying lame shit like "I was the 1,342nd person on the Moon!" You were either among the first people on the Moon, or you weren't.

This is great - and that Louis CK bit is one of the best ever.

New season of his show coming out soon too.

Premiered last night, very funny Sent from the iMore App

Blame Apple, they create this hysteria to hype up the demand. I'm content to sit and wait for all the additional "beta testers" to get theirs and wait for all the additional bugs to be worked out before I lay down one cent on a v 1.0 of anything.

Apple's not responsible for consumer behavior. Each and every individual that succumbs to it is.

There is no shortage of people who refuse to be accountable for their own actions and find comfort in placing that responsibility on another entity or person.

Like those guys that said you're holding the phone wrong?

I don't know. You'll have to ask them if their behavior is controlled by someone other than themselves.

Blaming the consumer for being a consumer is silly—"don't complain about this traffic! Consider yourself lucky that you have a car!"...please. Being "lucky" doesn't excuse Apple for its marketing mistakes, and that's exactly what this is. Dadsplaining our economic fortune is boring and beside the point. This article has the correct perspective: http://kensegall.com/2015/04/apple-the-customers-shoes/

Actually blame our parents, we are not as special as we were led to believe..

Yeah I agree with the part about 1st world problems. I have a friend in the Philippines, and I can't really talk to him about all the cool gear we obsess over here. He gets mad and tells me that its very unimportant, these gadgets, when people are starving and dying each day in 3rd world countries (like his country). I suppose this is true, but we can only live in the reality we are presented with. We are fortunate to live in the U.S., or other western nations, but we should not be made to feel guilty about our good fortune. Apple hysteria, when you boil it down, its simply due to a great product that's been marketed by the best people in the business. Not much more than that.

Very good comment and so righteous true. Apple is excellent at marketing their own devices and in general. Posted via the iMore App for Android

Amen, Peter. I had to wait for my iPhone 6+ for a few days and it didn't kill me. I swore I would never stand in a line again. And I love your new skinny avatar!

Hey I have my order in but if I can swing by the store and get one before it ships I will just cancel. Easy. No worries.

Seems unlikely to me but it *could* happen.

My ship time is May 13 thru 27. It could happen. HEHEHE

Great article. It amazes me that we live in a world where we just have to have the latest devices to solve so called "problems" that we have. Any problems that these devices solve are problems of our own creation that really are no more than a minor inconvenience. Sent from the iMore App

Lining up was fun a few years ago. Talking to longtime Apple users I would have never met. The Apple Store would bring us snacks and water. But Apple let the professional 'scalpers' ruined that experience. So now I order online and have things shipped. In fact in a further result, I actually go to the physical Apple store far less. I have an Apple Store a twenty minute walk from me. I used to go there when I needed a cable or other accessory. Bought a $300 Wacom tablet on a whim once. Now I order things online, and rarely from Apple. The store experience for me is just not pleasant now.

How did "Apple let professional scalpers ruin" anything? Are you suggesting that Apple employees interrogate each potential customer to decide if they intend to personally use the product? How would you recommend anyone do anything about it, either Apple or anyone else? Sent from the iMore App

Best imore article! Nice Peter!

The new Apple. Not getting your product when we said we'd release it? Shut up. You'll get it eventually. Meanwhile, think of all those with third world problems. Sick of lines? Good. We'll stop stocking inventory and you can go suck it by waiting 2 or 3 months while it's on backorder. Not happy with the Macbook Retina? Shut up. It's not for you.

You kinda knew at least one of the people Peter was writing about would show up, LOL!

Yep. And here you are. Lol. I'm just kidding. My comment to Peter was meant to be taken lightly. I actually agree with him. I hate lines. I don't care about a product not meant for me. And if I want to preorder early I do so. Such as I did at 3 am earlier today. No gripes here. Sent from the iMore App

OK, my bad--I took you to be one of those Apple haters that keep showing up here. Was online at 2 am, too, and, although a bit disappointed with the ship time, didn't lose any (more) sleep over it. Like Louis, having grown up with rotary phones (a real bitch when you're trying to talk to your girlfriend late at night without parents hearing you!), I feel extremely lucky to have all these great gadgets in my life! The watch will actually make my job easier and more efficient, not to mention cool to use at the gym and while doing road work.

I must say it does rather feel like they took our orders, and will be "making the devices to the order" rather than the other way around as it's supposed to be. There is no "magic" in a supply chain that just builds to order. It avoids supply chain problems by not really, actually being a supply chain in that case. Build to order is more of an Etsy thing. It's what crafters do. For instance I ordered extra straps, one of which is the white rubber one, possibly the single most popular and available strap you could pick. I ordered it at 12:03 and it tells me it *might* be here sometime in May. How is it that Apple doesn't have an entire fucking warehouse of those white rubber straps already? Why should I have to wait until May for them to ship me a $0.75 rubber strap that they should already have manufactured in sufficient quantity about six months ago?

It's inventory issues. You don't have lots of inventory sitting around if you don't have the watches to match it. This is actually pretty complicated for to do on a mass scale. Apple will get it right. It's new to them too. It's actually hard to think of another company that can crank out the quantity they do at the quality they demand especially with initial demand.

I agree mostly, but the more I think about it, the more the standard line of "They didn't know how many would sell," and "they are working on it," don't seem to ring true. I haven't heard of a single person that bought one that is getting it anywhere near to the April 24th date they quoted. Most folks had the same experience I had which is ordering it within two minutes of availability, and then being told that it will be a full month later than they said it would be. I'm not expecting miracles, but what we actually got is so extremely far away from what they told us it would be, it's just ridiculous to imply (as the author does here), that this is business as usual. It isn't. This is an admittedly complicated launch, that Apple somewhat f*cked up. Like most people, I got into the store the very second it opened at 12:02. I already had express pay set up and a favourited item. I went straight to favourites and pressed the button before the clock had hit 12:03. Then I get a notification that it will be May 24th to June 7th that it will get to me! This is somewhere between a full MONTH and TWO MONTHS later than the "August 24th" date they have been quoting all month. Spinning this as anything but a huge FAIL and a complete misrepresentation by Apple of their stock is just dumb IMO. Spinning this as "reasonable" behaviour is itself *un-reasonable* IMO. Especially when it comes to things like the Sports Band, the fact that they didn't manufacture stock ahead of time and were basically just waiting to see how many orders they got first, so as to save a few pennies on storage is a complete FAIL. They knew for a fact they were going to sell millions of those sport bands at the very least. Not having stock available for purchase is 100% a *mistake*, and not "business as usual."

I'm not mad about the shipping dates but I am a little confused at the two week gap on my order that I placed less than 30 seconds after the app started working. It says 4/24-5/8 for delivery and I'm guessing probably closer to the 24th but it was just a bit strange. I'll get it when I get it though, no big deal. I'm sure I'll be checking every hour or so for updates until it's here but whatever I'm just a fan of technology. I don't buy things to show to other people I buy them because I really enjoy them and love having the newest thing when it's available. I do consider myself blessed to be able to do this type of thing. Also, Peter, try waiting at a carrier store if you're in the U.S., AT&T near my house had about 50 people and most were super cool and keeping their phones (only one guy was kind of sketchy). Good article though. Sent from the iMore App

Also, Peter, try waiting at a carrier store if you're in the U.S., AT&T near my house had about 50 people and most were super cool and keeping their phones (only one guy was kind of sketchy)

Yeah, the carrier stores were much lower key for the iPhone 6 rollout. Unfortunately, they also had

much

more limited availability, so it's a double-edged sword.

A little harsh but I agree with the overall sentiment. Oddly though you are posting this on a site that promotes the culture of conspicuous consumerism.

I was thinking the same thing. However, Peter is just being Peter, and that is why I like to read his articles.

Forgive me Peter...but I am really sick of your "NSFW" titled rants. First off, if it's Not Safe For Work then why not make it safe for work? You don't need colorful language and harsh words to get your point across. Bad language is for people who are weak in expressing themselves and easily confused by the english language. While your point may be valid, make it without grandstanding. You sound like jerk who has a poor grip on things. It's reason's like this that I have gone from an regular reader of iMore to an occasional one. And at the rate were going...I won't bother at all. Guess I'll head back over to CultOfMac and 9to5 to get similar perspective without all the ugly color...

I curse to make people like you squirm. Loved the article, Peter!

Which word offended you- was it "Nincompoopery"? This article was hardly offensive, but "NSFW" was used in the title to denote a more ranty post than usual- and to warn you not to read it.

ToeJo, sorry to state the obvious here, but you don't have to read them if you don't like them.

I think you're missing the point. What you said was certainly valid. The form in which you said it was unnecessary. Does the internet really need another person ranting like a cheap Facebook post? It's just cheap journalism. But what ever...It's you're world...do as you please. Just one other thing Peter...keep up you rants and keep responding to your readers like you did me and you'll understand my point perfectly. Just don't let the door hit YOU in the ass.

Says the person who's handle is a giant racist slur against the Japanese. Yeah, you're a "nice person" alright. :roll eyes:

I for one, appreciate Peter saying exactly what's on his mind. More often than not, it seems like the tech press are afraid to say anything at all negative about Apple. Not only is it not popular to go against the grain of whatever is the newest Apple product, but some people are afraid of being cut off from Apple and not getting review units, invites to events, ect. Peter isn't afraid to speak his mind. If the posts offend you in some way, don't read them. Peter writes professionally-written and well thought-out posts all through the week. It's not like this is the only type of post he is good for.

Completely missed the point. And I find your handle more offensive than anything Peter has written.

Good rant, Mr. Cohen. Though honestly, you could've just saved yourself a bunch of typing and used the tried and trusted "....meanwhile, in Africa" counter.

LOL, good point. Comes back to Strunk and White's inimitable advice about "omit needless words."

I want more op-eds from iMore please! Sent from the iMore App

I love Apple products, however I find I really can't stand most Apple fans. Their smugness and myopic view on things are insufferable.

What's wrong with being passionate about something without an infinite understanding of it? I feel the same way about Fandroids. This situation is similar to football fans: one likes one team, someone else likes another. Futile disagreements ensue. To quote Mr. Cohen, "Shut up." I don't feel my opinion or the time I spent announcing it to the world will ever change anything, so I am not upset when another person shares theirs. But I am upset when there is no substance to the statement. Sent from the iMore App

You can say about every user boot just Apple consumers. The Nexus crowd for one, the Samsung crowd, the HTC and Motorola crowd, the favorite Crackberries God bless their heart and the Windows Phone crowd and the general Android crowd. They all have their horrible fanboy this and fanboy that and the constant trolling they do and pointless arguments they pose. It's not stuck to one crowd Posted via the iMore App for Android

Peter, how shall I put this nicely, you are a prize dou... Honestly, who do you think you are. We are paying good money, I got in almost instantly the shop went on-line, paid my £339 and I have to wait six weeks to get it. It simply is not good enough matey. And you, for far too long have I had to hear your condescending voice on the imore podcast. As a rule I don't like to read your diatribe, but I have made my decision (and I will tell others also) stay away from imore. Nothing but a little spoiled brat there. You are very opinionated, and that is not a bad thing, but when you start to bad mouth everyone around you cause they don't think / act like you, well then you sir are an idiot.

If you were talking about Rene, I'd agree with you, but Peter is doing just fine... So piss off. Posted via the iMore App for Android

You sir, have an unhealthy obsessions with hating Rene. Why spend any time on iMore when you clearly have such a hate for all things apple and especially iPhone devices. You do realize the same things that bug you about Rene is exactly what you are doing when it comes to android. You clearly don't understand that the things you feel you need to defend (such as your love of android and your choice in a smartphone) is nothing more than an objective opinion, however, you clearly state it as if it is a fact and you do so on an apple blog when you clearly have no desire to ever own an apple iPhone product. I see you on here far too often calling Rene out. Why not let it go. I own both iOS and android products and love them both for different reasons, but some of the things Rene points out needs to be brought to people's attentions. You instead feel you need to defend all android like you life depends on it on an apple blog

I'm working on my MBP just outside an Apple Store here two hours before store opening (meeting a friend at the mall, the Starbucks wifi is on the fritz, and I need to work), and the Apple Store employees are setting up watch displays and looking out the glass at me and occasionally smirking/shaking their heads. I think they are going to be surprised when I actually don't go in and try to buy one at store opening :)

4 people have come up to me asking if I am in line here. The guy "behind" me (if I was in line) says he wants to pre-order one to ebay and is talking at length about the resale prices. There are only 4 of them so far (about 40 minutes before store opening), but they are *very* enthusiastic in the same way Peter describes.

And...right before opening...there are about 25 people, just to give a sense of the lines. It was fun seeing the surprise on their faces when I told them all to go past me, I'm just using WiFi :)

This has also bothered me for some time. I visit The Verge all the time, but it is getting frustrating reading their reviews. This also happened with the initial release of the 15" and more so on the 13" Retina Macbook Pro reviews. During that time Nilay reviewed the 13" and hammered it on performance much like Deter did on the new Macbook that went up yesterday. I'm ok with it and I know their is a "retina tax" on first gen retina devices, but it is hard for me to take your word on that when you intentionally run your new Macbook on something other than the native resolution. Both Nilay and Deter openly stated they ran their reviews on the scaled resolution so it looks much like the 13" Macbook Air rather than the native resolution for the 13" Pro and now 12" Macbook. This is all fine and dandy to run it that way, but for review purposes why not use the device as intended and give a review based on that. Of course scaling your resolution will cause the device to not run quite as well. I would rather Apple switch to the Air resolution on the 13" Pro, but they didn't. With that said people shouldn't expect this new Macbook to do all their desktop and even Pro lines can do. This isn't really meant for that. Review the device for what it meant for rather than saying it ran great when using Facebook and Gmail, but struggles when using Photoshop or heavy video editing. Of course its going to struggle especially when you run the device that has a bazillion pixels and then run it at a scaled resolution especially when then trying to use Photoshop and video editing. Ive owned the 13" retina Pro since its release and its been a great laptop with plenty of power left over and I use Photoshop all the time. If I would have taken Nilay's word for it and passed on it based on his poor review Im never would have bought the thing in the first place. I also, run it at its native resolution and don't expect it to do everything a desktop class device with a discreet GPU can. My expectations weren't through the roof and I've always been more than happy with it. It has easily been the best performing Macbook Ive ever owned and I had a less than 1 year old Pro at the time of purchase and it still outperformed it on day one. When reviewing its fine to mention that you prefer one way and to even review that way, but if you are purposely running it at a scaled resolution then at least do your audience the solid of actually reviewing it as intended before dismissing its power on your preferred settings.

Great article, and overall I 100% are with your message of people not whining about this stuff, but I see some of this a different way. From my point of view, I don't see how they would have said "order on the 10th, delivers by the 24th", at the time if they didn't think they could meet that goal. The fact that they (seemingly and so-far), couldn't is telling to me. Almost nobody that ordered seems to be falling in that window. I also don't see Angela Ahrendts turning away store customers as a stroke of genius. You don't tell people the day before a world-wide launch that they "shouldn't go to the stores." You tell them months earlier. The fact that we found out about this at the last minute seems less like a plan to me, and more like "OMG! We aren't going to have enough! Tell them not to come!"

Yeah, I'm not aboard the Angela wagon yet. Ok, so she doesn't have inventory. That's a problem (not of her making). But you have to get those sales. Give a discount or free applecare plus if you preorder right afterwards or something. You don't want those people walking out. I think the Watch is critical for them. It's a way to ensure iphone sales and adds stickiness.

One thing we should remember is that Apple will underpromise and overdeliver, just as they always do. Same thing happened to people ordering their iPhones 6's from Apple, and Apple was able to shorten delivery times. So I'm not terribly worried about the delivery schedule. As far as "order on the 10th, get it on the 24th," that's certainly going to happen for a lot of the folks who have preordered. Not everyone, clearly, but for many. So it's not a lie or even a prevarication, really. Just marketing.

Right you are, Sir. I've watched them due this for years.

Peter, I would really like it if you could prove that anyone is actually getting it in the "April 24th" time frame. I have yet to hear of anyone who is. Most folks seem to have had the same experience as me, which is ordering it literally one minute after if became available, yet getting it between May 28th and June 10th. That's not over promising, that's "We don't actually have stock and are just going to make one up for you *after* you order." That's a whole month or close to two months LATER than the ship date, which was already a month. This actually DOESN"T happen all the time with Apple launches, and actually ISN"T "normal." No offence, but nothing even approaching this actually happened with the iPhone or the iPad and it's incorrect to say so.

I ordered my watch at 3:01 a.m. EDT (using iPad app) and have a ship date of 4/24 - 5/8. My order is for the 42mm Sport with green band. FYI: This is exactly the one I wanted from the moment I saw it. But I digress . . .

Could it be the time zone thing affecting who got to order first and get deliveries first, or did worldwide orders all go live all at the same time? Edit: Nevermind, I just saw the 12:01 PDT in the announcement.

Absolutely, absolutely, absogalutely agree with everything in this article. Never understood the sort of reviewer who would complain that the new MacBook isn't powerful enough, or doesn't have enough of this or that. Well then go look at Apple's other laptop offerings. What's the point of offering a range of models if they all have the same basic performance and functionality? What company does that? (Well, Dell & HP. But then that just reinforces my point.) Also those hired purchasers who buy iPhones for resale. They really aren't of any benefit to Apple because they just make Apple's real customers unhappy when the opening day supply runs out on them.

So I pre-order the product on the 10th, it doesn't come out to the 24th... Then doesn't ship till June. I "lose" 2 months of time with the device... yes not the end of the world. I wouldn't even really mind it, but when Apple will release a new watch a year later. Those 2 months become 16% of the time if you upgrade every year. And let's be honest if you are visiting this site...you think about upgrading every year.

"Any day you don't have to worry about dying of cholera or getting shot at is a good one."
Game over, Peter wins every tech conversation!

That's what I tell my kids when they're having a bad day.

Of course, everything in the article is exactly right. Our First World Problems just aren't a big deal. BUT, if I tell a customer that his/her project will be delivered on April 24 and then, after I have their money I tell them that it will be delivered between May 15 and 28 (just to pick numbers RANDOMLY off my Apple receipt haha) then I will lose a customer. I will literally NEVER hear from them again. Just saying...

That Louis CK bit was the first thing that crossed my mind. I blame the Internet. It's given everyone the idea that we have a right to an opinion. Which doesn't actually exist. Not in the bill of rights, nor any other country's constitution. Not in the bible, Torah, or any other religious foundation. Not in any philosophical framework. Descartes said, I think ... not, I think about everything and feel compelled to share it. Interesting times.

Uh Peter's on fi-ya.. Good job

Someone said it earlier but I'll say it again 'You da man,' Peter! Sent from the iMore App

You are right on with this for sure. I avoid lines anywhere I can. Sent from the iMore App

Peter !!
As.Usual.Spot.On :-)

Peoples view of the world is relative to their experiences. If the worst thing happening to you is Amazon delivered a parcel a day late then you will get most upset with the fact that Apple have given you a delivery window of several weeks. If, however, you have experienced more of the world and seen how other people live in the third world, then you will understand that having to wait a little bit longer for a, so far not needed, piece of technology is not the worst thing that can happen to you. Some people like to be the first well, even if you get it on the 24th April you still won't be the first to get one. Just be happy that you're in a position to buy an expensive unproven toy. By the way, I was fortunate to be in the first wave of deliveries with a window ranging from the 24th through to the 8th. Judging by the current delivery estimates on the Apple website I am extremely lucky. Apparently my first comment was not constructive enough.

General nincompoopery, love it! Sent from the iMore App

Consider yourself fortunate — blessed, even, — that you live in a time, in a part of the world, where your pressing concern is, apparently, being sick and tired of people complaining about not getting Apple products in time, prompting you to complain about it in a column.

This was the best NSFW article I've read from Peter. true story!!! Posted via iMore App

IPhone working mac pc book pro be svmsung watch on iPhone get see on watch see on the call the phone see the watch

Get watch back to Wal-Mart

I find it funny how Peter contradicts himself and no one notices it. First he says that he doesn't care what the reviewers say because he doesn't believe any one who would buy the MacBook would read the review. Then Peter says the MacBook isn't for us. Doesn't that kind of mean that the reviewers are reviewing for people who read their sites who actually would not want this? stop being so sensitive Peter.Apple doesn't need protecting and the customers who are reading and watching the videos from the reviewers are the type of people who would find the MacBook slow.

I love everything about the Apple Watch, except the app menu/home screen. All the little bubble-ish icons look cool, but I think in practice will be quite annoying and unorganized. (I'm an organization freek :D) It's an Android app for Apple stuff. Woah. ⊙_⊙

I test on tables work Mac window PC an tables Mac tables
Thank you for signing up to iMore. You will receive a verification email shortly.
There was a problem. Please refresh the page and try again.