NSFW: Putting things in perspective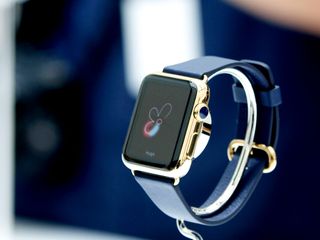 New Apple product releases have become a sadly predictable affair in watching people desperately trying to get their place in line, only to be disappointed when things don't go their way. I'm sick and tired of it.
Not getting your Apple Watch on April 24th? Shut up.
The Apple Watch only went on pre-order sale in the wee hours this morning, and already I'm seeing plenty of sturm und drang from folks on social media who are upset that the ship time on their order doesn't guarantee that they're going to have their new device on April 24th.
Look, whether you get it on the 24th or a few weeks later, consider yourself fortunate — blessed, even, if the word applies to your particular worldview — that you live in a time, in a part of the world, where this is your pressing concern. Any day you don't have to worry about dying of cholera or getting shot at is a good one.
I'm just going to leave this rant from Louis C.K. here.
And thus concludes another episode of "Peter rants from his soapbox about first world problems."
Casting pearls before swine
The initial reviews are in on the MacBook, and if I had to thread consensus on this round, it's that reviewers are impressed with the engineering and design work Apple has done, but are less impressed with the actual performance of the device.
Little surprise there: For the past several years, Apple's stuck to the mid-range and high-end of Intel's laptop processor line. You haven't been able to get even a MacBook Air with anything less than a Core i5 processor in a while. So for a Mac to show up with a Core M processor, which is in an entirely different performance class, it's bound to throw people a bit.
That the new MacBook isn't as fast a device as Mac reviewers are used to shouldn't be a revelation. The real question is what actual buyers are going to expect. I don't think the initial rash of reviews are going to turn away customers in droves, because I don't think most customers give a single shit about what reviewers think.
In fact, I don't think most Apple customers read reviews, or have the faintest idea that sites like ours exist. Most people considering the new laptop are, y'know, going to actually use one in a store before they decide if it's right for them.
Call me an Apple fanboy, but I expect that Apple engineers are infinitely more capable than the reviewers of figuring out the right balance for how this product should work and can work, given the engineering and design limitations.
And herein lies the essential conundrum for Apple when it comes time to offer any new product up for review: For the most part, the people writing the reviews have very narrow perspectives on how the devices work and what they should and shouldn't do.
As I've said before, I think the new MacBook is designed for an entirely different class of Mac user than has been buying Macs up until now — one that isn't overly concerned with how many peripherals can be connected or how fast the MacBook is when rendering effects in Photoshop.
Who actually gives a shit if the MacBook appeals to someone who plays with this stuff for a living?
No lines, no waiting
If there was any lingering doubt in my mind that Angela Ahrendts is the right person to head up Apple's retail operations, her decision to try to get rid of the scourge of lines at Apple retail stores sealed the deal.
I've stood in line at Apple Stores plenty of times in my life, but I swore after the iPhone 6 launch that it would be the last time. Mainly because most of the people I stood in line with had absolutely no intention of keeping the product — they were counting on high demand and limited availability, especially in lucrative overseas markets like China — driving up the resale value of the devices they were buying.
That sort of parasitic activity isn't something I want to be around, because I find it unsavory. What I found even more unsavory was the penchant that many of these people had for wholesale littering, yelling, and just general nincompoopery that made me wonder what sort of barns they'd been raised in.
But hell, I find the whole process of standing around at an Apple Store waiting for it to be open to be more than a bit pathetic. Gathering, in some cases, days before, to be the first kid on the block with a shiny new toy. Do you seriously have nothing better to do with your life? Do you have such little self-esteem that you need to prove you're Apple's biggest fan? Stephen King wrote a book dedicated to his "biggest fans" once. That book is Misery — you know, the one about the psychotic fan that keeps the author trapped in her house.
I'm a diehard Apple user. I don't want to begrudge anyone their enthusiasm to get their hands a new Apple device during its launch day or any time thereafter. But let's face it: Lining up on launch days feeds into a culture of conspicuous consumerism that's just really ugly and vulgar.
So yeah, pre-order to your heart's content, be glad you have the ability to do so, and be happy with whenever the product arrives. Whether you get your Apple Watch, MacBook or any other new product on launch day or a few weeks later, the world will still spin on its axis and everything's going to be okay.
Master your iPhone in minutes
iMore offers spot-on advice and guidance from our team of experts, with decades of Apple device experience to lean on. Learn more with iMore!