NSFW: Shut up about the new Mac mini, already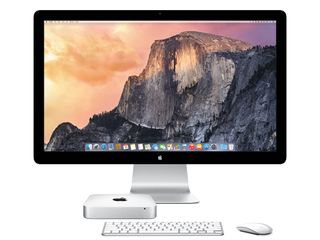 NSFW is a weekly op-ed column in which I talk about whatever's on my mind. Sometimes it'll have something to do with the technology we cover here on iMore; sometimes it'll be whatever pops into my head. Your questions, comments and observations are welcome.
I've seen endless bitching in blogs and social media about the new Mac mini Apple unveiled last week. So much so that I've seen some people recommending that you forget about the new Mac mini all together and get the older model if you can find it. That's incredibly stupid, because it ignores the actual needs of a lot of people who buy these things. Let me explain.
Some of the complainers are put off by the fact that you can't get a quad-core processor anymore; more are upset about its use of soldered RAM, instead of an easily user-accessible DIMM slot like there was on the 2012 model. I understand both the complaints, but I'm not entirely sympathetic to them.
CPU upgrade, flexibility downgrade
John Poole, Primate Labs founder (makers of Geekbench), laid out his explanation of the quad-core issue in a recent blog post. According to Poole, it's all about the difference between Haswell and Ivy Bridge CPU architectures.
Poole said that Apple would have had to produce two different main logic board designs to accommodate a quad-core Haswell processor. That's something Apple didn't have to do with the previous-generation Ivy Bridge processor found in the 2012 model — the quad-core and dual-core chip variants were socket-compatible.
Apple's simply not going to increase production complexity by coming up with two distinct logic board designs for the Mac mini. It's a relatively low-margin, low-volume product.
Baa RAM Ewe
As far as RAM is concerned, yeah, you used to be able to just unscrew the bottom panel and pop more in. But realistically, how many Mac mini customers ever did that? Based on my own experience selling them, fairly few ever do.
Most of my customers even with Macs that can be upgraded — and they're getting fewer and fewer as each year passes by — usually opt to replace their Mac rather than put more money into it. What's more, many of my customers don't have the slightest damn idea what RAM is.
"How much memory does your computer have" often elicits either a confused look or a response that confuses memory with hard drive space. And they don't care. I can count on one hand the number of customers I've sold a Mac to who have ever asked me if they can upgrade the RAM on their computer. Upgradable RAM is not a compelling feature for many Mac customers.
The case to be made for upgrading RAM is mainly from customers who don't want to pay the "Apple tax" on extra memory. Apple does overcharge for memory upgrades, compared to fair market value for equivalent DIMMs. It's an example of where Apple is able to squeeze extra margin out of its hardware sales, and it's one of many reasons Apple is so successful at what it does.
1.4 GHz and 4 GB RAM is exactly what you get on the MacBook Air. The critical difference is that the Mac mini uses a regular old hard drive, instead of flash storage like the MacBook Air. How's it actually stack up? I'll tell you all about in the coming days, because I have one. I've been busy with other stuff and haven't had a chance to crack the wrapper on it yet, but I can't wait to try it out and let you know how it does.
The low-end configuration also gets the Mac mini back to its original $499 price, where it was when the device first debuted in 2005. And that may ultimately drive some new, price-sensitive customers to the Mac platform.
If nothing else, the new entry level model is an opportunity to get people in the door then upsell them to the much better-equipped $699 model, which comes with a 2.6 GHz processor, 8 GB RAM, faster graphics and double the hard drive space. You're not paying $200 for memory - you're paying $200 for a lot more functionality all the way around.
Goodbye mini server
The one segment of the market that's clearly underserved by the new Mac mini — and this group of customers I really am sympathetic to — are IT pros who have been using the Mac mini as a server. In fairness, people using Mac minis as servers got robbed this time around.
Apple discontinued the rack-mount Xserve in 2011 but pretty quickly replaced it with a Mac mini in server trim. Priced at $999, it was a good little server configuration for workgroups and small businesses: The quad-core model sports two 1 TB internal hard drives that could be configured in a RAID, and it included OS X Server pre-installed. Pop it out of the box and onto a shelf in your server room, and you'd have a nice little machine to serve a bunch of people e-mail, web pages, files, whatever you might need.
That server configuration — any server configuration — is gone with this round of Mac minis. If John Poole's intel is right, it doesn't sound like Apple had much of a choice, Haswell chips being what they are, but it's still an unfortunate omission. Quad-core processors outpace dual-cores for multithreaded operations like many chores that servers do, so this is one area that the new Mac mini is really bound to suffer in.
You can still download OS X Server for $20 from the Mac App Store and install it on a Mac mini, however. One upside is that the new Mac mini is that it comes with Thunderbolt 2, so if you do decide to outfit one in server trim, you can hook up a really powerful external RAID to it. Gigabit Ethernet is still included, and Wi-Fi is faster this time around, too - 802.11ac, just like other Haswell-based Macs.
The bottom line
I'm not saying the Mac mini is the perfect Mac configuration, nor am I saying that this new model is a home run hit compared to its predecessor. But in many key areas for the vast majority of customers, it is a better machine - faster for many users, with better graphics, better Wi-Fi, better expansion in the form of Thunderbolt 2.
People who are complaining about the Mac mini fall victim to a logical fallacy I see illustrated over and over again on the Internet, almost every day: The belief that if something is not right for me, it's not right for anyone. It's stupid, and it's shortsighted, and it's ignorant. And I wish people who do that would stop. But it takes critical thinking skills that many people simply lack.
On balance, you have to look at the greater population, and recognize that even if this Mac mini isn't what you were hoping for, it's better in many ways that actually count to most people who buy it.
How about you, though? Are you disappointed with the new Mac mini? Or do you think the complaints are overblown? Let me know what you think.
Get the best of iMore in in your inbox, every day!
I agree with how some people assume if it's not right for them then the hardware is garbage. I was excited because my long time PC girlfriend saw it and the price, and said "Christmas is around the corner". She just converted from Android for the 6 plus and now wants those continuity features. Entry level Mac guys, sorry for those who used it as a server.

Yeah, the Mac Mini is a great entry point to try things out for the first time. If you already have accessories like a monitor, external drive, etc., it is the cheapest way to go to get the real Mac experience for the first time. I do remember leaving Apple when their hardware quality went south. It was the time when Windows 98 2nd edition was new. I switched to the dark side then and did not come back until the first Mac Mini was introduced. I've been a happy Apple fan ever since. This entry point for the desktop user is very important. And the Mac Mini can be retired to being a very competent TV media player later.

"This entry point for the desktop user is very important. And the Mac Mini can be retired to being a very competent TV media player later." Or a casual home server + router + printer sharing tool. The built in Sharing app is a much nicer experience than Connectify on PC, and perhaps OS X Server would add even more functionality. But yes. The price. Even my stingy Asian parents can theoretically get one to stream Chinese dramas off of shady sites and do banking on the same machines.

Sure most users wont ask or know to care if the RAM is soldered when purchasing a Mini, well not until a few years down the road when they take their Mini to someone to be upgraded. Then they learn sorry the memory in your Mac can't be upgraded because Apple was greedy. Any other PC could be but not your Mac. You have to buy a new one because you didn't plan your years of PC use properly. I'm sure this user will be thrilled being forced to buy a new machine when they could have gotten a couple more years out of it with a simple, cheap, very routine upgrade.

Summary: your requirements are different than mine, therefore you have no right to talk about them.

I'd say that's pretty much the exact opposite of what he was saying (although the hyperbolic title might give one that impression).

More accurately, it's a case of "Apple made decisions and my job is to defend them regardless of logic"

As someone who has run Mac minis as servers for a long while, I would add that the new model isn't even a "bad thing" for the server crowd necessarily. Sure for places using or selling access to the gear as a production server, it's bad, but most of the time when you use a server in a small business, it doesn't need much power, only one or two users are going to be connected at one time, and most of the time, there are no massive file transfers going on. Not once have I looked at the mini servers and thought, "gee, if only they had more horsepower." I think the complainers are mostly older home hobbyists that use the mini for their main computer.

So, to sum up, the Mac mini works for you, so it should be fine for everyone else.

An ancient line from the East appears fitting with the mini situation, it seems to me: "Wait till next year." Sent from the iMore App

RAM: "how many Mac mini customers ever did that? Based on my own experience selling them, fairly few ever do." Oh no. It was understood you buy low and then get third-party RAM which is much cheaper. I'd venture a lot of user, probably more than half, did this. This was the enthusiast's Mac.

This is exactly what I did

No, only techies 'understood' that.. I used to work at Best Buy in Geek Squad.. Right when Best Buy first bought them and, later ruined the brand. MOST people that came in to upgrade were bringing in 5-6 year old systems and only JUST then asking if it can be upgraded.. and the usual answer was "You're better just buying new, it's SOOO outdated, don't throw good money after bad.." That was USUALLY a very true case.. The reason is, memory for example, would have moved onto the next "New Form-factor" and getting the old stuff was prohibitively expensive. Like it often made Apple Tax look cheep.. and thats IF we could even get our hands on the old stuff to begin with. By the time anyone even considers upgrades, technology moves so quickly that it's generally a, recycle now while you can, event..

Of course people using the "Geek Squad" service would be the ones who don't know much about upgrading RAM. That's a load of self selection right there... What about those who upgrade RAM right out of the box because third party RAM is cheap and plentiful? Any person who is young / remotely social among passingly intelligent people will know what RAM is. They don't have to be a techie, much as you don't have to be a nerd to be a gamer nowadays.

Of course, just as you are self selecting yourself. You have much more computer knowledge than the average customer.

"Computer Enthusiasts" have been mostly extinct for some time. At least in the sense of the early computer days when you built your own computer from parts, or upgraded your computer from parts. I gather there are a lot of them commenting on this thread and marking everyone down who doesn't agree with them, but everything Peter says is true. I used to be that enthusiast and have put together and taken apart more computers than I can count. I don't do it much at all anymore, and neither does anyone else for the most part.

No... my friend who is a fairly hot ABG built a high end gaming tower a few weeks ago. If anything, as we become increasingly saturated in technology, a wider audience is exposed to this enthusiasm, and discerning exactly what fits their needs. (Even someone unknowledgeable can only go through so many shitty netbooks before realizing that some research is involved.) Just look at the gender ratio trends in gaming and the field of computer science nowadays. "Computer enthusiasm" is going mainstream and it will only go up from here, unless a meteor sends us millennia backward in technology..

This is precisely what I did too. (That being said, I purchased my Mac Mini from another retailer at a discount, not from the Apple Store at full price.) The author fails to acknowledge how many competent cross shoppers there are out there. Not to mention, most of my friends who own Mac's are pretty damn knowledgable about what's in their machine, and the differences between Intel generations.. and they're ABG's and frat kids... Why do you think Apple explicitly outlines the upgraded specs in their product announcement events to begin with?

honestly I thought the Mac Mini was years ago discontinued.

I don't disagree with this article entirely--I do take issue with the whole "most people don't need this so why include it" thing. Indeed, "if something is not right for me, it's not right for anyone" is a flawed argument, but it works both ways. Telling me I should be okay with soldered RAM (especially when it's for no obvious reason other than to get you in the door for a more expensive model) falls under that umbrella too.

Not really buying the, nobody-upgrades-the-RAM-in-their-Mac-minis, thing. But, pretty much on board with everything else-Apple was between a rock and a hard place with the new chipset.

Right, because you do it, so everyone must want to do it. A lot of the commenters here are just proving Peters point.

ralphtweety never said "everyone must want to do it." It's not everybody, nor is it nobody (as the author claims). It's somewhere in between. Common sense, people.

And because you don't care that it is soldered means nobody should care...

It's probably more to do with (1) soldered RAM is faster and may provide greater economies of scale when produced that way (?) and (2) Apple does not want higher end, modular Mac Mini's cannibalizing sales of the much more expensive and much higher margin Mac Pro lineup.

Nobody who is in the market for a Mac Pro is debating between a Pro and a Mini. Oh and soldered RAM is not faster.

I'm with you Peter. As a recently new Mac user (not easy here in Argentina), I'm very happy with my Mac Mini. I think Apple is doing another strategic move, bringing thousands of new users to iOS-OSX ecosystem. If you want more than a Mac Mini, you will go the iMac or Mac Pro way.

I think the key quantifier here that is being overlooked is this: Who are the customers that buy a Mac Mini? I don't know? Do you? Can you give me hard figures of the types of buyers that purchase a Mac Mini? Are they the "get them in the door" "first time" mac buyers, or are they the "Mac Enthusiast" buyers that like to tinker with computers? What are the percentages? I'm guessing Apple must have a good idea but from my personal, limited, narrow experience, the people i know that own Mac Mini's were the later of the two mentioned above. And I think that's not that far off. The "get them in the door" Mac (at least in my experience) has always been the 13" Macbook, whether it be the Pro or the Air or the original Macbook; that's the model that seemed to sell the best to the general public. Not a Mac Mini. And I think the people that do buy Mac Mini's, and follow their upgrade cycles that are the most upset with this latest releases, are so kicked are in a way justified.
I totally understand the logic behind the technical issues involved (as well as other factors stated in this well-organized and written article), but I think if Apple knew the people who really (regularly) bought specific products to the number, then they would not have released this. That goes for a lot of products we've seen this year from Apple.

Who are the customers that buy a Mac Mini?

Apple doesn't publish demographic info on their customers like that. I can go with what I know anecdotally selling them at retail, but I'll be the first to admit that it only gives me a partial view, at best. One thing I can say confidently, however: I expect

Apple

has a much better idea of who their Mac mini customer is than any of us. So from that perspective, I bet they've configured it the right way to sell it to them.

No offense, because I agree in part with what you're saying. But it is flawed logic that ANY company does what is best for the consumer. Outrageous upgrade prices for ram and HD are inexcusable. I upgraded both the HD and Ram in my parents '05 iMac, and it significantly extended its useful life. For these specs - it's better to build a hackintosh. Sent from the iMore App

Please stop with the hackintosh nonsense. I'm typing on one now running Mavericks and i just built another for Yosemite and there is no way the average or even above average user will ever make them work properly. Plus when it comes time to move on to a newer unit they are worth nothing.

But it is flawed logic that ANY company does what is best for the consumer.

I never said Apple

was

doing "what is best for the consumer."

Hackintoshes are likely illegal and impractical for the average consumer though.

Do they not have two different motherboards for the different RAM configurations? I've seen articles stating they do. Kind of negates the socket for quad core argument.

Not really. Two different sockets been different board layouts to design and test. Soldering higher density RAM to the same board doesn't require another board layout or extensive testing.

The largest customer of Mac Minis are media center PC users. Most of those who are willing to setup and use a Mini as a media center are certainly willing to rotate a plate and stick a ram module inside.

Your first paragraph is eminently reasonable and very logical. The second paragraph contradicts everything you said though. If we assume Apple knows the customer mix, then the fact that the computer is apparently *not* aimed at people who upgrade their RAM, would argue that these "non-enthusiasts" are in fact the main customers of the mini.

I'm cross posting this from a comment I made to another iMore article. I think the same applies even more to this article: I think that Apple has made a pretty reasonable design decision. Computer users/buyers have evolved over the years. In most cases, people who are all good with 4GB RAM know who they are and those who need 8GB or more definitely know who they are.

I don't think anyone should be "happy" with soldered ram. What happens when the £20 module fails outside of applecare? The entire machine is cooked. There's no genuine reason to solder ram in this or any machine other than a plain money grab. Posted via the iMore App for Android

That goes for any of the chips and components on the PCB - most of which is soldered. I have been an overclocking hobbyist with PC hardware in the past. I know pretty well the robustness of the components. I have only once managed to damage a RAM stick after pushing it very excessively with clock speed and extensive stress cycles. An overclocking scenario such as that is not possible on a Mac.

Maybe, but it can happen. It will happen more often as it's becoming more commonplace now, it was hard to find before. How many RAM failures are fatal with replaceable RAM? Zero. BTW, this article is incredible condescending.

What you're talking about goes for all the chips soldered to the main board of the computer. I have never heard of a "ram chip failure" or "northbridge chip failure" from someone who operated and handled the computer in a not-warranty-voiding way - meaning no overclocking, building and rebuilding it, mishandling the ram.

Check eBay for MacBook Airs (recent soldered machines) with RAM issues. It does happen. Bottom line - there's no good reason to solder it than to lock people down for an overpriced upgrade. I actually ordered one of these (2.6Ghz with 8GB and Fusion, but I'm thinking my older i7 will be faster.)

Assuming the ebay seller has correctly diagnosed the issue - I have doubts about that... There are many soldered chips in the computer. There would have to be a major batch of defective ram for it to be a common problem triggering a recall. I have never heard of ram becoming damaged that's gone through no tinkering. I don't share your pessimism on the motivation. It's clear that their goal with this generation mini has been to bring back the 499 base price. Considering that consumers these days are more aware of their ram needs - many coming from a similar spec windows computer - I think this was a very reasonable design decision. Hope you enjoy your new Mac mini.

I don't agree, about consumers being RAM aware nor with Apple's motivations. That base level machine is a fucking stroke, like the base level iMac. They need to be careful, at least the mini was always pleasantly fast - always after than you assumed it would be. That won't be the case with the new base machine, people will not like the experience. But to each their own. I'm hoping it surprises me, if not I will keep the old and sell it on.

If the consumer is coming from a windows computer - the mini's target market - they will have idea of what a 4GB or 8GB computer in general is like. I think power users who never spec less than 8GB are in a bit of a bubble. 4GB ram is fine if you occasionally close apps and browser tabs that aren't in use. The fusion drive in your new Mac mini should be good for performance.

That is entirely false. RAM dies all of the time, it is probably the most replaced item. Any data center tech will tell you they replace RAM in machines routinely, nothing else wrong, just dead RAM. Plus this is on enterprise level hardware which is higher quality then the chips used in a Mini... So to bring the Mini back to it's 499 base price they just had to remove that $0.03 DIMM socket...? There was absolutely no reason for that decision other than to get more money out of people.

It's $100 more from Apple vs. OWC to upgrade to 16GB. For that you get convenience, you don't have to order it separately, and install it yourself, and it's covered by AppleCare. Though OWCs warranties are very good, it's still work (and thus time, and thus money) to make sure it's actually a RAM problem and not a logic board problem, and then remove the RAM and send it back to them. With Apple RAM, if it's any hardware problem, it doesn't matter. I drop it off at an Apple service depot and they fix it, without question of whether it's Apple hardware or third party RAM. One repair and that extra $100 pays for itself in time saved.

Well, there is good reason to solder RAM to the motherboard...cost; eventually to the end user. Think about it; the cost to solder RAM to a motherboard or daughterboard is the same. Now add in the cost of a socket for that daughterboard, soldering that socket to the motherboard, and a person or robot to install the daughterboard into the socket, and you have easily increased the price of RAM. I'll bet most of that $100 price reduction is due to this alone.

Wow, you need to think a little more about what you say... You think removing a DIMM socket saved $100? I doubt that choice saved anything more than 10 cents at most! Think about the added support cost, no longer can you simply swap RAM to troubleshoot if that is the problem. RAM dies so your entire board is shot, replace it. Lots more waste when all that was needed was a RAM replacement. Now the user is stuck buying an entirely new computer, but no that wasn't Apple's greedy plan...

Come on, this is a stupid argument. For all of their life PCs have had modular RAM, for OBVIOUS reasons. RAM is NOT a single component. Single components are soldered on to the DIMM. RAM was made modular because of its OBVIOUS need to be upgraded and replaced. I surely replace dead RAM a ton more than I have to replace motherboards. So all of those thousands of components which are soldered onto the board have a much longer life span than memory modules. If you have only managed to come across a single bad stick of RAM then you have not been dealing with very much of it...

I have dealt with **lots** of ram, cpu's, etc and run the heck out of it with various maxed out or out of spec settings. I'm well aware of their level of susceptibility. I don't agree with your theory that "Apple feels they need to milk some coin out of Mac mini's by soldering ram".

"lack of Critical thinking" "short sighted" "stupid" was it really necessary for the this article's writer to resort to insulting Apple users who do not agree with the Mac Mini's new hardware configuration? Those users were simply stating their opinion on the situation for goodness sakes. Sent from the iMore App

Yeah this just spews fan boy. It's easy to sort out those who will defend anything Apple does when people have a completely legitimate gripe and they dismiss it as a lack of critical thinking...

Can't say I care since I don't see the point in buying a Mac mini anyways. The types who would buy these usually have junk for monitors and other accessories. It's best to just recommend an iMac. Sent from the iMore App

I have 2 Minis. One with the SuperDrive for CD's & DVD's. The other a 2012 for my daily computing. I maxed the RAM on both, and share a 2 tB external drive. Only one Mini runs at a time. I use a 50" Samsung for my monitor. Older eyes like big monitors!
The Mini takes up way less space than any Tower config.

Well I have a color accurate IPS display for photo work, a mechanical keyboard, and a high end gaming mouse. I wouldn't say the types who buy these have junk for monitors and other accessories. DERP!

I have three older Mac Minis, all being used as media center PCs. Not one is a junk monitor. Don't think of the Mini as a low end PC, think of it as a high end media center.

I thought the comment section was an area your were allowed to bitch about what you think is a stupid design by Apple taking away the dual bay, quad core, user upgradeable machine I use to love. Now it's just an appliance.

I have two comments on this:
Use as a server: If you insist on internal drives, yeah, it's too bad. But for a server, I'd rather have drives that can be swapped out easily in case of failure. My current Mini home server has a FW800 and USB 3 drives. Only the OS and applications are stored on the internal drive. One failed once, and it took less than a minute to swap it out. If I used the internal drive, I'd have to take the server down for an hour to fix it.
RAM: max out the RAM when you buy it. Seriously. Why live with decreased performance until you upgrade the RAM later. Your mini will perform better from the start as it'll hit that slow 5400RPM drive less often.

Because it's still cheaper to upgrade the RAM through a third party chip maker than through Apple, even if you upgrade it right off the bat. You can swap the internal drive still, it just requires a special screwdriver. External Thunderbolt 2 RAID arrays can be faster than internal SSD's for data transfer speeds. As a server, the new Mac Mini will probably do just fine.

It's $100 cheaper (from OWC anyway). But you intuited in another post that you are a professional (based on the equipment you have connected to your mini). So you are quibbling about $100, without accounting for your time to order, receive, and install the RAM from a third party, and to order the special screwdriver (iFixit sells them, by the way.) This may be worth it to you, but here's an honest question: do you believe you are the typical Mac mini customer Apple should be designing for?

It costs $300 to get 16GB RAM in the entry model. It costs $200 to get 16GB of RAM (add 8GB stick) in the $699 model. It costs only $100 to buy 16GB worth of high end RAM. Through Apple it costs $100 for every 4GB you upgrade. Outside, from the best RAM makers in the industry, the same cost will get you 16GB. It is not just $100 cheaper....

OWC, a high end vendor charges $200 for 16GB of RAM for the 2012 Mac minis. Not sure where you get it for $100 - that's a good deal. The entry level has 4GB. If it was socketed you'd have to remove it and buy two 8GB sticks - $200 from third party, $300 from Apple. $100 difference. The $699 model, if the RAM was socketed with one 8GB stick (didn't Apple use to put two 4GB sticks in there?). If they put one 8GB stick in there, it'd cost $100 from a third party. $100 difference. If they put two 4GB sticks in there, you'd have to buy two 8GB sticks - $200 from OWC - no difference in price. Where can I get 16GB of Mac mini RAM for $100?

Correction. Looked up order history. $70 for Corsair Vengeance 16GB for 2012 model. Yeah, was a pretty good deal. Which is something you can't pull off with the 2014.

*take advantage of with the Mac 2014
*in anticipation of the time spent modding < factory soldered convenience argument: twas two day shipping coz it was from Amazon & took two minutes to install

Only price I can find today is ~$200 for Corsair Vengeance 16GB SO-DIMM (or two 8GB SO-DIMMs) But if you can find a lower price, please link to it, as I have a Mac mini that could use more RAM. I didn't upgrade at the time because it was a refurb, otherwise I would have.

It's $150 on Amazon right now, regular price. If it goes on sale, it may be even cheaper. That's the benefit of modularity.

Not only is it over double the price but when you upgrade it yourself you have purchased the 3rd party 16gb AND the original 8gb. You get more memory for less (sure it cant all be installed) but you could always sell the original 8gb for even less of an upgrade.

Agreed. I'm done talking about Mac mini being my first Mac. Hackintosh it is!

Meh. The support on the stock Mac Mini will be much better and more seamless, not to mention the slim form factor (and quietness in that form) you will never be able to replicate with a custom PC build. Building a Linux machine would give you far fewer headaches than building a Hackintosh.

Apple skimped here as understandably they didn't want their margin to suffer by supporting two architectures.
The old Mini gave you flexibility, much like Apple products of old.
People may not consider RAM or other upgrades but what's the first thing they're told when they want to either regain lost performance or raise specs? Change to a different HDD, add more RAM etc etc… People don't want to have no choice but to get a whole new computer when they need to upgrade. It's very hypocritical of Apple to spout green crap ad nauseum and then make 100% throwaway products.

Great article! I just replaced my 2006 Mac Mini entry level with this new 2014 entry level one and. I LOVE it. It's a light duty computer and it does its job well so far. Sent from the iMore App

I recently purchased 2 Mac Mini's , a 2012 and a 2014 . The 1st thing I did was load up I the 2012 and. see if it could perform as an home theater and OS X server. It did well except it needed more memory which I ordered last night. I haven't done much with the 2014, which will be my workstation computer, but I hope that the 8gb RAM that I ordered with it is enough. If , after a few weeks of usage , if I determine it needs more RAM I will have to send it to Apple to be upgraded. The Apple Store rep told me that even they cannot upgrade it in store , which is why it is mailed out .

I would have gotten a Mac mini years ago, but it was too expensive.
When paired with an Apple Thunderbolt Display, that is.
Cheaper to just get a 21.5" iMac, so that's what I did.

There are truly respectable screens out there that are cheaper than the Apple Thunderbolt Display haha... Nothing wrong with an iMac though.

I don't mind the soldered in RAM, I just think the price Apple charges for the higher spec is ridiculous and unfair. Other than that totally agree with the whole article. Sent from the iMore App

It's basically the iPhone business model. I wish Apple went back to being the leader on bang for buck with iPod storage capacity. (They'd outdo the Creative Zen the following year with double the capacity, etc.) Now the current iPod Touch isn't as attractive compared to a Motorola E/G with a fat 128GB MicroSD card in it... It's a lot of upcharge just to get the next level of accoutrements..

It was not only techies and geeks complaining. That is giving the usual complainers too much credit. I ran into at least a hundred of posts from self-declared experts claiming that four processor cores are absolutely essential for stuff like file or media servers. So much for experts.

For me, the higher spec 2014 Mini fits my needs quite well. I'm replacing my trusted mid-2007 iMac, which is starting to be left behind by OS X (eg. Continuity/Handoff). I already have a beloved high-end IPS display from another PC I want to continue using. My storage is on my network already. The lack of a 4-core CPU option did give me a bit of pause but after a load of reading and research, the optional CPU in the high-end configuration (which looks to me to be the Core i7 4578U) still outperforms my existing iMac in every measure I can find by at least 3-4X. For me, that's a huge upgrade. I never have really looked to my Mac for brute multicore compute force; my Macs are for creative, editing, detail, interactive stuff. I built a cheap 8 core PC to handle all the grunt work (video encoding/compression, 3D renders, bulk storage, etc.) The lack of upgradable RAM was not a factor for me, I wanted 16GB by default. Having been badly burned by sketchy aftermarket RAM upgrades from supposedly reliable sources in the past, I'll pony up a bit more up front for some peace of mind, thank you. The loss of the server option is unfortunate, it did serve a group of very dedicated users, but is hardly surprising given Apple's direction. So, no complaints from me. I need a tightly integrated, reasonably speedy Mac I can use my trusted monitor with and a good range of external connectivity options for less than $1500 or so. My Core i7, 16GB Mini should be here this coming week!

You make a good point about 3rd party ram. I bought iRAM for my 2006 Mac Pro, it caused several problems, all of which were alleviated by removing the ram, using only the stock ram, even though they claimed it was "Apple Certified".
.
I don't understand why people are surprised that Apple wants to "control the user experience" in this manner.

People aren't surprised that Apple wants to control the user experience in this manner; they're just tired of the upcharge that they push upon the consumer in the name of this. Everybody knows it's really just about margins. Also, pro-tip? Apple's RAM is made by SAMSUNG, which is technically kinda third party. From the way you guys talk, one might surmise that the RAM is made of unicorn dust....

Yes shut up you stupid consumer who told you to use your brain & think. Who told you to compare configurations & use your free will in choosing. This is mutiny. When Apple says this mini is better who are you to say other wise. Do you think you can use your own faculties & reach a more intelligent conclusion than us? ?? Even if the upgrades are minimal you still should buy it because we said so & you love us for saying so.

Peter, I agree with most of your points (or all of them), but I would say that if the primary reason for soldering RAM was to force an "Apple-tax" then that was a bit slimeball-ish.

Completely disagree. Apple is making it more difficult to upgrade their products across the board. True, from a business sense and being more profitable in the short run it's good for them. Their consumer base has increased dramatically in the last 5 years and I understand that's what they're doing. But they're also going to piss off their loyal longtime customers eventually the more greedy they get. I don't know why American companies take this route and start cheapening their products and more importantly, their reputation. All they are doing is leaving and opening for a new company to emerge and overtake them, because people want quality. I absolutely believe that American cars and companies like GM could still be the Apple of their industry if they didn't do what I hope Apple isn't doing to their company and brand. Sent from the iMore App

There is also the design factor. Apple takes pride in their hardware designs, and people obviously like it. A $500 PC will have only slightly better CPU, maybe more ram, and likely a 1Tb 3.5" HDD. But it will be a big ugly box. Sure there are other small options, but those will have limited options as well. And true, this mini is the same form factor as the last few years, so it doesn't make a whole lot of sense that this year couldn't fit the modular slots for ram.
.
Companies are expected to make money, they have to sell products to make money. Do I think apple has a grand scheme to screw their faithful customers by forcing them to buy a new product? ... no... Not really. How often do you upgrade your car? Sure, there are plenty of options for some cars, but not the same options for each and every model. Have you ever heard anyone complain that they can't internally / modularly upgrade their TV or surround sound amp? You add new features to your TV by plugging in an external device. (Kinda like the new Mac Pro) Their microwave? Refrigerator? I haven't. Why do we expect computers to be this way?
.
On the other hand, if your fridge's compressor blows, you can take it apart and install a replacement. I assume if your ram craps out in these soldered-in Apples, you'll have to send it in for repairs. That sucks, but it's probably less likely to happen in the 4-5 years you own it.

I have recently taken delivery of the new Mini. I am upgrading from the late 2010 model. I did not jump at the 2012 upgrade as I didn't think the improvements were significant enough. Now the double jump has left me with major performance advancements across the board. I'd say we rarely see dramatic improvements from one generation to subsequent one in many of the Apple product lines. As to how the 2014 Mini compares to 2012; graphics Wi-Fi, connection options, all look to be solid advancements. And what about having to include the memory upgrade as part of the new system purchase? Well, I paid $200 to include the 16GHz on mine. What if you were to instead purchase the 2012 Mini and wanted to buy the memory upgrade from reputable outfit? You could head over to the excellent OWC site and score 16GHz for $197.00. That saves you a whopping $3. Buy the new Mini folks!!!

Gb... not Ghz. But I get your point.
.
I also have a 2010. I really WANT to get a new one, but I upgraded it about a year ago - 8Gb RAM & a 128Gb SSD internal for OS, moved media to a spare external I had, backup all to my NAS.
... So, my question to you is, was it worth it? Was it a significant enough performance increase to justify the price? I mainly use it for Safari, iTunes & iPhoto, occasional iMovie. I want increased performance that will last at least 4 years.

What use case would make the upgrade to the i7 worth the cost?
I'm sure it's hard to put a number on it, but is it $200 worth of performance increase?
.
To out a number on it, that's a 20% increase in cost, will it provide 20% faster performance?

Even the most modular Mac was barely upgradable.
.
I bought a 2006 Mac Pro, hoping to have a vast variety of upgrade and expansion options, as close to a pc as possible. Turns out my options were very limited. I like the idea of being able to upgrade the RAM when I have a little more money down the road. And the option to get the faster GPU later, if I feel I need it. And swapping the HDD. I did all 3 with that Mac Pro. It was pretty pricey, but it was cheaper than buying a whole new system (*without selling the old system), and it gave it the needed speed boost as the OS & software became more sofisticated. That was a $2000 buy, followed by $300 for the GPU, $200 or so for the RAM, and $250 or so for the SSD. I threw in a couple big HDDs, Oh and a PCI-USB card. But that's all that I could do to it. It's no where close to the expandability of a PC. But, I don't like the idea of being stuck with a $500 machine for 3-4 years, and not have the option to upgrade or swap failed parts in it at all.
.
I understand that custom built PC enthusiasts are going extinct, and custom built Mac enthusiasts are next to non-existent. But it still bugs me that Apple has seemily turned their back on these customers. Even if you buy a $3000 Mac Pro, there isn't mich you can change internally - RAM & SSD. That's it. Can't upgrade the GPU or CPU to my knowledge. So why do we expect the Mac mini to have these option?
.
Point is- we never really could upgrade our Macs, at least not to the level of PCs.
.
Also, It would be relatively inexpensive to just get a new one when you want it, and sell the old one. If you do this every 2-3 years, the resale value of the Mac will be higher than if you kept it for 8 years, like I did with my Mac Pro, going for $300 or less on eBay. Now put that $ toward a new computer, and you just got a whole lot better than just a little more ram. - I couldn't get my 2006 Mac Pro to perform as well as a $1000 2014 Mac mini if I spent $1000 on upgrades.
.
Final thought- find a brand name PC for $500, the specs won't be THAT much better than this Mac mini, and it will be a big boxy case. These minis are a decent value, even if they aren't the "hot-hatches" of computers they were in previous generations.

Might've already been said, but the Mac Mini essentially created the Home Theater PC and this new model doesn't live up to that legacy IMHO. I was looking forward to upgrading my setup with this. My current one often uses its multiple cores as it records TV, exports videos and decodes video as I watch using Plex. Sad that my almost 3-year model is almost twice as fast at its job as the new models.

I will not shut up about my new Mini. I am very happy with it. Go it last thursday, 2.6GHz, 16GB RAM, Fusion drive. Very snappy and smooth. No regrets. This is a computer mostly for my kids to do homework and play minecraft on the weekends and me to surf and pay bills, process the occasional iMovie, import to iPhoto. Not sure what other machine would have been a better purchase for my $1K. I have no time to build a "hackintosh", and even if I did, I'm not sure the cost/performance ratio would ever make it worth the effort. I waited for this machine for a few months as the 2002 Powerbook G4 was giving up the ghost slowly and I was getting sick of giving up my 2007 17-inch MBP for minecraft. I am happy with my purchase. You can complain about extra cost but my time is worth more to me than saving a couple of hundred bucks over 3-5 years of minimally extra computing power for my purposes with a quad-core or cheaper RAM.

I bought the $699 model and upgraded to fusion drive and am very happy with the performance. I do wish I could upgrade the ram in the future as I have done on my iMac and previous Mac mini, but that wasn't a deal breaker for me. I feel 8 gb will serve my needs until I decide to upgrade to the retina 21.5" iMac when they decide to release one. Sent from the iMore App

So it's NOT OK for people to state their position about the Mac Mini, but it IS OK for this guy to complain about people who complain??? The 2014 Mac Mini is a step backwards for Apple, in my opinion. It's the netbook that Steve Jobs talked about when introducing iPad. The 2014 Mac Mini "isn't better at anything" compared to previous versions. #STFU - that's my contribution for this article being #NSFW. Quote: "People who are complaining about the Mac mini fall victim to a logical fallacy I see illustrated over and over again on the Internet, almost every day: The belief that if something is not right for me, it's not right for anyone. It's stupid, and it's shortsighted, and it's ignorant. And I wish people who do that would stop. But it takes critical thinking skills that many people simply lack"

It's not a step backward for Apple. It's a step backward for Apple's power users who used the Mini for extended periods of time by upgrading it as the price of upgrades like SSD's came down. It's a step forward for the majority of Apple customers, as it's a lower price point to entry. Since most Mac Mini users will recycle/sell this in a few years anyway, it's just another way for Apple to pad its profit margins by getting the techno-ignorant to re-up every couple of yrs a la iPhone/iPad releases. Don't get me wrong.... I enjoy using my MacBook Pro and have for the last several years. I'll continue to use it for a while as it has user upgradable parts.

To be fair, soldered RAM has its speed advantages. That being said, I agree about the padding, but that it's also done through the more knowledgable consumers too, because now they have no choice but to go for the more expensive options such as the Mac Pro, when it comes to modularity and the computing power the 2012 model Mini offered.

I waited well over a year for a Haswell MacMini with quad cores, upgradeable RAM, a decent graphics card, and a 7200rpm 1TB HD. No need for a monitor, keyboard nor mouse since I already have those items. What do I get? Dual core only, non-upgradeable RAM, an okay graphics card (Iris instead of the Iris Pro or nVidia), and the old 5400rpm hard drive. That means I have to spend an additional $500-600 out of pocket to get what I needed, (though STILL with a slow 5400rpm HD) plus stuff I didn't need (monitor, keyboard, mouse/trackpad) If I can get a 21.5" iMac with a quad core, and Iris Pro with the same amount of RAM and same speed/size HD for $1299 (compared to the mid-tier MacMini for $699) and you subtracted the keyboard, mouse/trackpad, monitor, the extra building materials, and the more complex assembly costs… gee it would probably be $699 with a decent profit margin for Apple. Given that they state that only 5% of their computer sales are for the MacMini and the MacPro, you would THINK that they would want to NOT piss off those particular customers who buy those products, and encourage them and others to buy MORE of them to boost overall Mac sales (especially at a time when the PC market is shrinking and Mac sales are picking up the slack). It's almost like Apple is cutting off it's nose to spite it's face. I just don't understand the thinking. It really wasn't necessary for Apple to do this. Are they afraid that if they made the MacMini as good as it could've been, they'd cannibalize their other Mac sales? Well, didn't Apple just say about iPhones/iPads/iPods that they would rather cannibalize their own products lines because if they don't do it someone else will. So they're willing to do it for iOS products but not for OS products? It just doesn't make sense. IMHO

Have been with Windows for over 20 years, waiting for more than a year on the new mac mini. The downgrade version of the mac mini 2014 really leave me undecided. I am now looking at the $699 mid range mac mini with the 1TB HDD. I need to buy a new monitor, apple keyboard and apple care. That would add up to $1000. With $1000, I can buy a decent quad core windows laptop. The main motivation asides from trying out apple os, is I would love to use the iPhoto. My questions:- 1)Is the mid-range mac mini good enough for iPhoto usage? 2)What about iMovie? May not use frequently, but love to experience what I can do with iMovie. 3)How lasting is the mac mini(physically)? I rarely buy a new pc and use at least over 5 years when I got one(without upgrading anything, hardware or os) . Peter, could please advise. Welcome other readers input/comment as well.

The mid-range will work great with iPhoto and iMovie. As far as lasting, I suspect the single most likely point of failure will be the hard drive. But I've seen Mac minis come into the shop that I work at that are seven or eight years old, to do a transfer to a new one. So they can last quite a long time.

Sounds great! Just one more thing. Do you think there will be an upgrade for Mac mini once Intel broadwell is ready early next year? Will the Mac mini upgraded within one year from now? I am willing to wait another year if the possibility is high.

Note: I kinda halted my decision once I realized I can get quad core with the same price for mac mini 2012. The question now is why should I pay the same price for something slower? And knowing I would change my pc once every 5 years(if not more), I would rather wait for the Broadwell chip(if it's 12 months away). But I am very tempted to try Apple OS now rather than later, not sure why, but just feel the right time to upgrade myself after 20 years of windows. As for the quad core, based on current apple product offering, it's safe to say there will be no more quad core for mac mini. Apple wants you to get an iMac for quad core. Mac mini will be entry level product. If you love it and want more power, iMac is the answer. That is Apple strategy for now. I would say the quad core less mac mini is a marketing strategy rather than hardware limitation.

So now all we need is for Apple to solder in the drive as well, then if any part breaks you have to buy a new computer. Sounds great for Apple profits!

Look forward to the reviews by Peter on the Mac mini.
Then I'll know for sure if it any good! Sent from the iMore App

I just bought the low end model for my kids, there are a lot of non power users out there that don't want to spring for a $1200+ iMac. This will be a perfect starter for my kids. Sent from the iMore App

How about replace "new Mac Mini" with CurrentC in the article title

I am a perfect use case, well, my wife/home computer is. I am a techie kind of person, but somehow still have a windows XP machine at home that supports my wife's antiques business. It's showing its age (let alone security concerns) even with simple uses (spreadsheets, internet, mail, etc). We were talking about and almost ready to purchase an iMac. But we held off only because every $1099 not spent right now (with college turition 2 years away). But I got serious about looking at the Mini after they announced the new ones. The Low end mini, bumped up to 8gb out of the factory/online is basically the same guts as the low end mini....but for $500 less. We have a decent Dell monitor (which we can upgrade down the road) and a good keyboard. Thogh don't tell my wife I'll prob buy the apple keyboard and mouse without my factoring that into our cost. Should work fine for my wife's needs and will integrate well with her iPhone and iPad. I tweeted a bit earlier this week with Peter and kinda decided upon the low-end bumped up to 8gb. But once you are at $599, it's only $100 more for the mid-level Mini with the 2.6ghz chip. I feel like that extra bump makes sense, but I also feel that the overall experience of the lower end model (with the 8gb) will still blow away any machine we've used in the past. My wife does not like/want a laptop and we don't need the horsepower of a macbook pro type of machine. So while we are essentially a fairly techie family, the low end mini still can meet our needs well. Still wouldn't mind thoughts from you all on specifically the 1.4ghz chip bumped to 8gb of mem or the 2.6ghz chip (which comes with 8gb mem by default). ETA: I guess my wife would also do basic photo editing too.

But now I am wondering if I should consider bumping to a fusion drive. on the mid level that takes it to $899. that's pushing our budget I think. And I think this is sort where Peter was guiding me to the low-end but bumped to 8gb of RAM. Pretty cheap entry point. Should serve my wife well. And if we need to bump more down the road, I get her an iMac and I use the mini as my own little machine......

Or buy a slightly used old Mini with RAM upgrade and have a more powerful machine for much less.

This is the year of the Cash Grab for Apple. I say if one can wait then wait until next year. And not this is not the "there will always be something better". I honestly think all Apple could have and should have done much better this year. Anywho...it's just my opinion. I did buy my first iPhone ever this year the 6 and the reason I did not get the 6+ is because I think it was just a lets throw it out there and see if it sells. Guess what it did so the 6s+ will be the one to get for me. Then I'll give the 6 to my kid or sell it.

OK. I've got a late 2012 Mac mini quad-core i7, 1TB fusion drive, and 8G RAM, driving a JVC 32" Monitor/TV. I dearly love it with my 66-year-old vision. I've also got an iPad 2 32G, an iPad 4 64G, an old Core 2 Duo 20" iMac which my wife dearly loves, a late 2013 13" Retina MacBook Pro (all business), and two iPhone 5's. What's the first thing I need to upgrade to stay in the Apple infrastructure?

You said...."But in many key areas for the vast majority of customers, it is a better machine - faster for many users, with better graphics" http://barefeats.com/macmin14.html

And that is the problem, there is absolutely no reason it shouldn't be a better machine in ALL key areas and for ALL customers. Apple purposely decided to make this a crippled machine for a smaller sector of customers, and will simply squeeze more money out of those uninformed users.

Wow, I have been a fan of iMore for a while but they are becoming too big of fan boys. Never critical, Apple does no wrong in their eyes now a days...

"Most of my customers " Here's where you go wrong. Most of your customers are evidently stupid. I imagine they are a very small percentage of the entire customer base. Furthermore if they are seeing you it's probably older computers.

Just as a background, I work for Apple and I was migrating from Windows to Mac to get myself acquainted with the operating system. I have been a Microsoft user ever since DOS 6.0. I already had a monitor, keyboard and mouse, so the mac mini was a perfect fit for me. Plus, I had other computing devices and a Mac Mini would fit on my desk, no problems. This little device is a workhorse. I also put together massive YouTube videos, in HD and iMovie handled everything.
Is the mac mini the most perfect machine ever? No. But, most Microsoft factory built machines have internal components that are soldered onto the motherboard, so the rage against this computer is kind of unwarranted. In addition, this is designed as an entry level computer, so if users want a more advanced machine, the iMac or the Mac Pro may be a better fit.
Thank you for signing up to iMore. You will receive a verification email shortly.
There was a problem. Please refresh the page and try again.