NSFW: Shut up about the new Mac mini, already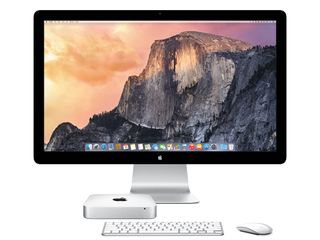 NSFW is a weekly op-ed column in which I talk about whatever's on my mind. Sometimes it'll have something to do with the technology we cover here on iMore; sometimes it'll be whatever pops into my head. Your questions, comments and observations are welcome.
I've seen endless bitching in blogs and social media about the new Mac mini Apple unveiled last week. So much so that I've seen some people recommending that you forget about the new Mac mini all together and get the older model if you can find it. That's incredibly stupid, because it ignores the actual needs of a lot of people who buy these things. Let me explain.
Some of the complainers are put off by the fact that you can't get a quad-core processor anymore; more are upset about its use of soldered RAM, instead of an easily user-accessible DIMM slot like there was on the 2012 model. I understand both the complaints, but I'm not entirely sympathetic to them.
CPU upgrade, flexibility downgrade
John Poole, Primate Labs founder (makers of Geekbench), laid out his explanation of the quad-core issue in a recent blog post. According to Poole, it's all about the difference between Haswell and Ivy Bridge CPU architectures.
Poole said that Apple would have had to produce two different main logic board designs to accommodate a quad-core Haswell processor. That's something Apple didn't have to do with the previous-generation Ivy Bridge processor found in the 2012 model — the quad-core and dual-core chip variants were socket-compatible.
Apple's simply not going to increase production complexity by coming up with two distinct logic board designs for the Mac mini. It's a relatively low-margin, low-volume product.
Baa RAM Ewe
As far as RAM is concerned, yeah, you used to be able to just unscrew the bottom panel and pop more in. But realistically, how many Mac mini customers ever did that? Based on my own experience selling them, fairly few ever do.
Most of my customers even with Macs that can be upgraded — and they're getting fewer and fewer as each year passes by — usually opt to replace their Mac rather than put more money into it. What's more, many of my customers don't have the slightest damn idea what RAM is.
"How much memory does your computer have" often elicits either a confused look or a response that confuses memory with hard drive space. And they don't care. I can count on one hand the number of customers I've sold a Mac to who have ever asked me if they can upgrade the RAM on their computer. Upgradable RAM is not a compelling feature for many Mac customers.
The case to be made for upgrading RAM is mainly from customers who don't want to pay the "Apple tax" on extra memory. Apple does overcharge for memory upgrades, compared to fair market value for equivalent DIMMs. It's an example of where Apple is able to squeeze extra margin out of its hardware sales, and it's one of many reasons Apple is so successful at what it does.
1.4 GHz and 4 GB RAM is exactly what you get on the MacBook Air. The critical difference is that the Mac mini uses a regular old hard drive, instead of flash storage like the MacBook Air. How's it actually stack up? I'll tell you all about in the coming days, because I have one. I've been busy with other stuff and haven't had a chance to crack the wrapper on it yet, but I can't wait to try it out and let you know how it does.
The low-end configuration also gets the Mac mini back to its original $499 price, where it was when the device first debuted in 2005. And that may ultimately drive some new, price-sensitive customers to the Mac platform.
If nothing else, the new entry level model is an opportunity to get people in the door then upsell them to the much better-equipped $699 model, which comes with a 2.6 GHz processor, 8 GB RAM, faster graphics and double the hard drive space. You're not paying $200 for memory - you're paying $200 for a lot more functionality all the way around.
Goodbye mini server
The one segment of the market that's clearly underserved by the new Mac mini — and this group of customers I really am sympathetic to — are IT pros who have been using the Mac mini as a server. In fairness, people using Mac minis as servers got robbed this time around.
Apple discontinued the rack-mount Xserve in 2011 but pretty quickly replaced it with a Mac mini in server trim. Priced at $999, it was a good little server configuration for workgroups and small businesses: The quad-core model sports two 1 TB internal hard drives that could be configured in a RAID, and it included OS X Server pre-installed. Pop it out of the box and onto a shelf in your server room, and you'd have a nice little machine to serve a bunch of people e-mail, web pages, files, whatever you might need.
That server configuration — any server configuration — is gone with this round of Mac minis. If John Poole's intel is right, it doesn't sound like Apple had much of a choice, Haswell chips being what they are, but it's still an unfortunate omission. Quad-core processors outpace dual-cores for multithreaded operations like many chores that servers do, so this is one area that the new Mac mini is really bound to suffer in.
You can still download OS X Server for $20 from the Mac App Store and install it on a Mac mini, however. One upside is that the new Mac mini is that it comes with Thunderbolt 2, so if you do decide to outfit one in server trim, you can hook up a really powerful external RAID to it. Gigabit Ethernet is still included, and Wi-Fi is faster this time around, too - 802.11ac, just like other Haswell-based Macs.
The bottom line
I'm not saying the Mac mini is the perfect Mac configuration, nor am I saying that this new model is a home run hit compared to its predecessor. But in many key areas for the vast majority of customers, it is a better machine - faster for many users, with better graphics, better Wi-Fi, better expansion in the form of Thunderbolt 2.
People who are complaining about the Mac mini fall victim to a logical fallacy I see illustrated over and over again on the Internet, almost every day: The belief that if something is not right for me, it's not right for anyone. It's stupid, and it's shortsighted, and it's ignorant. And I wish people who do that would stop. But it takes critical thinking skills that many people simply lack.
On balance, you have to look at the greater population, and recognize that even if this Mac mini isn't what you were hoping for, it's better in many ways that actually count to most people who buy it.
How about you, though? Are you disappointed with the new Mac mini? Or do you think the complaints are overblown? Let me know what you think.
Master your iPhone in minutes
iMore offers spot-on advice and guidance from our team of experts, with decades of Apple device experience to lean on. Learn more with iMore!