NSFW: Your Mac is not a toilet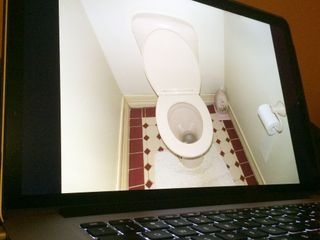 A note to Mac users: Stop letting your pets and your kids use them as toilets.
I really don't know what the hell is wrong with people, but in the store I work in, I've seen a few Macs come in in really sorry shape.
One iMac came in for repair because it stopped booting. It was a major equipment failure caused by overheating. The convection vents at the top were completely blocked. That prevented the fans inside the iMac from venting the hot air.
The reason they were blocked? Apparently the owners of the iMac also had birds - large ones, from the look of things. And they let the birds perch on top of the computer when they were working, to keep them company. And the birds went to the bathroom.
The back of the iMac was literally caked with guano.
Now I ask you, what kind of person does that? And what's more, what kind of person thinks it's reasonable and appropriate to present a computer covered in bird crap to a repair facility? For goodness' sake, take a damp rag to it and wipe it down first.
Some people utterly lack common sense. Or, for that matter, any semblance of decency.
More recently, we had a laptop come to us for service that wasn't working right. When we noticed there was a peculiar odor coming from the keyboard, the owner reluctantly admitted that her pet dog had peed on it.
Peed on the computer. Why did the dog pee on the computer? Did she have a fire hydrant screensaver?
Didn't she figure we were going to discover what had happened eventually?
But one of my coworkers had a story that topped them all. He'd first worked at another area Mac retailer — another independent shop like ours. Apparently a father had brought in his teenage daughter's MacBook Pro after she said it mysteriously stopped working. As soon as the tech got the machine on his bench, he was hit with the overwhelming stench of vomit.
Once she was confronted with a question about the source of the vomit, the girl tearfully confessed that she'd gotten drunk with friends, thrown up on the Mac, and done the best job she could cleaning it up.
Needless to say, none of these events are covered by Apple's warranty or by AppleCare. So in each and every case, the owner of the Mac was out of luck at getting their computer fixed without spending
That dog pee one was the straw that broke the camel's back at my store. That one made my boss at the store implement a new "no biohazards" policy. We are not, under any circumstances, to accept any machine that's been contaminated with the excretions or secretions of any creature, human or non-human.
Obviously accidents happen. I've seen more than one MacBook come in that isn't working because liquid has been spilled on it. Sometimes it's soda, sometimes it's wine, whatever it is, liquids and Macs don't interact too well. Still. we get used to having the Mac around our food and beverages sometimes, since we use them so much. As much as I hate to see it happen, I can at least understand why it happens.
But it's still much more mystifying to me as to how and why these things get contaminated with really nasty stuff.
The bottom line is that if you puke, poop or pee on your Mac — or if someone or something else does it for you — don't count on getting it working again, at least not with the help of your friendly neighborhood Mac repair shop. We have quite enough to do without having to don biohazard suits to clean your Mac.
Get the best of iMore in your inbox, every day!
Despite my warnings, my teenagers used to leave their Macs in the living room on a table or end table with two dogs in the house. Luckily, they never ended up on the floor or under a dog (plus, the dogs never peed in the house after their early months of life), but I can see how that would happen in some homes....when kids are irresponsible and leave their expensive computers lying around!

Use to be a time when folks cared about their stuff.
Now it is just stuff and they just don't care.

Well, not holy. Unholy. Definitely unholy. ;)

Yep, I have seen the pee and the puke, and one filled with roaches and other bugs as it had been stored for a year in a barn. We had to fumigate the place after that. Not to mention all of the spills we get with people who think we will not know. We even had one guy leave a nasty complaint about us, which went against our store, because his was so bad we sent the laptop directly to Apple, and he thought it was unreasonable to charge as much as Apple did for a problem that was obviously there, when obviously it was not. He even said he took it to another "PC repair" person several miles away who he, and this is the truth, admitted was being run out of the back of a nail salon, and that the guy there is the one who messed it up. When he came to us all he did was complain about this guy when it was evident the guy knew exactly what had happened but was wanting to stir things up to try getting it fixed under his warranty. So, it never ceases to amaze me what people will do to cover up what really happened. I have tried to get my boss to put a no biohazard rule in place, but he refuses. But that doesn't mean I'm not going to do it anyway. There are just some things I will not work on anymore.

I once dropped my iPhone 5 into the toilet. I reached down to flush and the iPhone fell out of my shirt pocket and into the drink. Applecare provided a replacement, though I did have to pay a deductible. You get two catastrophic events.

I have worked in a AASP for 25 years. I was off work for the last year and returned just a week ago to start work as an ACMT. I quit precisely one week later. I have had enough of people bringing in their Macs with absolutely nothing wrong with them, yet insisting that they're broken. I have had Macs come in that were soaked in cat piss, a young man puked all over his 17-inch MBP, a PPC G5 full of spiders, and one iMac so full of cigarette tar it was inoperable. I quit because I am sick of fixing computers. I am sick of entitled Mac users thinking I owe them something because they spend "3000 dollars!" on a MacBook back in the day. Mac users are the worst, they're arrogant assholes who think everything should revolve around them. So to asshole with the 17-inch PowerBook G4, you're an asshole and there's only one screw holding your logic board in place. To the woman who screamed at me for an hour because there's nothing wrong with her optical drive, fuck you, I replaced it, but I wrote in detail under the optical drive how much of a cunt you are. Oh yeah, all those idiots who didn't think to bother with a backup, yeah, your drive was ok, you're a fucking retard and believed me when I said your drive was no good. Yeah, I drilled it. Drilled a hole right through the picture of your stupid snotting nosed kid at his first birthday party that you lost because you are too fucking stupid to buy a backup drive. Fuck you. To the lady who lost all her emails from her dead husband, fuck you, you nasty dried up cunt. That'll be 95$ plus the cost of the drive which has been jacked up 75%. Fuck you.

Jesus, me too. That was an unbelievable tirade.

Probably good you're not working with the public anymore, though I can relate with being fed up with customers.

Great entertaining rant, no doubt about it retail sucks, no matter the product.

Wow, perhaps you should never ever work with the public.... Sent from the iMore App

Honestly, I'm not surprised you had that many problems with people if you're the kind of person willing to use words like that to describe them. Many of those words should *never* be used to describe another person, let alone a female. I've worked plenty of customer service in my life and the ones who describe "stories" like that are usually the ones that don't last long.

That's so true. I've been in retail for nearly 9 years and I've had some mad customers but never stories like that. Your attitude about people directly effects how people treat you.

Pretty funny that people p1ss and moan about doing their job. If you dont like repairing computers that get used and abused - go find something else to do? Not every issue is going to be a kernel issue requiring the re-flashing of the BIOS. You people (author of this article included) need to go find another line of work. Dont forget - you people have jobs because people dont take care of their stuff. If they did - you'd likely be in the unemployment line.

You people (author of this article included) need to go find another line of work.

Wow, judgmental much? Look, the vast majority of the people I come in contact with in my second job at the store are fantastic. In fact, they're the reason I still do it. Because it's really fulfilling work to have specialized knowledge that you can share with people, educating and enlightening them about stuff that confuses them. People like the customers I've described in my editorial are the edge cases — the extreme situations where the boundaries of common sense and common decency that we all expect to be treated with completely fail.

Even so, you came off pretty angry and bitter. Maybe it was intended for comedic effect but it didn't come across like that.

That's actually the whole point of this particular editorial series.

Servicing PC's has almost brought me to the same point.
Certain clients can almost make you go clock tower.
I used to be 100% honest about the computer's problems, and bent over backwards to make things right. Most of the time all it got me was endless unpaid hours of extra work, and explaining and re-explaining the issue to clients who seemed to make deliberate efforts to ensure the information went in one ear and straight out the other.
I kinda like your some of your ideas about revenge - about forgetting to educate and aid certain clients, and just doing whatever the hell will make your job easiest and most profitable.

Some computer experts have to understand that computers and computer jargon is still difficult for a lot of people. I'm sure someone could talk about needlepoint or baking to you and the information would "go out one ear and in the other." Bottom line is, if you serve the public, you have to be able to gauge their knowledge and communicate with them appropriately. As easy as Apple products are to use, they could get much easier. Sometimes it's hard to explain the issue, sometimes they're angry, but that doesn't matter. I would draw the line at biohazards though. It's a real safety issue for the technicians. The revenge ideas are just deplorable. If found out, at worst, you could be criminally prosecuted. At best, it just makes you an asshole. Rise above it.

Maybe one should get a computer that's easy to clean and service. All current Macs fail at both, so no wonder you support guys have to deal with that kind of disasters. The company to blame is Apple alone for designing computers where the concept of 'easy acces' is relegated to something less than an afterthought and sacrificed for an almost fetish-like devotion to design. I've switched the keyboard of my Lenovo X220 twice over the course of three years because of drinks being accidentally poured on it (once by myself, once by another person). The total cost (with shipping) for a brand new keyboard module was around $35.

I once had to replace the capacitors in a Compaq. That was easy enough, and cheap! Then another time I had to re-attach all the pins on a PPC 603ev thanks to the most particular tornado ever seen. In 1924 I had to change the crankshaft in my Model T, but Henry Ford said to get bent. I replaced my own spleen and it only cost $29.50+S&H. Darn Apple!

Will you please give that Iphone back to your dad, will you?

I spend much more time using computers than repairing them, so it seems more prudent to choose one based on how well it performs for me vs. how cheap replacement parts are.

You should see how well people take care if their cars. Gross! Sent from the iMore App

Every week or two I'll pass by a parked vehicle whose dashboard is covered in trash, or stuffed animals, or other objects — and often the passenger seats are similarly adorned. Seems incredibly dangerous to me, since any of the stuff left not bolted down has the potential to be projectile in an accident, or can cause obstruction either to the driver's view or, if it rolls in the wrong place, an obstruction to the proper operation of the vehicle. What's even sadder is when you look in a car and realize that it must be used as housing for someone.

Peter, I was wondering if you had seen any retina MBPs damaged from overheating because they were hooked up to an external monitor and kept closed? I have read some posts on the web saying it was a problem and others saying it wasn't. I prefer to hook my laptops up to a larger screen when at home but have been considering a rMBP 13 as my next computer.

I have not. I use a larger screen on my 15-inch rMBP when I'm in my office, but I keep the lid open (and use both screens).

With the 13 only having integrated graphics, I figured it was best to not try to drive two monitors at once. Thanks for the reply and it is good to know that you haven't seen that before. That would probably be covered by AppleCare anyway right?

Apple actually spells out the procedure in a tech note, so it passes muster with them.

Some people are just moronic. And have no damn sense. And they have the mistaken notion that because you are a repair person you are obligated to repair their crap just because they are paying. Hey if you can afford to have your animal, kid or Sasquatch crud up your Mac you can afford to buy a new one. Sent from the iMore App

Your logic escapes me. Aren't repair shops the place where people PAY someone to FIX something? This isn't an entitlement, it's a service. People in that business should be OK with it or go find another occupation. "If you can afford...you can buy a new one". Now that's the most baffling thing I have heard in a long time.

While I agree, that yes, they should expect a repair shop to repair their product, I also think that a repair shop should be able to charge an additional fee for special cases. Take the example of the mac covered with bird shit, that smacks of an extra fee to me. The same applies to anything with urine or other biological agents. Also, if you spill a drink on your laptop and it breaks, then you should be ready to pay to have it fixed and not expect a standard warranty to cover it. I tend to buy accident protection for my laptops, but that is because I sometimes work in a restaurant or am behind and try to eat while working.

People in that business should be OK with it or go find another occupation.

No, people in that business certain

don't

need to be okay with it. Businesses can refuse service to whomever they'd like for whatever reason they'd like within the letter of the law. And there's absolutely no federal or state statute that I'm aware of that requires the shop I work in to accept devices for repair that have been used as repositories for human or animal secretions or excretions.

Biohazards can be a real health hazard for technicians. Excrement, urine, etc. are all ideal places for bacteria and mold to proliferate. Way more than dry electronics.

I got tired of dealing with other people's mess. They would call me up and ask me to fix their PC's and had to explain to them that a 15 year old PC that was a 'Walmart' model was not a good PC then and maybe they should just replace it. I opened up one PC and it had so much hair and fluff in there along with spiders that I had to vacuum it out before I could do anything else, and I don't mean one of those cutesy little vacuum cleaners I mean a big household cleaner and there was enough crud to fill the dirt collection container. People are gross, have no understand that something that is perfectly normal to them IS NOT NORMAL for everyone else. I get too grossed out these days and I just don't want to deal with other people's dirt and grime and computer hygiene problems.

Is this journalism or venting? Jeezus, relax man. It's just a computer. Sent from the iMore App

It's neither. It's an opinion piece.

Good grief, why would you let a bunch or birds perch on your Mac and dump on it? That's ridiculous! It's a $1000 machine! People, use your brains!

A year later, that one still makes me shudder. What was so astonishing to me wasn't just that they let the birds perch there, but that they made no effort whatsoever to clean it up before they brought it in — as if a computer covered with guano was no big thing to them. Made me wonder what the rest of their place looked like.

ha ha ha. great article grandmaster peter C. keep em coming and keep up the good work. Apple store confessions. coming to an iBooks near you. Sent from the iMore App

Although I have seen some gross Macs during my 25 years of servicing desktops and laptops, the worst was an old Compaq running a single task (printing product labels) in a dried fruit warehouse. It was in the days of Vista and this old piece of iron had been running Windows 95 unattended and unserviced for at least 5 years 365/24/7 but had finally upped and quit. They called me to take a look. I wish I hadn't. Pulling off the side cover, a mountain of dead and living roaches, fur, fluff, and what looked like some sort of dust (aka roach shit) from years of roaches feasting on dates, figs, apricots and every other dried fruit literally poured out in a slithering jelly like mound. How on earth the fans had kept spinning amid the crud was the 8th wonder of the world. I jumped back, advised them to vacuum up the crud while wearing a very good dust mask, and told them to buy a new PC and a pest control contract.
Even remembering it now makes feel kind of cootie—think I'll go get a bath!

I used to work for a rent to own store years ago and although not the most illustrious job in my time, it paid the bills during hard times. Needless to say, the number one thing that destroyed our computers (next to porn and malware) was roaches infesting them. Apparently the little bastards are attracted to the heat so they get in there and die and their little carcasses burn up inside which draws in even more. Hope nobody reads this while eating but just keep this in mind folks.