Olloclip brings telephoto lens to iPhone and iPod touch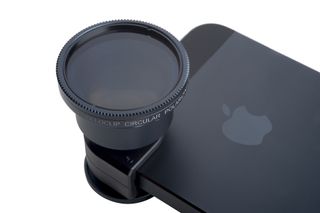 Olloclip's (opens in new tab) 3-In-One lens system has won rave reviews from iPhone-wielding photographers. That kit includes fisheye, wide angle and macro lenses, and Olloclip has just introduced a companion telephoto lens that helps you get crisp, clear closeups like never before.
The telephoto lens - sold separately from the Three-In-One lens kit, costs $99.99. It provides 2x magnification compared to the built-in lens on the iPhone and iPod touch. It works with the iPhone 4S, iPhone 5, and iPod touch 4th and 5th generation models. The device clips on securely to the iOS device without marring the finish. Also included is a Circular Polarizing Lens (CPL) filter, which blocks out light coming in at angles you can adjust by turning the lens. The CPL also works with the lenses included in the Three-In-One kit.
Look for it at major retailers including Apple this month, with Best Buy to follow in August.
The Olloclip 3-in-One lens system thrilled our own Leanna Lofte and Rene Ritchie when they got their hands on one for the first time last year at CES. Earlier this year Olloclip released a free companion app that helps control distortion effects created by the lenses included in the 3-In-One lens system.
Have you used the Olloclip lenses? What do you think? Or do you not want to clip on something additional to your iOS device? Tell me in the comments!
Get the best of iMore in your inbox, every day!
I love my Olloclip, and will definitely pick up the Telephoto! That was the only thing I felt was missing so I am thrilled they added one.

It's too bad they don't make a model that will adjust to thickness. The adjustability would allow people running cases to use it. I'm not going to take me case off every time I want to use it. They may not care about that market but as part of that market I care. Sent from the iMore App

Right there with you.......I own 2 of the basic "3-in-1 olloclips", one for my old 4s & one for my 5. While I've definitely gotten some good use out of 'em & don't regret the purchases at all, if they were adjustable to fit cases I would use 'em 100x more. Having to take off the case is a p.i.t.a. just to take a photo & I would absolutely buy an adjustable model.......hell, I'd even pay a few bucks more for it.

I'm no expert on the matter, but I believe that pulling the lens further away from the sensor would require some compensation and retuning. Not sure that is practical or even possible.