OS X Mavericks preview: Safari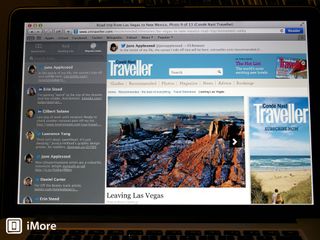 While it's great to have a boatload of improvements in the operating system, few of us would be able to use OS X Mavericks for too long without having to surf the Web for something. So it's good news that Apple is improving Safari for Mavericks as well. Many of the enhancements are under the hood tweaks aimed at improving performance, but there are some new features to talk about as well.
The pseudo-3D gallery interface for Top Sites is gone in the new Safari, replaced with a flatter look that complements Apple's new flat design philosophy. There are some functional changes, as well - you can add sites from your bookmarks, and you can rearrange top sites by clicking and dragging thumbnails around.
A new plus button has been added to Safari's toolbar, which provides one-click bookmarking. And a new Sidebar interface consolidates bookmarks and your reading list, making it easier to locate links you'd like to follow. Web pages you've marked to visit in your reading list will now scroll consecutively, so as you finish one web page, another one will load automatically.
A third tab is added to the new Sidebar called Shared Links, and that provides a social component that's new to Safari: links shared by people you follow on Twitter and LinkedIn. You can also retweet links you're visiting directly in Safari.
Here's what Apple has to say about Safari's interface improvements in Mavericks:
Performance and efficiency improvements are also key to Mavericks' new version of Safari. Apple says that JavaScript execution is 1.44 times faster than Chrome, beating Firefox as well (at least according to the SunSpider JavaScript benchmark), while JSBench suite testing shows Safari as 3.8 times faster than Firefox, handily beating out Chrome as well.
Apple's tests also show that Safari is more memory-efficient than Firefox and Chrome, while - thanks in part to Mavericks' core improvements, as well, CPU efficiency in Safari is almost three times better than Firefox, and leaps better than Chrome too.
Have you ever heard your Mac's fans spin up when you load a processor-hungry Web page but send it to the background? That problem should be solved when Safari for Mavericks makes its debut - it takes advantage of Mavericks' new App Nap function, which tells the CPU not to waste cycles on Web pages that aren't front and center. That should improve battery life on laptops.
Safari for Mavericks isn't radically different than Safari under Mountain Lion, but it doesn't have to be - Apple's already got a class-leading Web browser, and it's making some gentle interface tweaks that should improve the experience across the board. But as with a lot of Mavericks' other enhancements, the real improvements to Safari are under the hood, providing better efficiency and improved performance for all.
Are you looking forward most to performance and efficiency improvements in Safari, or are the new features like the Sidebar and one-click bookmarks more important? And do you think that adding a social component via Shared Links is a good idea, or have you had enough of social networking? Let me know what you think in the comments.
I'm loving the battery improvements, on my 2011 13" MBP I used to get 5 hours now I get 7!

me too, a 2009 from 3 to 5!

Definitely looking forward more to the new sidebar. The endless scrolling through reading list / social shared articles looks really cool.

The performance/memory improvements are greatly anticipated. I use Safari 99% of the time. I just hope they improved the bookmarking functionality. I have a TON of folders and subfolders. So now when I add a bookmark and have to search for the appropriate folder, the expanded hierarchy, shallow indenting, icons and text in the list make it very difficult to quickly identify the target. Definitely not a fan of adding bookmarks in Safari. FF is not great but the folders are expanded by default and it allows you to click/drag to reorder directly from the bookmarks toolbar folders. A balance between Apple simplicity and FF functionality would be very nice.

All I want is an option to stop Safari from reloading every page when you go back, is that an option finally on the new version?

I mostly want scrolling to work as smoothly on my RMBP as it does on my iPad.

I'm looking forward to the power and performance enhancements.

Well, I really have enough of social networking. With lion I was feeling that my working-machine was being turned to a chatting-machine, now, with mavericks, I finally see again a real OS improvement, like snow leopard was.
I look to performance, and it works well, also in safari (i am in preview 8). The sidebar is good, but it lacks still of organizing features, colors and TAGS (as in files) won't be bad.
Thank you for signing up to iMore. You will receive a verification email shortly.
There was a problem. Please refresh the page and try again.