Hands-on with the Osmo game system for iPad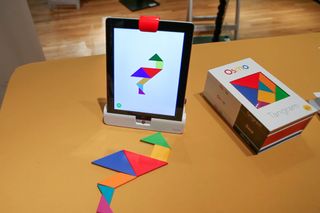 Osmo (playosmo.com (opens in new tab)) is a hardware gaming device for kids that connects to any iPad. They have just started shipping after getting more than $2 million in pre-orders from over 2,000 schools. How does it work? It turns physical objects and interactions into digital game elements. You need to see it to believe, so go watch the demo on video.
An important piece of Osmo is the reflector that needs to be placed over the iPad's front-facing camera. This lets the iPad see the entire surface in front of the Osmo stand. Osmo then converts whatever it sees into data that can be used with the game that is currently playing. A stand is also included, however there is nothing technical about it. You can use it for general iPad use, too.
There are currently three games to start with. With Tangram, you need to arrange tangible puzzle pieces to match what's on the iPad. With Newton, you need to use objects like a hand‑drawings, glasses, keys, or anything around you to guide falling on-screen balls into targeted zones. With Words, you need to guess and spell out the on‑screen hidden word by tossing down real‑life letters faster than your friends in front of the iPad. The hint is in the picture.
To extend the games, there is an online platform accessible at my.playosmo.com. It lets players to create their own Osmo content. For example, you can upload images and enter new sets of words into the Words game. One great example usage from this is mapping students' faces with their names.
When you order Osmo, you receive the kit, which includes the reflector, iPad stand, wooden tangram shapes, and words tiles. The iPad 2, iPad 3, iPad 4, iPad Mini, iPad Mini Retina, and iPad Air are supported. Pre-orders currently cost $79, but orders will not ship until November 2014.
How do you feel about Osmo? Will you buy this for your kid?
Get the best of iMore in in your inbox, every day!
But first, let me take a selfie.
This looks pretty cool! If I remember, this would make a great birthday or Christmas gift for my youngest child.

Incredible! and 80$ is a great price point, imagine where this could go.

Its a good idea but so far its too simple. The exaggerated excitement from the children in the ad made me cringe. I have two girls aged 13 and 8 and they play a lot of games on their iPads, i can tell that this one would keep my youngest entertained for about 5 minutes before she'd be back to angry birds or pvz my oldest wouldnt even look at it im sure. Sent from the iMore App

Beta-tested these from an educator perspective. Pretty impressive tech, but a few quirks in the UI. The best aspect for classroom use was as a small activity competing on word vocabs in various units. Could do with a time-based challenge though!

We got this for my son. He's 6 and loves it. Although the latest tangram update wiped out his progress, it still a fun toy. We preordered I back in June when the price point was $49, and that price it was a good investment. I am still holding out to see the future holds for OSMO. My 2 year old shows interest in it already but he is too little to really understand it to have fun with it. Sent from the iMore App
Thank you for signing up to iMore. You will receive a verification email shortly.
There was a problem. Please refresh the page and try again.