OtterBox Resurgence case for iPhone 6 includes backup battery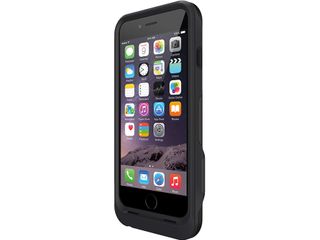 (opens in new tab)
OtterBox kicked off a new series of iPhone 6 cases this week called Resurgence, which includes an embedded battery. In addition to providing respected protection, the 2,600 mAh battery should provide two full charges while still providing access to the Lightning connector and headphone jack. The Resurgence cases boast a smart charging system which shuts off the backup battery once it detects your iPhone 6 is at full capacity.
The Resurgence case for the iPhone 6 will be available soon for $99.95 in black, red, grey, and green. Here's the press release with more information.
OTTERBOX REVEALS RESURGENCE POWER CASE FOR IPHONE 6 AT CES 2015
LAS VEGAS, Jan. 5, 2015 /PRNewswire/ -- OtterBox, the No. 1 most-trusted brand for smartphone protection, gives a sneak peek of upcoming innovations at Pepcom! Digital Experience @ CES 2015.* At this show before the show, OtterBox will go beyond protection, highlighting the latest technology and accessories for smartphones and tablets.
OtterBox Resurgence Power Case for iPhone 6 is newly designed and allows users to unplug and go further with two-times the battery life of the device and military-grade drop protection.
"Resurgence is one of the most innovative product lines we've ever released," said President and CEO Pete Lindgren. "At CES, we'll preview the year ahead with fresh designs that incorporate new technology, all in line with our legacy of engineered confidence and trusted protection."
Resurgence boasts 2,600 milliamp hours (mAh) of battery power, providing more than two-times the battery life of the iPhone 6. The two-piece snap design simplifies case assembly and removal. Resurgence is made up of a specially formulated polycarbonate to improve impact resistance and absorb energy from drops and bumps. The case is rigorously tested to meet MIL STD 810G-516.6, a third-party test that drops the case on all faces, edges and corners from four feet.2 The new design incorporates compact advanced circuitry, resulting in a smaller profile.
The iPhone 6 battery case utilizes auto-stop technology, which conveniently shuts off the case when the phone has reached full charge, saving extra battery for later. Resurgence supports both wired and wireless syncing without removing the case and includes a headphone jack extender.
Resurgence Power Case for iPhone 6 will be on display at Pepcom! Digital Experience @ CES on Jan. 5 and on the CES show floor in North Hall Booth No. 4727. For pricing, availability and more information on OtterBox or Resurgence Power Case, visit otterbox.com.
Source: OtterBox (opens in new tab)
Editor-at-very-large at Mobile Nations, gamer, giant.
A major complaint with battery cases is lack of charging with a lightning cable. What does "provide access to lightning connector and headphone jack" mean? Does it use a micro D like everyone else? And does it need an extender for the headphone? I like Otterbox protection, and had good luck with a Mophie previously, so combining that into one is appealing.

How's the built quality since Otter box has been having lots of problems with that for recent iPhone 6 cases. There are lots more cheaper alternatives then this which will surely be a bit expensive only for brand name but o well Posted via the iMore App for Android

@teepeeayy: I don't know if Apple would allow the use of a lightning port in products that aren't made by them.

Would love to see more 6+ cases. Sent from the iMore App

Looking at their website, the picture all the way at the bottom shows a micro USB connector. The iPhone 5S model is already available. Best Buys site shows it coming with a micro USB charging cable. Seems like just another Mophie to me. My docks at home and in my truck are all lightning and I don't want to have to take off my case to use them so this is pretty much useless to me. They should just wait for a couple of weeks until the new accessory ports Apple is releasing for accessories become available. Apple specifically stated in their announcement that the ports would enable things like passthru for battery cases and headphones that use lightning instead of the regular headphone jack. As it stands, this is just a me to product that any two bit company could produce. Without differentiation why would you want to risk this product from a company that's never done batteries before when you can get the same thing from a company that only makes them and for the same price. Sent from the iMore App
Get the best of iMore in in your inbox, every day!
Thank you for signing up to iMore. You will receive a verification email shortly.
There was a problem. Please refresh the page and try again.