Outlook 2016 for Mac gets a revamped editor for resizing pictures and more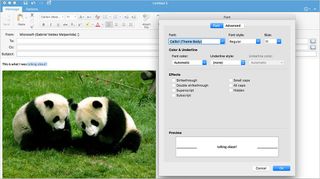 Microsoft is rolling out a new editor for the Outlook 2016 email app for the Mac. It includes new support for resizing and formatting images along wth more options for fonts, colors and lists.
Microsoft described the photo editing features in a blog post (opens in new tab):
Microsoft also talks about the new font features in the editor:
Members of the Office Insiders program can try out the new Outlook editor features now, and they will be rolled out to all Mac users in mid-May. Microsoft plans to add more features to the editor in the future, including support for Tables.
I have been writing professionally about technology and gaming news for 14 years.
I have to say, Outlook for Mac looks beautiful. It has that old Apple feel to it ... Sent from the iMore App

Agreed, it looks great. Now if only it would work with my Apple calendar and contacts - like the iOS version.

Fantastical for Mac is the way to go for calendars. Sent from the iMore App

How about just supporting CalDAV calendars? Some of us use Google Calendars at work, not Exchange and I can't use Outlook for that reason. Funny thing is Outlook for iOS (which had a different developer) does an excellent job of supporting CalDAV calendars!

I don't even use a mail app on my Mac. I just use the web version of Gmail and for calendars I sync my Google calendar with iOS. I don't even open the mail app or calendar app on OSX. Sent from the iMore App

Not to mention contact support as well. I would be willing to try Outlook if they supported all of the standard interfaces that every other app available on the Mac does.

While MIcrosoft has made great strides on the Mac front, Outlook for Mac beyond version 15.19 is broken. The Mac OS system prefs for text replacement stopped working. This is a basic OS level integration that used to work and needs to be fixed. I don't want or need a third party app to replace text when it's already built into the OS. I'm hoping Microsoft is paying attention.

Agreed, since 15.19, Outlook prompts me for my AD credentials every time I open the application, with no resolution in sight. Furthermore, Office for Mac 2016 pales severely in comparison to Outlook 2016 for Windows. I have it running in a VM and the experience is significantly better in Windows.
Thank you for signing up to iMore. You will receive a verification email shortly.
There was a problem. Please refresh the page and try again.