Pages, iBooks Author, and eBooks creation: Everything you need to know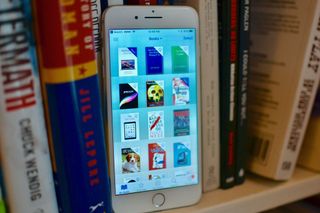 (Image credit: iMore)
At Tuesday's Apple Education event, the company announced that for the first time, students and teachers alike would be able to build and export ebook projects directly on an iPad or iPhone. It's a pretty exciting feature — but one that was quickly met with concern from longtime iBooks Author users about Apple's silence on the prosumer book-editing app.
Curious about what's going on with iBooks Author and Pages ebook creation? Here's how it breaks down.
Why can you edit ebooks in Pages now?
Fun fact: Before iBooks Author was even a twinkle in someone's eye, Apple's eBook creation tools were found entirely in the Pages app. (Even more fun fact: Apple's iWork team is responsible for both iBooks Author and Pages — so it's always been the same engineers working on each program.)
Back in the early ebooks days, it was common practice to edit a manuscript in Word (or Pages) and send that file to a design program like InDesign to get packaged as an ePub; with ePub 2, Apple introduced support for direct export in Pages, allowing users to export rudimentary ebooks.
But that export tool was haphazard and poorly labeled: Some Pages features worked in the resulting ebook file, others didn't work at all, and there was no indication as to what would render until after you exported your file.
After iBooks Author was introduced as a way to create great-looking fixed-format ebooks, Apple updated Pages to export flowing ePub 3 files, but those files were still extremely rudimentary and based entirely around paragraph styles, with no support for most of Pages' multimedia options.
This latest update to Pages brings a full-featured ePub 3 book-editing experience to the Mac, iPhone, and iPad — there are multiple templates for both free-flowing and fixed-format ebooks, with support for text, multimedia galleries, custom styles, drawings, and video.
ePub 3? What about iBooks Author's .iBooks format?
Pages has always exported files as .epub, and will continue to do so. It's an open format, and it means your books will be available for all devices — not just Apple's iBooks software.
Can you open ePub, .iBooks, or .iba files in Pages?
Nope. As before, you can only open .pages or .doc files in Pages. (And yes: That means you still can't export an ePub, crack it open and do some editing, then re-import it into Pages for more editing.)
Okay, but… what's happening to iBooks Author? Why the silence from Apple?
iBooks Author isn't going anywhere (yet). It's not being discontinued, .ibooks files will still work in the iBooks app, and you can make them to your heart's content.
And that's important, because Pages's ebook creation — while much better than before — is still in its rudimentary stages. Support for things like quizzes, HTML5 widgets, and popovers just don't exist currently on the Pages side.
But will iBooks Author be around forever, the Logic to Pages's GarageBand? I'm thinking no.
It's clear that the iWork team has done a lot behind the scenes to completely rewrite their ePub export tool with all of Pages's features in mind, and they've done so in a way that still makes it ePub 3 compatible — no proprietary iBooks format needed.
As the software continues to evolve, it's clear that the iWork team want a unified, easier experience for both creating and viewing ebooks. Like with many Apple apps before it, that sometimes means going back to the drawing board and starting from scratch.
This isn't Apple's official position: Everything I've heard has them simply saying that iBooks Author isn't going away anytime soon.
But the writing is on the wall: Apple wants to build an experience that works with ePub 3 without the need for proprietary formats, and that experience is being built inside of Pages. The app may not have feature parity with iBooks Author yet, but when it does, I expect the older ebooks program to disappear in favor of its more flexible cousin.
Could that code make its way back to a new version of iBooks Author? Maybe. But it makes a lot more sense to have one app for building PDFs/books/papers and the like.
But I like iBooks Author!
That's fine. It still works pretty well and people have been able to make some great books with it! But I wouldn't expect to find new features inside of it anytime soon.
Why would I want to make an ebook in Pages?
There are some great new features worth considering for making a book in Pages:
Pages has new (really pretty) book templates for both free-flowing and fixed-format books, and you can edit them by making master pages
You can build books on any platform (Mac or web or iOS) and collaborate on them
You can export ebooks directly to iBooks on your iPad from Pages, for easy previewing
You can draw directly in Pages (or atop existing images) and have that appear in your book
You want to create ePub 3 files that can be read on any platform
Why would I still use iBooks Author?
Pages is still pretty limited for more advanced ebook creation. Here are a few reasons you might want to stick with iBooks Author for the time being:
You want a glossary, intro video, and fancy table of contents
You want to use any non-multimedia widgets (quiz module, Keynote, 3D, scrolling sidebar, pop-over, or HTML)
You want to prep your book for publishing on the iBookstore
You want to do live previews of your book without exporting it
Other questions?
Let me know and I'll do my best to answer them. I'm still digging through Pages as of this writing, so I may find more pros and cons to using Pages vs iBooks Author; I'll let you know when/if I do.
Get the best of iMore in your inbox, every day!
Serenity was formerly the Managing Editor at iMore, and now works for Apple. She's been talking, writing about, and tinkering with Apple products since she was old enough to double-click. In her spare time, she sketches, sings, and in her secret superhero life, plays roller derby. Follow her on Twitter @settern.
Thank you Serenity. Frankly the only useful, informative, mature, responsible and well-researched piece of journalism the whole evening on the topic of iBooks authoring. And genuinely more informative and insightful than Apple's own presentation today.

Thank you for the detailed article. As a multiple published author on the iBooks Store, through iBooks Author, I see no value to keep updating and developing the .iba format anymore. Apple is indeed moving to unified solutions that, as you mentioned, improve the experience. iBooks Author is going to be killed slowly through the next couple of years (same way they killed iLife apps, Aperture, and other popular or less software). RIP .iba

Thanks very much Serenity for your thorough analysis. I've been puzzling over their strategy too. I've been using Pages export since before iBooks Author was available, and it does everything I need but pop-overs. I'd hate to convert a project underway to IA and learn the tool just to get that into one of my projects, especially if IA is going away. I wonder if I can view the markup IA pop-overs add in a text file and manually paste the changes into my ePub file with a text editor.