Best iPhone and iPad apps for celebrating Passover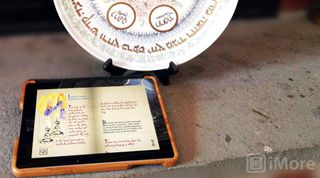 Just like at the first Passover Seder, Jews around the world will gather with their iPads around the traditional festive meal and retell the miracle of our freedom from Egyptian slavery.
OK, maybe they didn't have iPads at the first Seder, but you can be sure that lots of Jews will have their iPads out at this year's Seder. Thankfully, there are plenty of apps this year that can keep you connected to the action and otherwise engaged during some of the "less" interesting parts.
The Passover Seder is the meal that involves the telling of the story of the Biblical Exodus from Egypt. The narrative of the journey from slavery to freedom is called the Haggadah and it is filled with stories, traditional food and blessings and sometimes regional or familial customs.
Passover: The Journey to Freedom
If you have lots of kids around the Passover table, you might want to download Story Chimes' Passover: The Journey to Freedom – a free interactive book about the Exodus. This app tells the Passover story, has matching games for the kids, had beautiful illustrations and music.
Download now (opens in new tab)
Ultimate Digital Haggadah
If you want to be "green" this Passover, consider using a digital Haggadah. There are several versions in the App store:
The Ultimate Digital Haggadah, from Downhill Publishing is really a work of art. Pages look they came out of a rare illuminated Haggadah (probably because they did) and the Hebrew is magnificent. This one is a bit "traditional" in translations and not exactly "gender neutral" in its God references – but it is beautiful to behold.
Download now (opens in new tab)
The Haggadah
"The Haggadah" from Melcher Media is a more contemporary Haggadah. Text and illustrations are also beautiful in this edition and there are recipes and activities to engage the kids during the Seder.
Download now (opens in new tab)
Haggadah for Passover
The "Haggadah for Passover" from Kosher Penguin is much less expensive and is a little more like the bare bones approach found in the old Maxwell House Haggadahs. It can certainly get the job done – without the fancy illustrations and games.
Download now (opens in new tab)
In my house, I wrote a family Haggadah and update it each year. I then email it to all those in attendance (and those who are far away) as a PDF file. I then encourage everyone to use their favorite PDF viewer on their iPad or other device and follow along – being careful not to spill any of the meal on their iPad!
Sometimes, kids can get a little fidgety at the Seder, so good thing there are some fun Passover apps that can keep kids entertained both before, during and after the Seder and throughout the holiday of Passover.
Passover Matzah Ball Builder
Passover Matzah Ball Builder by Captain Mustache is sort of like Mr. Potato Head meets Passover. You add arms and legs and ears and stuff and build a Matzah ball character.
Download now (opens in new tab)
Happy Matza
Now, Matzah is not exactly the tastiest holiday delicacy. If you have ever eaten chalk, cardboard and dirt together – you have a pretty good idea of what matzah tastes like. There is an actual app that lets you digitally "dress up" your matzah – adding chocolate, jam or other tasty spreads.
Download now (opens in new tab)
<
h2>The Kosher Cookbook
Food is certainly a big part of the holiday and there is no shortage of Passover related cookbooks and food apps in the App store.
The Kosher Cookbook from Appsolute Media provides great Kosher recipes for Passover and all the holidays. One great review of this app says: "if your grandmother could build iPhone apps, she might produce something like the Kosher Cookbook."
Download now (opens in new tab)
Passover Food Street, by FeelSocial offers a nice interface with lots or recipes and tips and trips. You can also take pictures of your Passover creations and save them for future reference at Seders yet to be.
Download now (opens in new tab)
And What would a Seder be without music? Thankfully, the good folks at Rusty Brick have produced Jewish Radio to help you liven up the meal with some Jewish music streaming from stations around the globe.
Download now (opens in new tab)
So, bring your iPads to the table, load them up with these great apps and be prepared for a fun time at the Seder.
At my family Seder, we use our family Haggadah in PDF form (as mentioned above) and we set places for our kids who are grown and out of the house (some traveling the world.) This year, in those empty places will be iPads and iPhones connected via Skype and FaceTime so our kids can be with us. Since they each have an electronic edition of the Haggadah, I can call on them to participate and we can see their expressions and they can see us around the Passover table.
Do you have any Passover traditions? Are you using digital media or technology in a creative way this Passover? Let us know in this forum thread.
Get the best of iMore in in your inbox, every day!
Great selection. Will you be making a similar post for Resurrection day as well?

Leanna's looking for good ones. If you have any recommendations, let her know!

Another great app for Passover is A Cantor's Seder http://itunes.apple.com/us/app/a-cantors-seder/id509568753?ls=1&mt=8
It combines a traditional Haggadah with Cantor Hazzan Emanuel Perlman singing and narrating through it. Like having a professional Cantor at your seder! The app also includes great features like the ability to shorten your seder and only include the chapters you want, Hebrew/English language switching, custom hand drawn illustrations and more.

Great apps for reference to prepare for the Seder. Unfortunately, the iPad, along with other electronic devices, are forbidden to be used during the first 2 days and last 2 days of Passover.

Uri, you pose an interesting halachic question. If the iPad is not really off, but simply in sleep/wake mode and you use the magnetic cover to wake the device, is that considered "work?"

No, it's not considered "work". But it's not "work" from which we refrain when we celebrate Shabbat and festivals - it's "creative activity", and using an ipad is certainly considered as such. Try celebrating Pesach the way it should be done - for two days managing without all the technology that dominates our lives, so that we can really be ourselves and not defined by our "stuff".
Chag Sameach!

Very good answer, James.
Gary and James. You should both have a happy and kosher Pesach!

Yes it is. You are directly causing an electrical current to flow in order to fire the pixels on the screen. All electrical devices are not aloud to be used on Shabbos and Yom Tov. For more information on the proper observance of Jewish Holidays, please go to AskMoses.com. :)

Amazing - I was wondering if I was the only shomer shabbos reading the post - until I got to the comments! Chag kasher v'somayach bli Tapuchim!

Victor,
Have a very kosher and happy Pesach. Bli Tapuchim? Why can't I eat Apples on Pesach? ;)

You're not alone! See the crazy thread in the forums. Most people just don't get it.

I was wondering the same thing.
Chag kosher v'sameach

@Gary
+1,000,000 for posting this.

Thanks for this!
I think the most important part is for the Jewish people to celebrate the holiday the way that they are most comfortable with. Yes, there are laws that strictly forbid the use of electronics on Yom Tov, but in this modern world that we live in, if an iPad will get more Traditional Jews to participate, than by all means, let them use their iPads. I'm sure the all mighty upstairs would not mind at all!

G-d has specifically told us in the Torah how we should observe His holidays. If you're not ready to commit to keeping the holiday the way it was instructed, that's perfectly fine. Everyone has their own level of observance.
The story of Pesach is the cornerstone of our heritage. I'm happy to see that all types of Jews can observe the holiday in anyway they can.
Brian. I hope you have a kosher and happy Pesach! :)

You too Uri! Chag Samaech

Brian,
I'm interested in your assertion that you're "sure the all mighty upstairs would not mind at all". May I ask how you know? I haven't reached the level of prophecy so I'd love to know how you do it.
Seriously, this is the crux of the argument (and why Rene, who runs a fantastic website but should steer clear of theological philosophy, also misses the point). Either God wants us to do something - in which case we should try to do it the way He wants - or it's meaningless ritual - in which case, frankly, I'd rather do something more useful. You can't have your cake and eat it - even it's kosher for Passover!
Chag Sameach - a joyous (and hopefully meaningful) festival to all.

Please don't ever make me paraphrase Denis Miller again, but here it is: "I don't believe in telling other believe what or how to believe."
Everyone here on iMore is free to believe (or not believe) as they will.
When you're blind and groping towards mysteries of the universe far too complex for the human mind to even conceive, much less understand or frame, it's best to concentrate on your own groping and not waste time or energy worrying about the groping of others.
So here's hoping the commenters are generous and enlightened enough to live and let live, celebrate or not celebrate, so we don't have to close comments or threads, or refrain from posting what should be mature, culturally encompassing topics in the future. (I'm Canadian, we're multicultural :) )
Happy passover to all, in whatever manner you choose to observe it.
END OF LINE

Rene,
I think you're being a little unfair. I was replying to Brian who was telling imore readers what God approves of and I took issue with that. I also commented on your posting (since removed) in which you, a tad self-righteously, commented on how the behaviour of other Jews made you sad (which seems pretty close to telling others what to believe). Maybe others' "groping towards the mysteries of the universe" led them to a conclusion that some ways make intellectual sense and others do not.
To be frank, I was a little disturbed by the original article which, in promoting the use of ipads at the seder, gave no acknowledgement whatsoever that this would be an offensice affront to practising orthodox Jews.
I appreciate that this thread has gone in a direction rarely seen on imore, but it is a legitimate response to the theme of the article that you chose to run.
So I suggest again that you continue your fantastic website, that I use more than daily and find to be probably the best Apple-related site of them all, and leave religious topics to the sites that can offer greater expertise in such matters.
Chag Sameach

My apologies Rene. Your comment was not removed - it's still there on the forum thread which was where I saw it and mistakenly thought I'd seen it here.

I happen to agree with you James. Nevertheless, I don't think that Rene or Gary had anticipated that this article might offend orthodox Jews such and you and me. I certainly don't think that anybody at iMore meant for it to be offensive in anyway. It's simply the lack of Torah knowledge. Like I said in my first post; the apps featured are a very good way to prepare for the seder. In accordance with Jewish Law, iPads would not be aloud during that time. If a Jew decides to use an iPad during the Seder, that's their business. To say that they are observing the Holiday in the manner that G-d has instructed us, would be false.
I hope everyone has a Kosher and Happy Pesach.

Sorry Rene, but I just can't resist posting this in response to what you've said:http://www.clayjones.net/2012/03/six-blind-idiots-and-an-elephant/
I'm all for generous, enlightened, (and multicultural Canada)... but IMO, that simply means keeping things civil (tolerance), not refraining from disagreement over important matters (politically correct). First, who says we're blind, especially given God's direct interaction and revelation to us (as would be the Jewish, Christian, Muslim, etc. view). The blind gropers already has an eastern slant going on there. Second, if one believes they know something important that is vital to others, should they just remain respectfully quiet, not bothering the beliefs of others? Would you apply this to something like eating arsenic? Global warming? Racism? etc. I'm guessing not. The reason people seem so inclined to promote this odd kind of 'non-interference' regimen in matter of religion is A) public safety, or B) they don't really think it all that important or a matter to be taken seriously. (A) is understandable if things are really getting that out of control. (B) is just being ignorant.
So, maybe we best modify Miller a bit... I don't believe in forcing anyone in what to believe, but on important matters, a good debate should not only tolerated but encouraged!

I've heard of a method, but it sounds stupid enough to not work. You take a banana, cut the tip off, and smear it around the back of your iPod touch. Then take a cloth lightly dampened with Windex and wipe off the banana. I'd recommend just getting an iKlear kit, but I don't know if it treats scratches, too.

This is so good to see and hear public acceptance of Stephen Ministry, on a PBS station. I am a Stephen Leader and sent this to our Pastor and Stephen Ministrers. Very well done. Thank you for all your time and efforts in training others to care for those in their time of need. This is what our Lord has instructed each of us to do.

While we don't encourage users to use our app on the Sabbath and Jewish holidays, we have a free Jewish music app that plays the music from our Stream and site on http://JewishMusicStream.com.
The app is available on the App store for free at http://itunes.apple.com/us/app/jewishmusic-stream/id376238913.

Hm, the link seems to also have the period at the end, which is messing things up.
Here's the correct link:http://itunes.apple.com/us/app/jewishmusic-stream/id376238913

Wow, fantastic blog format! How long have you ever been running a blog for? you made running a blog look easy. The entire look of your website is magnificent, as smartly as the content material!

I will right away grab your rss feed as I can not find your email subscription link or e-newsletter service. Do you have any? Please let me realize so that I may just subscribe. Thanks.

Hello there, simply changed into aware of your weblog through Google, and found that it is really informative. I am gonna be careful for brussels. I will appreciate in the event you proceed this in future. Lots of folks will likely be benefited out of your writing. Cheers!

I have successfully connected to CUCM . I can make calls. The other line hears me but I cant hear them. I only hear the ring but after answering, I cant hear him anymore.

I have learn several excellent stuff here. Certainly value bookmarking for revisiting. I wonder how much attempt you put to create one of these fantastic informative site.

Thanks for the good writeup. It in fact was a enjoyment account it. Glance complicated to far introduced agreeable from you! By the way, how could we communicate?

Attractive section of content. I just stumbled upon your site and in accession capital to assert that I get in fact enjoyed account your blog posts.
Any way I will be subscribing to your feeds and even I achievement you access consistently rapidly.
My page:eml to outlook
Thank you for signing up to iMore. You will receive a verification email shortly.
There was a problem. Please refresh the page and try again.