How to use FaceTime to make video calls on the new iPad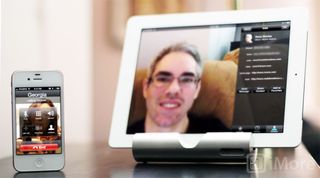 One of the greatest features of the new iPad and all iOS devices is FaceTime.
FaceTime is free over Wi-Fi video calling that allows you to see the caller on the other end of the conversation through the iPad's front-facing camera. You can also "swap" cameras and show the caller what is around you using the rear facing camera.
(opens in new tab)
FaceTime needs to be set up the first time you use it on your iPad. The process is usually pretty painless. Because the iPad is not a phone, FaceTime needs to be associated with an email address to work. Follow these steps to associate FaceTime with an email address:
Touch the FaceTime icon (it's usually located on the first Home screen of the iPad).
Sign in using your Apple ID or your iCloud user name and password. If you don't have an account just touch the Create New Account button
Once the account is set up, you can choose the email address you want to use for placing FaceTime calls. You can also add other email addresses to use with your FaceTime account.
Enabling FaceTime Calling on your iPad
When you first use your iPad, FaceTime may not be enabled yet. To enable the iPad to receive and make FaceTime calls, follow these steps:
Go to your Settings icon.
Look for the FaceTime option tab along the left-hand column.
Toggle the FaceTime switch to the ON position.
(opens in new tab)
Once FaceTime is enabled, you can place a FaceTime call from the FaceTime app or from the FaceTime button at the bottom of a contact entry.
(opens in new tab)
FaceTime will only work, however, if the other caller is on an iPad 2, new iPad, iPod touch (with front facing camera), iPhone 4, or iPhone 4S.
To initiate a FaceTime call, follow these steps:
Touch the FaceTime icon (initially on the first Home screen) on your new iPad.
Choose a Favorite, a Recent, or a Contact who is capable of a FaceTime call. The app will ask the caller on the other end to Accept the FaceTime call.
Remember that you can call iPhone phone numbers using the FaceTime app.
(opens in new tab)
Accepting a call from someone else is also easy; simply Accept the FaceTime call from the other caller by touching Accept button or by Sliding to Answer if the iPad is locked.
(opens in new tab)
When you are on a FaceTime call, the following options are available to you:
Touch the Switch Camera button to show the FaceTime caller you are looking at. The Switch Camera button will now use the standard camera on the back of the new iPad.
You can move the small image of yourself around the screen to a convenient spot.
Touch the End button to end the FaceTime call.
Touch the Mute button to temporarily mute the call.
(opens in new tab)
Setting Favorites in FaceTime
Just as when using an iPhone, you can set Favorites for FaceTime calling on your iPad. The favorites that you set need to be users who have an iPad 2, iPod touch or an iPhone 4. Follow these steps to add people to your Favorites:
Start the FaceTime app as you did previously.
Touch the Favorites key at the bottom.
Touch the "+" sign and then add a contact to your Favorites.
(opens in new tab)
Facetime is a great way to stay in touch – for free – with friends and family. Remember that you need to be on WiFi. Even if you have a 4G LTE edition of the iPad, you still need to be on WiFi for Facetime! (You could tether your iPhone to your iPad Personal Hotspot, or vice versa, to get around this, but how silly is that?)
Additional resources:
How to deal with FaceTime activation problems
How is FaceTime working for you? Let us know if this forum thread:
Get the best of iMore in your inbox, every day!
Facetime is platform specific, it alienates 80% of computer users that run Windows, and the majority of smartphone users who run Android. In other words, it is a niche product.
Skype, on the other hand, runs on everything, from OS X to Windows XP to Linux, from iOS to Android to Windows Phone 7, and it is already highly popular. There is just no possible justification for me to use Facetime.
On the few times I tried to use it, between an iPhone and a iPod Touch on the same wi-fi, it did not even work right. It would just not ring, an issue that did not happen on Skype, which I used even as a baby monitor.

Facebreak , check it on Cydia :)
Facetime over 3G !
iVancolen - ivancolen.Be

Despite having an iPhone 4 and a MacBook Pro, and friends with various iDevices, today was the first time I have used FaceTime (FT).
I used my new iPad wifi (using my iPhone 4 as a wifi hotspot), and my friend in Singapore used her new MacBook Air. It's very fun, crystal clear, and we will be using FT more. We do plan to try out Skype too.
I don't really care anything about the FT vs Skype argument, the pros vs cons of either, or such. People can use whatever they wish. I see nothing wrong with using Skype if you like, or FT if you like.
I do admit I wonder what the big deal is with people attacking FT, when it's free and optional to use? Maybe after I try Skype I will understand this better. I can say FT is very easy to use.
I do have some newbie FT questions: when adding people to favorites, we can do so by email or phone number. As all iDevices will have their email address defined, is there an advantage to adding the phone number? Or should we add both, email and phone number?
If "call" a person via email address, will their iPhone "ring" or will their MacBook? I noticed today when I placed the FT call via email, my friend got the call on her MacBook Air, not on her iPhone 4 (which does have her email defined too). I'm thinking making FT calls by phone number promises its routed to the iPhone...

Using email usually means calling a non phone device like the iPod touch, or other device set up to use FT. Using a phone number will go to the iPhone.

I understand iMore wants new readers but wow all there tutorials. There should just be a section for this stuff. I feel they are just trying to add fluff to their site

just one thing to add this this article, it's absolutely crucial that you have your date time and timezone in settings are set to where you are, i had huge problems trying to call my family in Ireland on their ipod touch, turns out the problem was that the timezone of the phone was cupertino California and that was causing FaceTime not to work, something so simple yet not really something you would think of! anyway hope this helps someone who has the same problem!

Facetime is good as far as I am talking to another iDevice. I am still very disappointed with VGA front camera, it ruins the whole experience of Facetime on good screen. I have tried other tabs like Playbook, it has much better camera and the video chat quality is much better. Why couldn't Apple upgraded to better front camera as now it seems I will have to get New New iPad for it. Not happy.

Wish you could (face-time) from iPad to another iPad .... Fingers cross we'll be able in the future.

If you are using iPad 2 or new iPad, you can.

I' have the new iPad, when I tried calling my friends iPad two it called their iPhone.

Well ever considered that they had the same email address set up on their iPhone and iPad? and it rings on both? or They were just using a completely different Email on their iPad.. You've been able to call iPad to iPad since the introduction of the iPad 2..

Don't forget about Tango, that goes cross platform, just like Skype, except you don't have to pay for phone calls.

I set it up on my iPad 2 yesterday and it worked fine in a test FT call between myself and my cat, with my iPhone 4S. :-)

My wife & I each got the new iPad and we both set up Facetime with the same email address. Our bad. How do you change the email address after you mess up like we did?

Great info i recomend you to visit
http://www.webzmasters.com/how-to-earn-money-online-to-keep-your-family/

Great article Anita. These sites can be helpful for agents, consumers and real estate investors.

Thanks for another fantastic article. The place else may just anybody get that kind of info in such an ideal means of writing? I've a presentation next week, and I am at the look for such info.

Appreciating the commitment you put into your site and in depth information you offer. It's great to come across a blog every once in a while that isn't the same outdated rehashed material. Excellent read! I've bookmarked your site and I'm adding your RSS feeds to my Google account.