Pebble smartwatch gets updated, adds full iOS 7 Notification Center support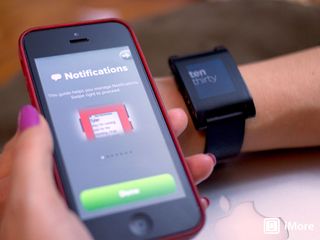 When Pebble - one of the first real smartwatches to hit the market - first launched, the amount of stuff it could do with iOS - then iOS 6 - was limited. That's changing with today's update, Pebble 1.3.0. The big news is, Pebble now works with iOS 7, and that includes full Notification Center support. So, theoretically, any notifications you've set up in iOS should just show up on your Pebble. That includes not only emails, multiple texts, calendar alerts, and reminders, but third-party App Store apps as well, like Twitter, Facebook, news apps - pretty much anything. You can also toggle music on or off, answer or hang up your phone, and set up a local watch only alarm.
I've been testing the new features for a couple of days now. Setup was easy using the wizard provided by the Pebble app. They're committed to their "smartish" watch by providing free firmware upgrades that enable functionality, a move I greatly respect in a company. In previous firmware iterations the displaying of e-mails could only be done by giving your email account information to the Pebble app. That was sub-optimal. Now Pebble simply accesses the API for notifications just like it's always done for texts/iMessage, and without any extra configuration for each account.
The update removes so many limitations, thanks to the new iOS 7 integration, that I'm ecstatic. I'm so ecstatic, in fact, that I'm already making a wish-list for the future. For example, I'd love to have text-based turn-by-turn directions pushed to my Pebble... And Siri, of course, is still the dream.
I still very much enjoy some of the original Pebble features as well. While the watch itself is very plain - I have the black color watch - the e-ink display comes with a number of watch faces, and what's even better, the ability to upload your own creations, or the creations of other users. I chose a nice Jeep themed watch face.
I'd still like to see a higher-end, more premium-looking Pebble, something with a glass face and metal body. I'd also like them to ditch the proprietary charger connector for micro-USB. I know that sounds funny coming from someone with iPhones and iPads, but it's a real issue. If I forget my charger, I am simply out of luck. They're much harder to find replacement for than Lightning cables.
Battery life has been okay. I can get around 3 to 4 days of battery life before having to charge it. I need to test more with the new firmware to see if there's a difference. Currently, if I use a watch face with a constant moving second hand, the battery will drain much more quickly than if I used a more static watch face.
Overall, new life has been breathed into my pebble with this latest firmware upgrade. It's gotten to the point, finally, that if I forget to charge it or wear it one day, I find myself missing it. I like to wear my pebble to help me triage my smartphone communications. I do the quick and dirty on the Pebble, and everything else is done on my iPhone. It's not yet what I want in a smart watch but if this is only version 1.3.0, I think the future is promising.
Master your iPhone in minutes
iMore offers spot-on advice and guidance from our team of experts, with decades of Apple device experience to lean on. Learn more with iMore!