Performance in iOS 12: Everything you need to know!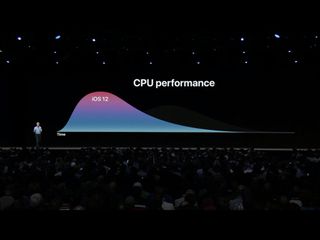 Apple has made a lot about the performance improvements in iOS 12. Everything from opening apps to bringing up the keyboard seems to have gotten an upgrade across the range of iOS 12-capable devices when compared to iOS 11 and its subsequent updates. But what sort of improvements can you expect? And will be old devices be left out in the cold?
Here's what you need to know about iOS 12's performance improvements.
Doesn't every iOS release come with "performance improvements"? What's so special about the improvements in iOS 12?
It's true that most versions of iOS come with certain improvements to system performance, but the work Apple has done in iOS 12 is on a different level. The company seems to have improved performance across the board. The company has hit every aspect of the system, such as overall responsiveness, smoother animations, and app launches.
Is my iPhone going to feel faster?
Speed and responsiveness are at the top of Apple's list for the enhancements in iOS 12. Everything you do across the system on iPhone and iPad will happen faster. Apple has overhauled iOS for performance across its device lineup.
You should also notice improved animations, with everything looking and feeling smoother and more responsive.
Apple is also getting smarter about when to ramp up CPU performance. So when you're launching an app or scrolling quickly, for instance, the CPU will give you a burst of speed by ramping up immediately, then back down in order to preserve battery life.
Will apps launch any faster?
In some of its testing, Apple saw app launches up to 40% faster in day-to-day use compared to the same device running iOS 11.4. When multitasking with a lot of apps, launches were up to two times faster.
Other common tasks should be faster, too. Swiping to the Camera from the Lock screen? Up to 70% faster. Launching the Keyboard sees boosts of up to 50%. And the Share sheet, which, on every iOS device I've ever owned has taken its sweet time in launching, now appears up to two times more quickly than in iOS 11.4.
Are these improvements coming to older devices?
Indeed they are. In fact, many of these improvements are aimed at older devices. In particular, the speed improvements. The numbers mentioned above were taken from tests that Apple performed on an iPhone 6 Plus, a phone that came out in 2014.
Apple also claims that performance has been improved for devices as old as the iPhone 5s and the iPad Air.
Will I even notice these improvements on my iPhone X?
It's true that you won't see as dramatic improvements on, say, the iPhone X as you would on an iPhone 6 Plus, but that doesn't mean newer devices won't benefit. App launching does seem faster, and animations seem just that much more fluid. But this is anecdotal, and your experience may vary.
The other factor here is that devices from the past couple of years are just much faster than their older counterparts. They already handled most tasks with an alacrity that shows just how much work the hardware engineering team at Apple does. And I expect that those devices will still be noticeably faster. It's just that the advantage might not seem so severe anymore.
When can I expect these improvements to arrive on my iPhone or iPad?
These performance improvements are available right now on iPhone 6 and later thanks to iOS 12.
Get the best of iMore in in your inbox, every day!
Joseph Keller is the former Editor in Chief of iMore. An Apple user for almost 20 years, he spends his time learning the ins and outs of iOS and macOS, always finding ways of getting the most out of his iPhone, iPad, Apple Watch, and Mac.
Feels a lot smoother on an iPhone 7 Plus, so that's impressive.

IOS 11 just never really felt polished or smooth like past versions did. I have an iphone x and hopefully IOS 12 irons out some of the bugs and makes it smoother like previous versions were on previous top of the line iphones.

It seems that's what iOS 12 is aiming to do. It doesn't bring a great deal new to the table, so the focus appears to be on fixing bugs and increasing speed. The latter has been achieved, but I can't speak about the former yet because it's still beta so naturally it has its own bugs.

"Apple has made a lot about the performance improvements in iOS 12". "And will be old devices be left out in the cold?" No. But clearly, proofreading has been left out in the cold.

Isn't iOS 12 available for the iPhone 5S and later, not iPhone 6 and later?

"Apple also claims that performance has been improved for devices as old as the iPhone 5s and the iPad Air." Yes. iOS 12 Compatibility: iOS 12 supports all the same devices as iOS 11 did, which means all the 64-bit iOS devices on the market going back to 2013. iPhone X
iPhone 8
iPhone 8 Plus
iPhone 7
iPhone 7 Plus
iPhone SE
iPhone 6s
iPhone 6s Plus
iPhone 6
iPhone 6 Plus
iPhone 5s
iPad Pro 10.5-inches
iPad Pro 9.7-inches
iPad Pro 12.9-inches
iPad Air 2
iPad Air
iPad mini 4
iPad mini 3
iPad mini 2
iPod touch 6

Sort of makes me wish I had an older device just so I could see the speed difference :-) As it is, I have an 8 Plus, so I presume there is an improvement, but I'm not really noticing it.
Thank you for signing up to iMore. You will receive a verification email shortly.
There was a problem. Please refresh the page and try again.